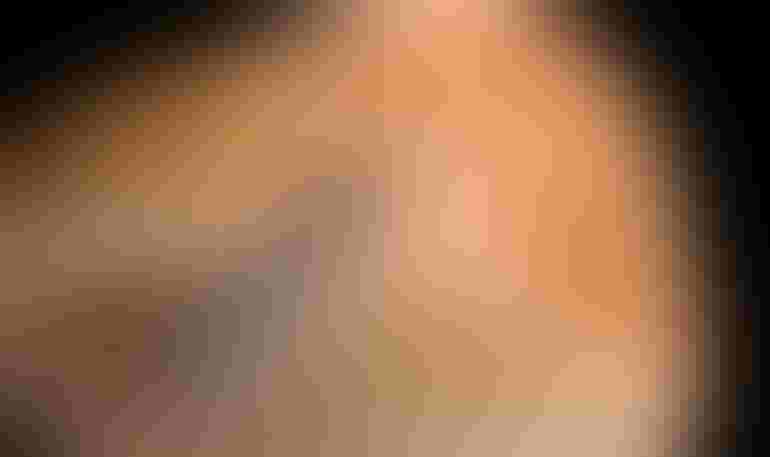 Adult navel orangeworm moths lay eggs on almonds and other nut crops. Larvae that hatch from the eggs feed on the nutmeat.
USDA ARS
After nurturing and caring for a nut orchard following a long year rife with challenges and working overtime hours to bring the harvest to a conclusion, one might think orchard operators are overdue a break from the toils of work and ready for a break from the rigors of production.
California tree nut producers scoff at the idea that the post-harvest season is a well-deserved time off from the diligence and the demands required to grow America's favorite nuts. In truth, the end of harvest represents the beginning of another new year of planning and growing. As all farmers know, the many tasks of farming never end.
Post-harvest, sometimes incorrectly referenced as the off season, represents a time of rebuilding and when it comes to nut production, kicking off a new year following harvest includes an aggressive orchard sanitation program. In truth navel Naval orangeworm (NOW) concerns start before harvest at or around the time of hull split. The risk continues for some time after hull split and requires careful sanitation to ensure orchards are adequately cleaned to prevent escalated NOW problems the following spring and summer season.
For almond, walnut and pistachio growers, larvae of the orangeworm can quickly render the nut meat unmarketable. Overwintering larvae remain in so-called mummy nuts and emerge as moths beginning in late-March through June, and subsequently lay their eggs, promoting a cycle of infestation that is difficult to control.
Experienced nut producers across the Golden State are aware of the risks and most perform some degree of cultural practice that aids in the management of the pest. But sanitation and control have financial implications, and effective sanitation requires both time and money.
Jhalendra Rijal, University of California Agriculture and Natural Resources (UCANR) Extension Area Integrated Pest Management Advisor for the Northern San Joaquin Valley, says some growers must deal with winter rainfall or heavy ground that makes sanitation practices difficult. Others may apply cultural practices in a reduced manner, and as such many infected mummy nuts may escape discovery or destruction.
Research indicates that the better sanitation practices are exercised, the greater the reduction of risk of NOW the following season. When cultural practices are not performed or under-performed, the opposite is true.
Two-stage cultural practice
UCANR extension research has established two cultural procedures are needed in the effective management of navel orangeworm ― orchard sanitation and early harvest.    
One reason early harvest is desirable, while not always possible, is it helps to limit the amount of time for moths to lay eggs. There are three to four adult flight periods per year depending on emergence from the overwintering stage and temperatures throughout the season. If harvest operations can be completed prior to any of the flight stages, it can be a positive development.
Typically, the second flight stage is the most troublesome, and depending on environmental conditions, it generally begins in mid-June through early August. The third stage follows in August through early October If there is time for a fourth flight, it usually starts in late September through October.
The second cultural practice in managing NOW is orchard sanitation. To be exact, orangeworm management is a year-round project. But removing mummy nuts from trees during post-harvest, and the gathering and destruction (flailing) of nuts on the ground represent some of the most labor-intensive aspects of orchard sanitation.
Sanitation efforts begins following harvest and should be wrapped up by late February.
According to David Haviland, entomologist and farm advisor for the University of California Cooperative Extension (UCCE) in Kern County, "effective NOW management relies on vigilance and proactive steps at key intervals throughout the year."
Additional protection possible
Timed insecticide applications and mating disruption practices are two additional methods to control and manage NOW in nut orchards.
At the first discovery of hull split in the orchard, nut growers may need to decide whether a spray application is needed. Under most circumstances they may wish to check with consultants or UCCE farm advisors. In circumstances involving a heavy infestation history of orangeworm, two and possibly three spray treatments may be justified.
Take note that spray timing, calibration, spray volume and speed are critical considerations to reduce crop damage. Growers are encouraged to reference UC IPM's Pest Management Guidelines for Almonds and the Almond Hull-Split Prediction Model before treatments are initiated.
For detailed information about NOW control using effective IPM, visit the UC IPM webpage.
The second additional technique to manage orangeworm in the orchard is mating disruption (MD), a process involving hanging pheromone-emitting dispensers to confuse male moths making it difficult to complete their instinctive mating mission.
The process, while not inexpensive, has been justified by the results, but some producers often choose to not employ MD procedures because of the cost. But especially for orchards with a history of heavy NOW pressure, UCANR research indicates orangeworm damage can effectively be reduced by as much as 50% when MD is used properly, a figure that more than offsets the cost.
The fight to limit NOW in nut orchards is a serious challenge and can only be accomplished successfully through determination and a quality plan. It requires an investment in both time and money. But without it, it can represent the difference between a good and profitable season and a tragic season of loss and regret.
For more news on tree nuts as reported by growers and farm advisors, subscribe to the Tree Nut Farm Press e-newsletter.
Subscribe to receive top agriculture news
Be informed daily with these free e-newsletters
You May Also Like
---