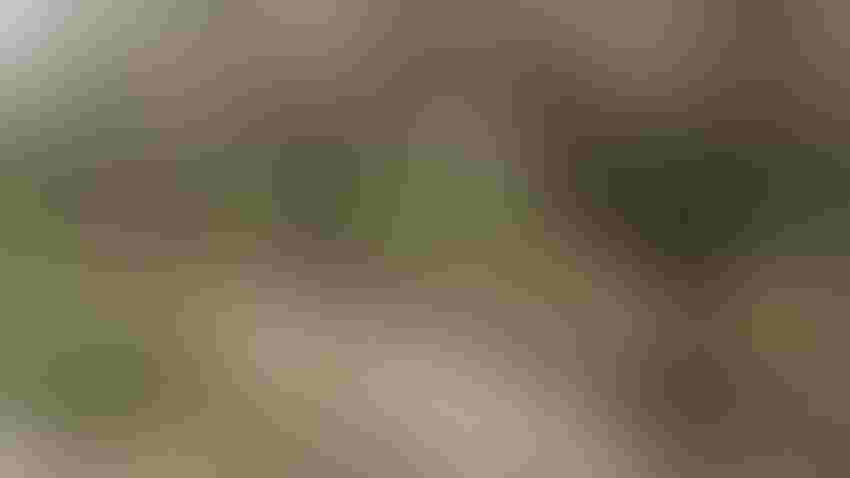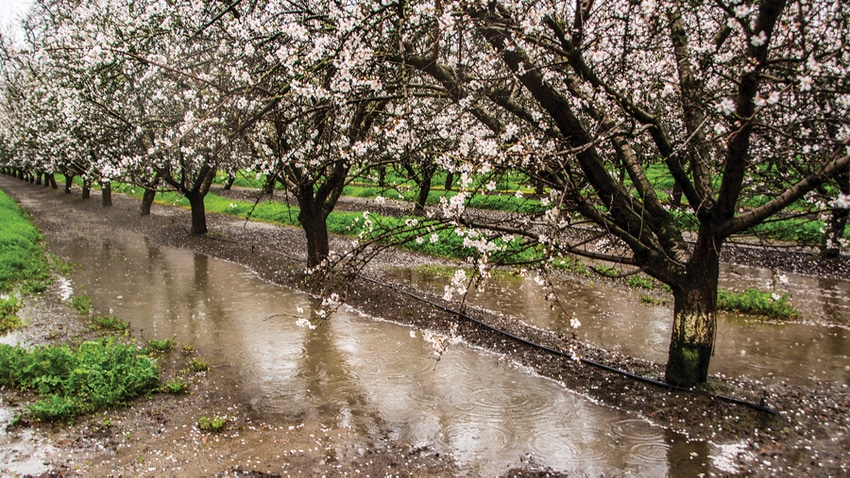 Rainwater collects in an almond orchard. More than half of California's 58 counties have been declared disaster areas with damage from winter storms already well in excess of $1 billion.
Todd Fitchette
Everything in moderation. That's always been sound advice because too much of something --- anything, even the good stuff — can be just that, too much, that tends to bring on unexpected, negative results because of the excess.
Take water for California farmers. It's been a precious commodity for decades and as recent years have proven, it's gotten scarcer and pricier as drought conditions have stuck around.
And the most recent rains, both providential and destructive, won't be the miracle solution to solve the problem, although there will be some long-term benefit.
But while rain was anticipated during what is the traditional wet season, NOAA administrator Rick Spinrad told Associated Press: "The storms may help locally, but will not resolve long-term drought."
By the time the maelstrom had ebbed, the state had received about five times its average rainfall and the deluge, combined with fierce winds and mudslides, had ruined thousands of acres of crops.
By California Gov. Gavin Newsom's recollection, "Nine atmospheric rivers, stacked like we've not experienced in our lifetimes, rolled in starting in late December and by some estimates dropped up to 25 trillion gallons of water."
Short term, unless your trees happen to belong to the class that includes sycamore, cypress, or swamp magnolia that thrive in swampy wet conditions, your orchards, post-storms, will be in need of some close observation if they've been flooded and waterlogged.
The "too much water" symptoms are similar to the "too little water" signs including drooping, wilting, or color changes in leaf edges as leaves turn brittle. Tree roots get water, nutrients, and oxygen from surrounding soil. Well-aerated soil has pockets of oxygen which the roots absorb and send to the rest of the tree.
When that surrounding soil becomes waterlogged, those air pockets fill with water. Without oxygen, roots die and without roots to take in the moisture and sustain the tree, it dries out and sickens. In effect, the tree suffocates from lack of oxygen and dies from tree rot.
After the farms, the farmers, and the trees have weathered the actual storms and flooding, not much can be done until the waters recede. As the water clears, debris and excess soil around trees should be removed to aid in drying. If drainage is problematic, diverting standing water away from tree roots is beneficial to help trees breathe better.
Long recovery
Depending on how long the trees were inundated and deprived of oxygen, it may take more than one season for them to recover and monitoring for lingering signs of distress is a must as some symptoms may not appear until weeks or months later during a prolonged hot and dry period.
Interviewed in the middle of the waves of water that kept rolling across agricultural acreage, even the experts at the Almond Board of California were waiting for the calm after the storm(s) as it was reported that more than half of California's 58 counties had been declared disaster areas with damage already well in excess of $1 billion.
"As far as specific orchard damage, we don't know at this point," said Rick Kushman, ABC spokesman. "Growers don't have to report to us about any damage to their individual operations, so we rely a lot on informal input. We have not heard reports of widespread damage to almond orchards although some individual properties may be dealing with too much water or wind damage.
"Of course, the rain and snowpack will be helpful because we need the water. We are in a prolonged drought mode and these storms will add to our reservoirs and greatly increase Sierra snowpack. Like the water managers say — it's a positive start, but too early to get a real read on the drought impact. This is a large and varied state."
Subscribe to receive top agriculture news
Be informed daily with these free e-newsletters
You May Also Like
---