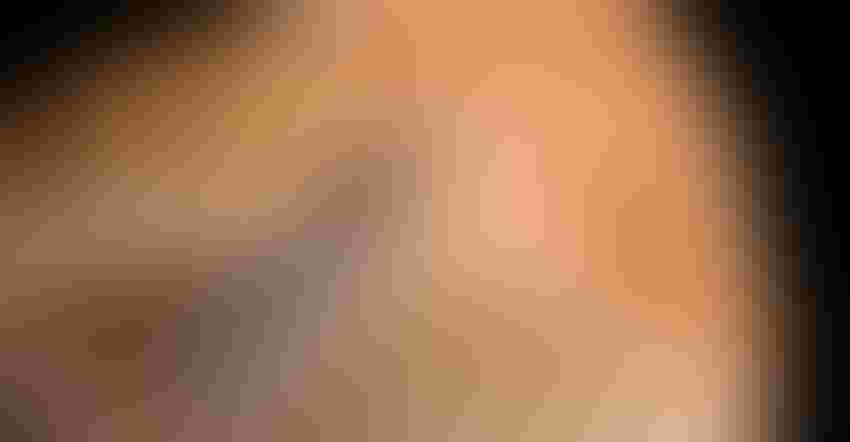 Adult navel orangeworm moths lay eggs on almonds and other nut crops. Larvae that hatch from the eggs feed on the nutmeat.
USDA ARS
Of the four major control methods for navel orangeworm — sanitization, pesticide sprays, timely harvest, and mating disruption — all efforts are being looked at more closely as monitoring for NOW intensifies.
As the number one pest of almonds and pistachios — one that also likes walnuts — NOW is a tree nut nemesis and messing up its reproductive cycle seems to be a path for future endeavors, at least for Charles Burks, USDA research entomologist in Parlier, Calif.
"Mating disruption is an answer to the NOW problem, especially if used in conjunction with an insecticide program that gets off a number of sprays during the year," he said.  "But mating disruption is not THE silver bullet in the fight against NOW.
"Ideally, you would start with stringent sanitation.  Unfortunately, in the real world, there are years when growers have problems with that due to lack of labor or lack of equipment needed at the right time because workers and tools can't always be everywhere at once when nuts hit the ground."
One nuance in the NOW nemesis involves climate change and what impact it may be having on keeping pests under control.  "Being hotter and drier only adds to the problem for a couple of reasons," he admits.
"First off, you have warmer temperatures over longer periods of time and that allows additional generations of navel orangeworm.  It basically ramps up the population, especially in the latter part of the growing season when almonds are coming off.  And you've got a situation where you need to do more with less when it comes to water supply and stressed trees.  That lack of irrigation can cause problems to become even worse."
The subject of NOW is a popular research topic and Burks says he's still trying to understand just how mating disruption works so that interference product manufacturers can improve their offerings.
Research trial
In one early-on research experiment, a 250-acre almond orchard with historically high abundance of NOW was divided into 16 blocks with the center block used as a treatment plot contrasting no disruption efforts versus timed aerosol-release devices with pheromone and/or hull split insecticides.  In that study, "Mating disruption with gridded puffers resulted in a 37% reduction of navel orangeworm damage (which was) not significant."
Experiments like that continue today and Burks said: "Results will help develop mating disruption as a cost-effective measure for control of NOW in almonds, giving producers and managers confidence to use insecticides selectively where NOW damage is less likely."
 In a discussion with Western Farm Press, Burks said: "People are still using egg traps because they're more comfortable with them, so we're continuing to look at this area, funded by the Almond and Pistachio boards, trying to determine whether capturing females gives you the same information as counting eggs.  It's more straightforward to count females in a trap compared to eggs, but the number of eggs is more relevant to field fertility."
With so much research being undertaken, the obvious question remains — is there any research-to-date that growers can utilize this growing season to minimize the NOW problem?
"I'd say, first off, you want to make sure you have a female tracing count to establish a base and ensure that mating disruption efforts may be productive.  Mating disruption can be labeled as a good insurance policy even if it's not a silver bullet.  Mating disruption has been shown to reduce the amount of potential NOW damage, so it's good crop insurance."
Subscribe to receive top agriculture news
Be informed daily with these free e-newsletters
You May Also Like
---