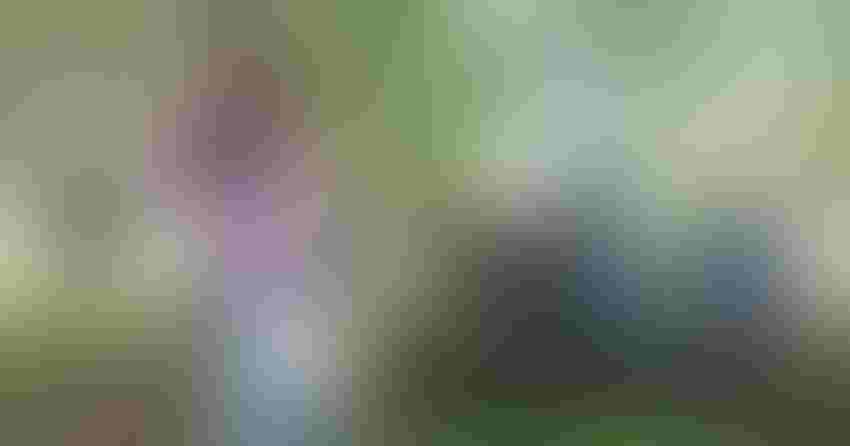 University of California Orchard Systems Advisor Dani Lightle discusses navel orangeworm management at the recent Nickels Soil Lab Annual Field Day at Arbuckle, Calif.
Robyn Rominger
The navel orangeworm, Amyelois transitella, can cause serious economic losses for almond growers, more than $1,700 per acre when 20 percent of the nut crop is damaged.
Control of the pest was among topics at the recent Nickels Soil Lab annual field day at Arbuckle, sponsored by the University of California Cooperative Extension. In 2017, "It was not unheard of to have damage in the 10 percent or greater range if it snuck up on you," says Dani Lightle, UCCE orchard systems advisor in Butte, Glenn and Tehama counties.
She showed a chart outlining the value loss per acre in infested Nonpareil nuts. Almond growers who had 2 percent total damage from navel orangeworm lost an estimated $158.75 per acre, and those who had 20 percent total damage lost $1,742.50 per acre.
Total damage is calculated by adding rejects in the orchard plus losses at the processing facility.
The schedule was created by Blue Diamond Growers, a grower-owned cooperative based at Sacramento, representing more than 3,000 California almond growers.
Blue Diamond President and Chief Executive Officer Mark Jansen told field day attendees, "We figure we spent an extra $20 million this year processing the crop just to get it to the level of quality that we needed. That's probably true of every handler — that they're going through similar levels of processing. So, one of the things we're looking at on our schedule is that we're fully accounting for the impact of rejects and the cost of processing.
"We want to make sure we are equitably rewarding growers for their crop. If you're a grower with 10 percent rejects, you've got 10 percent of your crop also lost at the huller/sheller. Our field team estimated that with 10 percent rejects, and using Blue Diamond's schedule for the past year, you were losing $1,700 per acre.
"We've seen growers, who have always been within that 2 percent or below range of rejects, jump up this past year to 10 percent. They were strong farmers and did everything right. So, I would just double down on the idea of winter sanitation and the practices you know have a significant economic impact."
Pest pressure varies regionally within California, with the most severe infestations usually occurring in the mid- to lower San Joaquin Valley, compared to the upper San Joaquin and Sacramento valleys.
Navel orangeworm damage was bad last year, Lightle says, due in part to increased acreage. "There are more orchards going in, and that means more hosts." The insect infests other crops including walnuts and pistachios, as well as non-agricultural host plants. "Navel orangeworms can fly a quarter-mile or more to find a new host," she says.
 "Also, we now have more generations per year. Right now, it's not uncommon to have four generations per year, whereas previously we would have three. If you look at climate change models, we're going to keep having four generations a year — that's just the reality of the future as temperatures get warmer."
Controlling the pest depends on certain cultural practices, and may also require the use of crop-protection chemicals. Insecticides are primarily applied at hull-split or later, when the crop is susceptible to infestation. Navel orangeworms are rapidly building up resistance to pyrethroid insecticides, Lightle notes. "We're losing these materials as a tool."
Pesticide resistance, densely-planted orchards, and increased pest pressure mean that it is not possible to eliminate the navel orangeworms, according to UC researchers. The goal is to minimize damage by keeping orchards clean until hull split, reducing the pest population with hull split sprays, and harvesting almonds as soon as 100 percent hull split is achieved.
"We really need to put the 'integrated' back into integrated pest management," Lightle says. "And that starts with orchard sanitation."
According to the UC Statewide Integrated Pest Management Program, the female moth lays eggs on mummy nuts that remain in an orchard, or on newly-formed nuts as hull split begins. Since the larvae overwinter in mummy nuts on the ground or in trees, it's critical that growers remove mummy nuts in the fall or winter.
Insecticide treatments may be necessary if cultural practices are not carried out in situations with high numbers of navel orangeworms, or when the pest spreads from adjacent orchards or alternate hosts.
Spray applications of insecticides are timed using egg traps or pheromone traps, along with degree day calculations, as well as monitoring of hull split. Mating disruption that uses female-moth pheromones to confuse male moths is a tool used in conjunction with insecticides.
Two parasitic wasps can lay eggs in navel orangeworms and account for some larval mortality, but they cannot be relied upon to provide effective control alone; the wasps should be used in conjunction with other cultural or compatible chemical practices.
Some almond cultivars are more susceptible to damage than others, particularly later-maturing soft shell almonds that have a lengthy hull split period or a poor shell seal. Hard shell almond varieties, and those with a tight shell seal, are resistant and provide options.
For more information on monitoring and controlling navel orangeworms, including which chemicals may be used, visit the UC site: http://ipm.ucanr.edu/PMG/r3300311.html
Subscribe to receive top agriculture news
Be informed daily with these free e-newsletters
You May Also Like
---