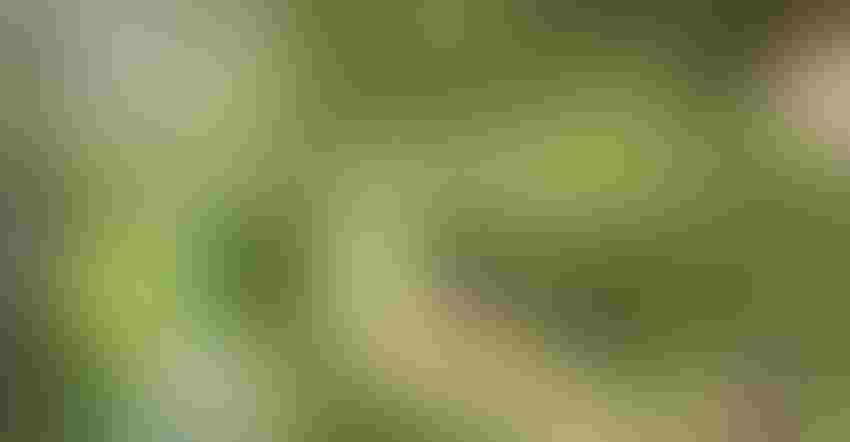 Spider mites feed on an almond leaf at harvest.
UCANR
They've been around in some form for over 400 million years and most of them are beneficial --- except those that aren't a welcome sight in tree nut orchards.
Mites, small arachnids or 8-legged arthropods, are found in thousands of different species, according to acarologists — scientists who study them — and David Haviland, Farm Advisor at UC Davis is one of those scientists.
With "that time of year" upon us, "that time" being when mites show up and get active early in the season, this growing cycle got underway as usual.  "They were right on schedule in April and May and growers made their decisions accordingly.
"Some felt there were too many mites compared to the numbers of beneficials who preyed on them, so they sprayed and things are great," Haviland says. "We're in that period when mites have gone away and growers may wait to spray again until hull split or a little after that when mites start showing up again to make their late season appearance."
And how will Late Season 2022 play out?  "That's never predictable other than to say they -- the mites — always show up.  It's just a matter of when they arrive and how many show up and how quickly they can be brought under control --- and that's field-by-field, year-by-year.  It's just something growers have to assess and be prepared to respond to every season."
Responding to field reports telling of growing numbers of leaffooted bugs, particularly in pistachio orchards, Haviland said: "They're around, but in normal low numbers.  Overall, the window that almond growers monitor for leaffooted bug has closed, although pistachio growers may now be on higher alert."
Concerning how a changing climate might be changing the what-when-how many and how-long-they stay aspect of orchard pests, he is adamant: "Climate change isn't having a major impact on that," he says.  "We deal with irrigated crops where we create an artificial climate and while there is certainly less water available that might result in greater tree stress, all of that is sort of irrelevant in the context of bio control as risks will show up regardless of the situation."
Producing more generations?
Acknowledging that the change might be responsible for potentially producing more generations per year in the future, he says: "That's not something people are worried about in 2022.  They're managing almond and pistachio pests now pretty much the same way they have every year in the recent past.
"From my perspective, while climate change is something that's talked about a whole lot, many of the concerns expressed involve potential long-term theoretical issues, while at this point they don't really impact day-to-day operations of how pests are managed."
Always a tad reluctant to opine on what might lie ahead until it actually happens, Haviland says: "Crystal balls are never that good because new invasive pests can show up in any crop at any time — regardless of whether or not climate change makes things hotter and drier.
"Could climate change cause other pests to show up that otherwise wouldn't in theory?  That absolutely could happen at the same time --- and the same could be said for beneficial organisms as those same climate changes could spur them too.
"Agricultural crops and climate represent a complicated food web and you never know what's going to happen.  Something that favors the good guys could be a net win, while something that favors the bad guys would be a net loss.  There's just no way to predict who will win in the long term."
Subscribe to receive top agriculture news
Be informed daily with these free e-newsletters
You May Also Like
---