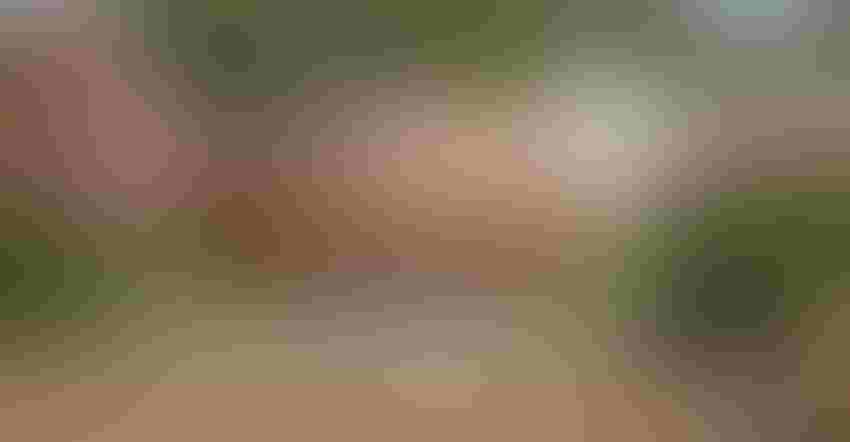 BIG NUT: Passersby need to slow down through Brunswick, Mo., to catch a glimpse of this pecan. It is a monument to the native pecan industry in the area.
Mindy Ward
Leave it to Texans. When they found out a small farm family in Missouri bested them in a pecan attraction, well, they did everything in their power to reclaim the title of having the World's Largest Pecan.
For years, the small town of Brunswick, Mo., boasted of its stately pecan monument. Weighing 12,000 pounds and reaching 7-by-12 feet, it is visible to those who pass through the two-lane town. It was a nod to the area's rich history of raising native pecans. More exact, it was a testament to George and Elizabeth James, who ran a pecan farm with nearly 10,000 trees for more than 60 years. 
The pecan once stood at the couple's farm just east of town in the early 1950s. It was a replica of the Starking Hardy Giant pecan that grew there. After the couple's deaths, the James family donated the nut to the community, and in 2013, moved it to Brunswick, which is known as the Pecan Capital of Missouri.
The pecan sits in a park-like area just off the main Highway 24. As you walk from the road up the path to the pecan, there is a small marker to the east. It shares the story of the pecan and the James family. But perhaps one of the best places to view the impressive nut is from the bench dedicated in memory of George James. It welcomes you to the small town and its large piece of history.

FOR GEORGE: This bench is a great place to sit and take in the pecan donated to Brunswick, Mo., in honor of George and Elizabeth James, who once had as many as 10,000 pecan trees in the area.
Until 2011, this was the World's Largest Pecan, but when the town of Seguin, Texas, heard of the giant nut, well, residents sprang into action. A member of the Seguin Convention and Visitors Bureau visited Brunswick and the James Pecan Farm to measure. Sure enough, this small farmer had a bigger pecan.
Texas wanted to reclaim its title, so in 2011, it unveiled a 2,300-pound nut measuring 8-by-16 feet —a full 4 feet longer than Missouri's pecan monument.
Still, I'm partial to that small-town Missouri pride. While the state may no longer have the biggest pecan, it definitely has the best pecans.
And our state doesn't tear down a tribute to a local farm family for bragging rights. Rather, we sit a spell, grab a bag of pecans and savor in the impact that family had on Missouri's ag industry.
Subscribe to receive top agriculture news
Be informed daily with these free e-newsletters
You May Also Like
---