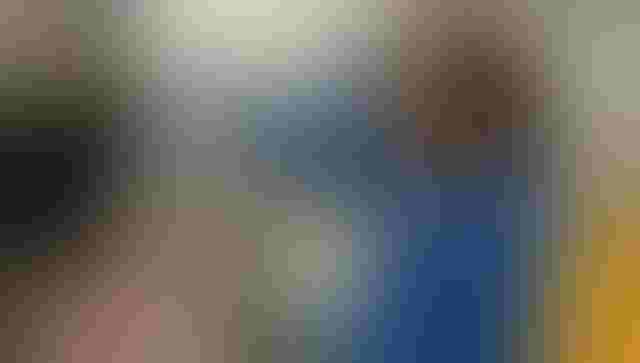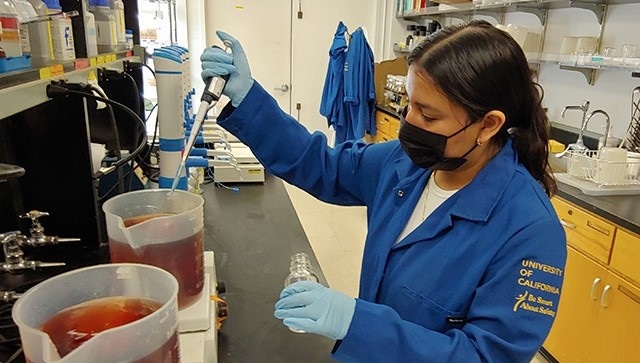 Researchers will be looking for pistachio rootstock and cultivar combinations that have genetic predispositions toward tolerating warmer winters, less water and saltier soil.
Pat J. Brown/UC Davis
Washington State University plant pathologist Gary Chastagner has been trotting the globe in an effort to safeguard an important Pacific Northwest crop -- the iconic winter evergreen.
Dubbed "Dr. Christmas Tree" by his colleagues for a 44-year career studying the decorative conifers, Chastagner traveled to Turkey in 2020 to find mother trees of Turkish and Trojan firs, which are adaptable to the Northwest's climate and resistant to disease.
He is now testing promising species that can stand up to an uncertain climate while looking and lasting their best in the home.
"I want to give growers and consumers more choices for high-quality trees," he said.
Related: Historic funding made for climate smart ag pilot projects
Chastagner is not alone. As drought and temperature extremes bedevil the West, scientists throughout the region and the nation are tapping into available grants to develop crops that are more resilient to drier conditions and hotter days while minimizing their impacts on the environment.
Much of the work is being funded by President Joe Biden's Partnerships for Climate-Smart Communities, under which the federal government has provided more than $3 billion for agricultural projects intended to reduce greenhouse gas emissions. After committing up to $2.8 billion in 70 selected projects under the first pool of funding in September, U.S. Agriculture Secretary Tom Vilsack on Dec. 12 announced another $325 million for 71 additional projects.
"The funds will pay for, incent and encourage pilot projects that are innovative and cost effective that also include methods for quantifying, monitoring, reporting and verifying greenhouse gas benefits and carbon sequestration benefits. And they'll help to develop and expand markets for climate smart commodities,"
In the West, several major crop-saving projects revolve around trees, the lifeblood of the region's specialty-crop industries.
Improving pistachios
In one effort, a multi-state team led by Patrick J. Brown has been awarded nearly $3.8 million over the next four years for a project to improve pistachio production as the industry faces warmer winters and scarcer water.
"We are at this unique point in history where we can do this," said Brown, an associate professor in the University of California, Davis Department of Plant Sciences.
The project aims to ensure the industry can thrive in coming decades despite the challenges faced. It includes research to ensure pollination, experiments to calculate irrigation needs amid water shortages, creating tools to improve public breeding programs, developing more efficient harvesting equipment, and economic analyses to ensure future pistachio cultivation is economically rewarding.
Researchers hope to offer a guide for growers deciding whether to plant new orchards or remove existing ones.
Related: Now's the time to plant climate-ready trees
"The success of California's pistachio industry, which is the top producer of the nuts in the world, has always relied on a strong collaboration between UC researchers and pistachio growers," said project participant Florent Trouillas, a UC Cooperative Extension specialist in the UC Davis Department of Plant Pathology. "Research efforts must continue to address enduring and new challenges, improve sustainability and ensure the profitability of pistachio farming."
The tasty, green nuts have blossomed into a $5.2-billion industry in California, thanks to their greater tolerance of dry lands and salty soils. With nearly 520,000 acres planted in California in 2021, pistachios are the fastest-growing tree nut crop in the state largely because of their drought tolerance as well as their profitability, according to experts. 
California dominates the industry, growing 99% of the nation's crop and nearly 60% of the world's crop, employing people in 47,000 full-time-equivalent jobs and creating $5.2 billion of total economic impact in 2020, according to American Pistachio Growers.
Brown's project aims to further improve their climate resilience by finding a rootstock that can thrive despite growing water scarcity and declining water quality projected over the next half-century. A key part of this project will be to test new scions that can pollinate efficiently despite warmer winters.
'Next great rootstock'
With millions of genetically distinct pistachio trees growing in the state, "we already have out there what may be the industry's next great rootstock," Brown said. "It's probably in some grower's field already. We just have to find it."
Brown's team is part of a wider effort at UC Davis to support the sector's growth and adaptation to climate change. The four-year project was among nearly $70 million in Specialty Crop Research Initiative grants awarded this fall by the National Institute of Food and Agriculture. UC Davis' Department of Plant Sciences landed three of the 25 grants.
Meanwhile, other climate resiliency projects are well underway.
The Christmas tree research undertaken by WSU's Chastagner is funded through the Collaborative Fir Germplasm Evaluation Project, a 12-year partnership with scientists in Connecticut, Oregon, Pennsylvania, North Carolina, and Michigan,
Related: Vilsack announces new Climate-Smart Commodities program funding
In a research trial at the WSU Puyallup Research and Extension Center and a large planting site in western Washington's Nisqually Valley, he selects the best performers for hardiness, disease resistance, needle retention, structure, and other factors. Over the next two years, Chastagner will help establish orchards to produce seeds from the best mother trees. Those seeds will then be planted as future Christmas trees.
About 40% of the nation's Christmas trees are grown in the Pacific Northwest. Oregon leads the U.S. in production and Washington is in the top five.
"Our rainfall, mild climate, good soils, and longer growing season are ideal for high quality trees," Chastagner said. "Growers can produce trees in a shorter rotation, which helps cover the cost to ship them beyond the western U.S."
However, the Northwest's heat domes, dry summers, and warm falls of the past few years may be harbingers of seasons to come.
'Things are going to change'
"Things are going to change—they're already changing," Chastagner said. "Christmas trees aren't irrigated. Growers are losing young seedlings in the summer because of these hotter, drier conditions."
Warmer autumns mean trees won't get the cold days they need for maximum needle retention before harvest. While species can retain their needles after a warm fall if they're properly watered at home, that responsibility falls on the consumer, causing uncertainty for growers and sellers.
In some cases, a changing climate could bring more rain, worsening Phytophthora root rot, a devastating soilborne disease that kills trees.
Currently, growers import seeds of new species of trees, such as Nordmann, Turkish and Trojan firs. The larvae of a small wasp called Megastigmus sometimes infests seeds, and if inspectors find any larvae, entire shipments must be destroyed.
Related: Calif. achieving significant dairy methane reduction
One of Chastagner's latest breakthroughs helps reduce this loss of seed. He and postdoctoral researcher Thomas Whitney found that carefully heating seeds to 113 degrees for an extended period kills the wasp larvae without harming the seeds. It's an inexpensive way to ensure the supply of new, top-quality varieties.
While time will tell if these new Turkish and Trojan fir tree species can benefit the Northwest tree industry, Chastagner sees promising signs from commercial plantings in the Sierra Nevada and elsewhere.
"Growers say these Eurasian species are more tolerant of warmer, drier conditions," he said. "We think they will stand up to hotter summers, and they have good resistance to Phytophthora root rot and other common diseases and pests. Consumers already love them."
Source: Washington State University, University of California Division of Agriculture and Natural Resources
About the Author(s)
Subscribe to receive top agriculture news
Be informed daily with these free e-newsletters
You May Also Like
---