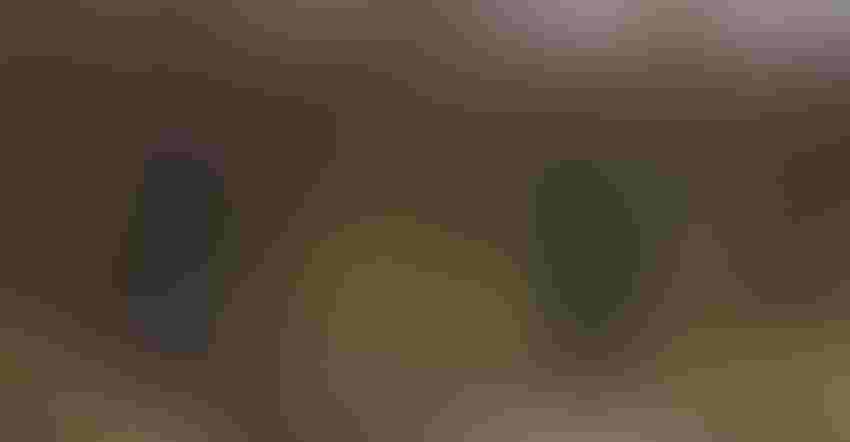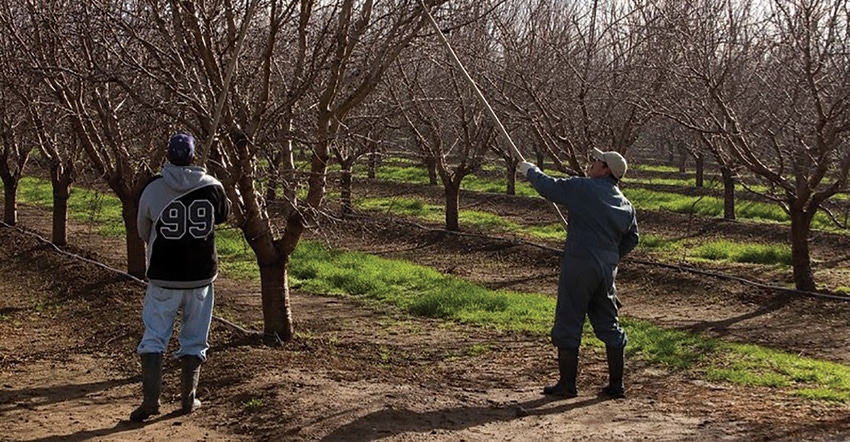 A poling crew removes "mummy" nuts from an almond orchard after harvest.
Almond Board of California
Although the music world lost rock-and-roller Jerry Lee Lewis this year, his "whole lot of shakin' going on" still resonates in almond orchards after harvest during clean-up procedures.
In addition to scouting for winter annual weeds, University of California IPM protocol urges that if more than two nuts remain on a tree, it needs to be shook up or the mummies knocked down during the dormant period when trees have lost their leaves and prior to the late-January/early-February period when buds begin swelling in preparation for bloom.
The calendar suggests orchard sanitation by shaking off the mummies and if shaking doesn't do the job, a polling crew needs to do the work. That's especially important in central and southern San Joaquin Valley properties where navel orangeworm runs high. Pest control managers suggest a target of one mummy per tree where infestations are higher.
"Winter sanitation is the core of IPM programs," says entomologist David Haviland, Kern County farm advisor. "NOW larvae can hatch in the spring and wreak havoc in orchards. Removing the nuts helps ensure NOW doesn't have a home in which to hibernate or a food source for sustenance during dormancy."
Optimal winter sanitation occurs after a rain or when dew has formed. Mummy nuts absorb some of that moisture and are easier to knock off the trees. Once on the ground, the mummies should be swept into windrows and destroyed by flail mowing or disking into the soil in early spring.
"Considering the price growers receive when there is minimal NOW damage to their product, the cost of efficient winter sanitation pays for itself. Yield loss due to rejection of mummy nuts can affect a grower's bottom line. It's best to be proactive and invest in this practice up-front to save yourself from tough losses in the fall."
Sanitation in drought
Sanitation is no less important during periods of drought and climate change or as Haviland puts it: "Sanitation is equally important as it has been over the past 50 years and as it likely will be over the next 50 years. Our changing environment may result in some changes involving the impact on both pests and beneficials, perhaps by changing the number of generations per year for NOW, but climate change aside, the importance of sanitation as a major component of NOW management remains equal to what it always has been."
He offers growers some advice. "Sanitation resets the number of NOW that can carry over from one year to the next and the sooner in the winter it is done gives more time for nuts that have been grounded and shredded to decompose.
"The biggest issues involving sanitation protocol almost exclusively involve economics. In general, winter shaking sanitation has been widely adopted. However, lower almond prices, higher labor costs (along with the sometimes-difficult task of finding that labor) make it harder for growers to complete the poling process usually needed to reach the two mummy nuts per tree threshold."
About the Author(s)
Subscribe to receive top agriculture news
Be informed daily with these free e-newsletters
You May Also Like
---