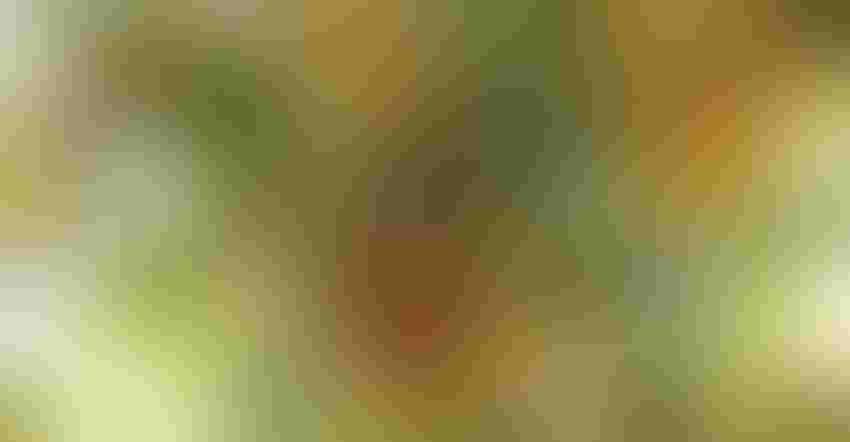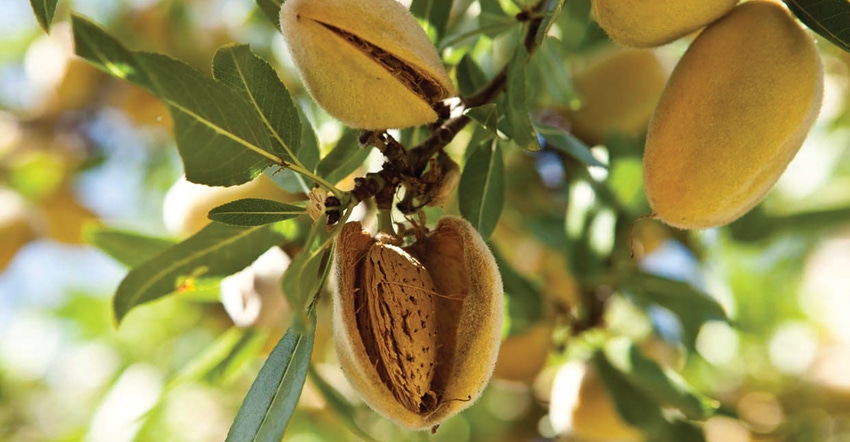 Midsummer hull split in almonds is around the corner.
Almond Board of California
There's a year-round farming phrase that's applicable in reference to just about every sector of each season — "It's THAT time again".
"THAT time" in this case is the approach of midsummer almond hull split. Growers are watching closely for split blanks on end rows at orchard edges as they make preparations for their initial hull split spraying. And observant eyes are on the lookout for things like alternaria and mites that can produce a new generation every seven to 10 days.
Mite management becomes a concern as temperatures heat up, pushing the high 80s into the low 90s, and haunted-forest type webbing appears. Experience indicates mite management effectiveness is greater when smaller populations are addressed preventatively.
It promises to be another interesting year in the world of California tree nut growing with recent USDA NASS statistics showing preliminary bearing acreage for almonds in 2022 estimated at 1.37 million acres. Nonpareil is again the favorite of growers who also like Independence, Butte, Monterey, and Carmel.
Growers are looking to cut costs wherever they can. The Almond Board of California is stressing that with fertilizer prices spiking this year, those cost increases can be mitigated somewhat by more accurate estimates of yield. "It's a case of the right amount at the right time," said Sebastian Saa, ABC's associate director of agricultural research.
"It's important to have a good estimation, as early in the season as possible, of how many kernels will be on trees and how many pounds will be produced because those will be the drivers determining nitrogen poundage needed."
While there is no 'one-size-fits-all' approach to nitrogen needs, the four Rs of nutrient management are: right rate, right time, right place, right source. And while orchard productivity can't be enhanced by providing more nitrogen than needed, productivity can be harmed by applying too much.
"The worst thing you can do is a blind application and with fertilizer prices higher and lower yield reductions expected because of frost events, there are multiple reasons this year not to do that," Saa said.
Production headwinds
While almond acreage continues to grow, it does so at a slower rate than previously. LandIQ estimates that bearing orchards at harvest will represent some 1.338 million acres across the state, a slight increase of 29,000 acres or 2.2 percent above last year. That same report also indicates close to 60,000 acres of almond orchards will be removed before harvest, an increase over last year but not enough to offset overall acreage gains.
USDA NASS figures show an estimated 1.32 million bearing acres in 2021 (up 5.6 percent from 2020) with both bearing and non-bearing acreage totaling 1.64 million acres. Those researchers offer a preliminary estimate for 2022 bearing acreage at about 1.37 million acres.
The most recent prediction, the USDA NASS Subjective Estimate released May 12 shows initial production forecasts of 2.80 billion pounds, 4% below last year on bearing acreage of 1,370,000 acres.
Forecasted yield is 2.040 pounds-per-acre. A more complete prediction of crop size will come in July with the publication of the USDA Objective Report.
The Almond Board of California commissions these reports to provide a transparent picture of the California almond industry. Said ABC President and CEO Richard Waycott: "These estimates show California's almond production remains strong. Demand for almonds around the globe continues to grow and California almond growers continue to meet that demand."
And current statistics are supporting that contention. RPAC LLC in Los Banos reported: "Crop has been developing well for those with sufficient water whose crops were not too impacted by frost" while Select Harvest USA in Turlock noted that shipments were strong and, "Several industry participants have published their own independent forecasts ranging from 2.5 billion to 2.9 billion pounds. We're not going to defend a number ourselves."
Subscribe to receive top agriculture news
Be informed daily with these free e-newsletters
You May Also Like
---