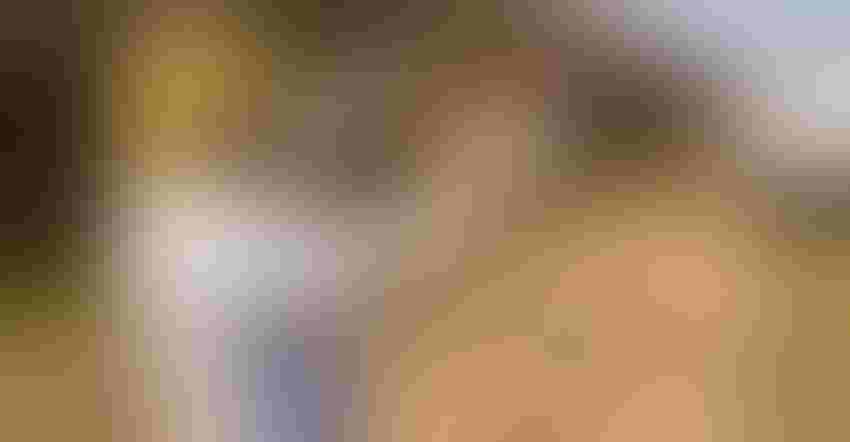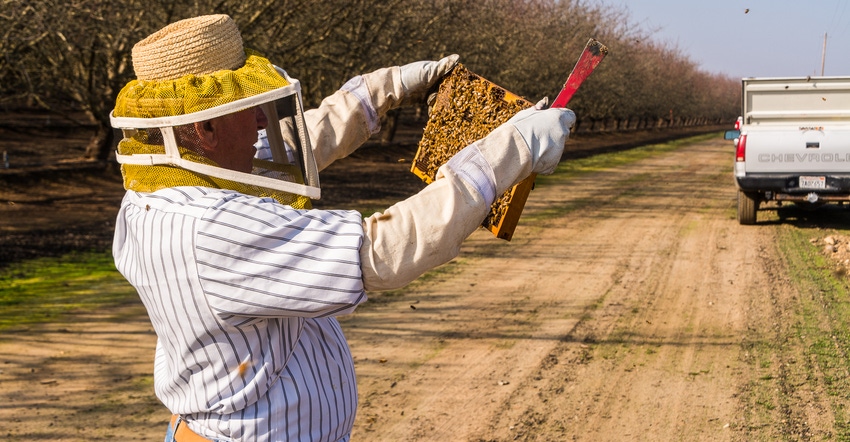 Independent bee inspections can be important for almond growers and beekeepers to know the health of hives placed in almond orchards. It's also part of a larger approach at managing and protecting the pollinators.
With almond bloom around the corner billions of honeybees will find their way to orchards from Red Bluff to Bakersfield in the coming weeks. With that, beekeepers and almond producers are encouraged once-again to understand California law and best management practices to protect the vital insect needed to pollinate a host of crops.
The Almond Board of California continues to promote its bee best management practices as county agricultural commissioners move into an educational period of helping growers and beekeepers understand reporting requirements that will now carry financial penalties.
County agricultural commissioners won regulatory "teeth" through legislation that adds fines to existing law that requires bees be registered with county agriculture departments. The goal remains the same: protect honeybees from pesticides and fungicide sprays.
Riverside County Agricultural Commissioner Ruben Arroyo says the upcoming season will be one of education for growers and beekeepers, helping them understand that what they're being asked to do hasn't changed, just that they can be fined by local authorities for not registering their bees.
Protecting bees
Bob Curtis, a consultant to the Almond Board of California, emphasizes proven best-management practices that includes bee registration, a critical first-step aimed at protecting bees. Efforts are under way to link be registrations via computer with pesticide reporting software that would give pest control advisors a heads-up to bees located within one mile of planned pesticide and fungicide treatments.
Growers and PCAs are still discouraged from tank mixes – mixing more than one insecticide or fungicide at a time during spray operations – as research reveals these can create a synergistic effect that can be lethal to honeybees, even if individual chemistry labels indicate that they are "bee safe."
Fungicide applications are also strongly discouraged during bloom, though Curtis and the Almond Board realize this is not always practical because of weather conditions during almond pollination. When fungicides are required, spray activities should happen late in the day when bees are not active in the orchard. The University of California recommends avoiding adjuvants with fungicides during bloom, unless specifically called for on the product label.
Insecticides are likewise discouraged during bloom. The one exception to this is Bacillus thuringiensis (Bt) as this has been documented safe to adult and immature bee brood. Other products, though they can be declared safe on product labels, can still be detrimental to immature brood.
As bee hives are placed in orchards it is also necessary to ensure honeybees have access to adequate forage or feed supplements. Ample clean water also needs to be provided. Typically, this can be done with buckets of clean water with burlap placed over the side of the buckets. This water should be changed regularly, and particularly after any spray operations have taken place.
The Almond Board also recommends beekeepers, growers and their PCAs have in their contracts agreed-upon chemical applications that may be necessary during bloom and should stipulate to the timing of hive replacement and removal.
Other best management practices during bloom include:
Do not directly spray hives with any pesticides;

Do not hit flying bees with spray material; and,

Report suspected pesticide-related incidents with honeybees to county agricultural commissioners as soon as possible.
Supplemental forage
Growers have been encouraged for several years to plant supplemental bee forage in and around almond orchards. Seed mixes are available, as are recommendations from the Almond Board and Project Apis m on the seed types and timing of these plantings. These supplemental flowering plants and vegetation become important for overall bee health and critical during bee placement as hives are traditionally placed in orchards before any of the trees are flowering.
Subscribe to receive top agriculture news
Be informed daily with these free e-newsletters
You May Also Like
---