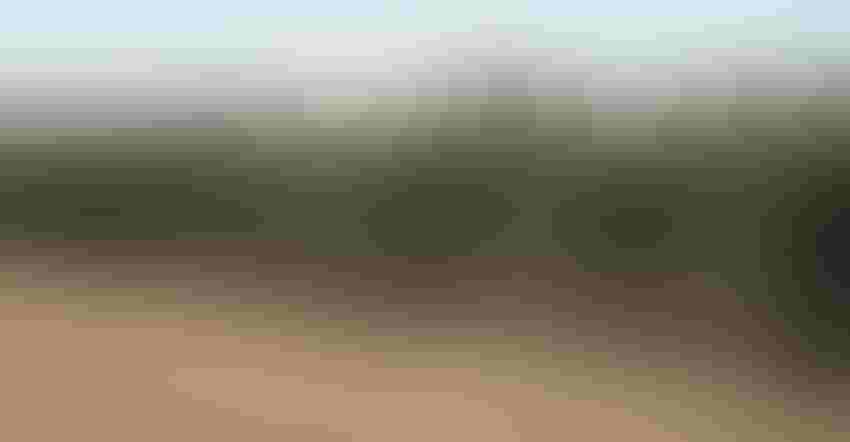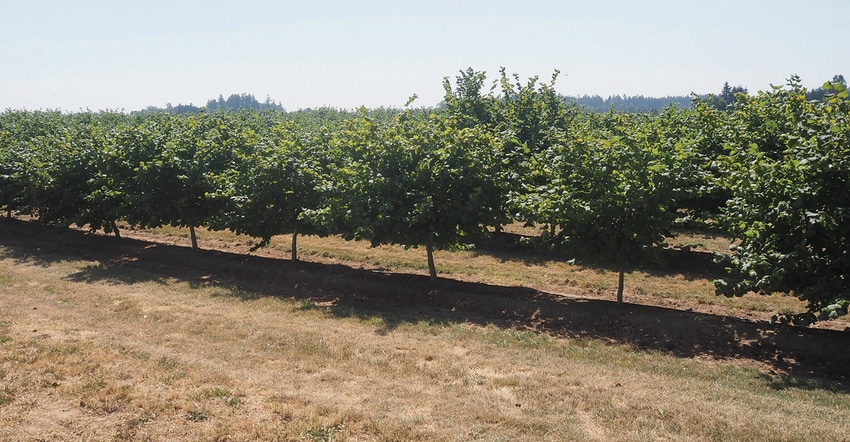 Hazelnuts grow on Oregon State University's North Willamette Research and Extension Center farm in Aurora, Ore.
Tim Hearden
We sometimes tend not to give hazelnuts their fair share of headlines, but if you're a tree nut grower in Oregon — hazelnuts, ergo filberts, are king.
Not only do they get to wear the crown, they're the official state nut that pre-dates statehood with first known planting in Oregon in 1858, probably introduced by early French settlers. According to the latest figures from the Oregon Department of Agriculture, hazelnut farmers tend to some 92,000 acres making that crop No. 1 in acreage among all fruit and nut crops in the state.
Latest statistics show the annual hazelnut haul valued at approximately $150 million with about a thousand Oregon families growing the crop. Once it starts producing, it sticks around for nearly a century.
The hazelnut is unique in that bloom and pollination come during the winter months with nuts maturing during the summer for harvesting in late fall.
If you're French, you probably refer to them as filberts, which is the correct name for both the tree and the nut, renamed by English speakers and later confirmed by the Oregon Filbert Commission as 'hazelnut'. Once the state became an exporter and joined the international nut market, it was important to have a name that buyers recognized.
By either name, the nuts have been lauded for centuries, going as far back in history to China in 2800 B.C. when the nut was revered as one of five sacred nourishments bestowed on human beings.
Ben Mitchell has been growing that delicacy on over 800 acres at Flying Feather Orchards southwest of Portland with approximately 115 trees per acre. "We have a young orchard with interplanting so those numbers are probably greater than the approximation," he said.
The hazelnut cycle begins early in the year as bloom gets underway during the winter and the trees are wind-pollinated. Bud break takes place in March, pre-nut flowers appear in May before nutlets show up in mid-June. "The shell grows first and by the end of July, kernels start to develop," he says.
Harvest underway
There's no shaking at harvest. "The nuts fall when they're ready and that varies by variety starting in mid-September with all the nuts on the ground a month later."
Mitchell expects this will be a good year for filbert farmers. "There's been a tremendous number of new plantings over the last 10-20 years and trees start to produce harvestable nuts in their fourth year with full production a few years later, so those young plantings are really coming into production."
Early on in the industry, a good year represented some 30,000 tons taken from 30,000 acres. Not so this year, he said. "We're probably up to the 75,000-80,000-acre range now. The 2021 harvest was close to 70,000 tons and I expect an increase from that just on the basis of there being more young trees in production."
Two varieties predominate, the long-time favorite, Barcelona (despite it being disease prone) and Jefferson. "Both were slightly down last year and because they are an alternate-bearing crop, I'd say we should be in the neighborhood of 80,000 to 85,000 tons this year."
About the Author(s)
Subscribe to receive top agriculture news
Be informed daily with these free e-newsletters
You May Also Like
---