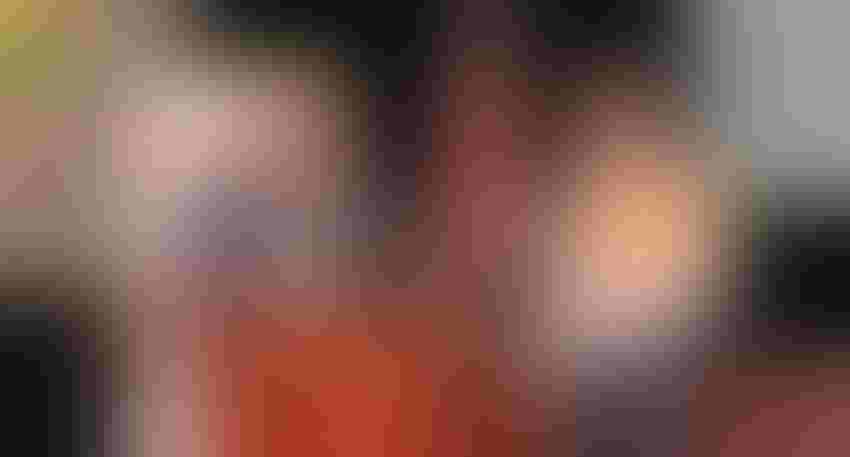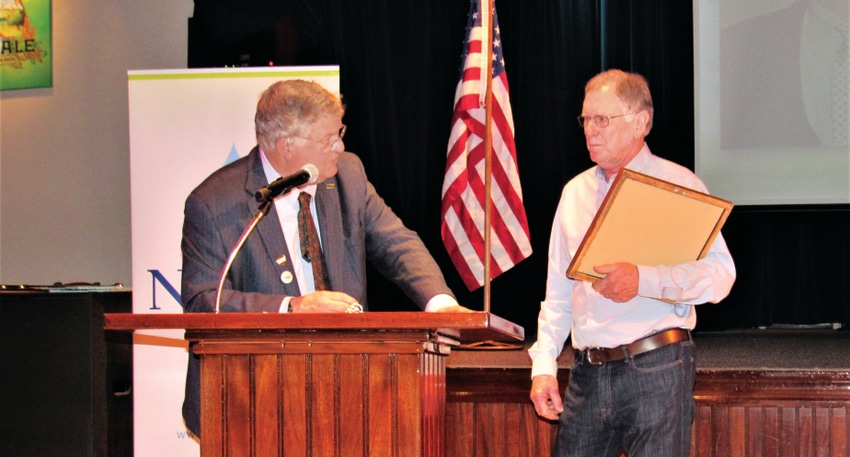 Retired walnut and rice farmer John Garner, right, receives the Northern California Water As-sociation's Crystal Clear Award from chairman Bryce Lundberg at the organization's annual meeting at Chico.
Tim Hearden
From the moment John Garner took over his family's walnut and rice farming operation in Colusa and Glenn counties, he made a point of remaining involved in California's often contentious water issues.
Garner, now 71, tells the story of when, as a 19-year-old in the late 1950s, he accompanied his father to a dedication of the Sacramento River levee system at Knights Landing. He remembers what his father told then-Gov. Edmond Gerald "Pat" Brown, Sr. "He said to the governor, 'This could be the demise of Northern California. 'At that point in time, I thought to myself, 'How important is this water situation?'"
Very important, concluded Garner, who spent nearly the next six decades serving on water boards and committees. He has been an active presence in all aspects of Sacramento Valley water, chairing the California Farm Bureau Federation's Water Advisory Committee, and serving as one of the original members of the Colusa Glenn Subwatershed Program.
For his efforts, the retired grower was given the Crystal Clear Award by the Northern California Water Association at its annual meeting at Chico. The meeting's organizers credited Garner with cultivating "a collaborative water management culture" in the valley. With a calming demeanor that enabled him to bring disparate sites of thorny issues to the table, he approached problems with an attitude of, "Let's fix it."
Says Paul Wenger, Modesto walnut and almond grower who was CFBF president from 2009-17, "There were some evenings when we almost had fistfights, but that stopped when John became chairman. You can't ask for a higher quality person to work on such an important issue as water in California."
During remarks to the meeting's more than 100 attendees gathered in a Sierra Nevada Brewing Co. meeting room, an emotional Garner credited the efforts of those around him. "It's very important to recognize that it's never one person," he said. "This was done by a team of people, representing the whole north state — or really the whole state."
The "backbone of all organizations," he said, are the farmers on the ground doing the work.
NCWA leaders said Garner pushed the water community to work with others, even some "non-traditional partners," to solve problems because of his belief that Californians are all in this together. The award presentation came amid an all-day schedule of speakers on the theme, "Water Management for the 21st Century." In the middle Sacramento Valley, Garner has helped plan much of this water future.
His family started their farming operation in 1944, which grew to include 100 acres of walnuts and 550 acres of rice in Colusa and Glenn counties. Garner retired from farming nine years ago, and the operation was finally sold in January, but his imprint will be seen on water policy and practice in the years ahead.
Leading the state Farm Bureau water panel for the last 10 years and serving as the NCWA's board co-chairman of water quality, he helped shepherd the Sacramento Valley Water Quality Coalition's efforts to comply with changes in the state's Irrigated Lands Regulatory Program. Under changes to the program finalized by the State Water Resources Control Board in February, all growers who irrigate ground for commercial uses are required to keep a detailed nitrogen management plan on their farms and present annual summaries to state-recognized water coalitions.
In meetings with the Central Valley Regional Water Quality Control Board on agricultural water quality, Garner pushed for a program in the Sacramento Valley that emphasized education and outreach over regulation, according to a biography provided by the NCWA.
Recently, he volunteered for a groundwater sustainability workgroup for Colusa County, which was instrumental in the forming of the Colusa Groundwater Authority. The effort was in compliance with the state's Sustainable Groundwater Management Act, which requires local agencies to establish groundwater sustainability plans by 2020 for the most impacted basins, and by2022 for others, with sustainability in all basins to be achieved by 2040.
Garner also served on boards for the Colusa County Farm Bureau and the Colusa Basin Drainage District, and helped plan local flood control efforts, according to the bio.
He recalls that before the NCWA was formed in 1992, water districts around the state acted independently. It was important to get representatives from the districts talking to one another, because "the state can come in and do almost anything they want when there's no opposition," he says.
Garner was often chosen to lead many of these talks. "My education system allowed me to communicate well' I've always had a demeanor that's calm, cool, collected. We really had some contentious moments."
When one considers recent restrictions on surface water faced by California growers, irrigated lands regulations, and future restrictions on groundwater pumping, it's easy to wonder if Garner sometimes feels like he's been bailing the ocean with a bucket. But he doesn't look at his life's work that way. "We probably would have lost a lot more if we weren't out there," he says. "It's not a matter of spinning our wheels — it's a matter of reducing the damage."
Garner also rejects the notion that it's north vs. south when it comes to California water. "All of agriculture needs to stay whole," he says, "or we'll lose the power we have."
Subscribe to receive top agriculture news
Be informed daily with these free e-newsletters
You May Also Like
---