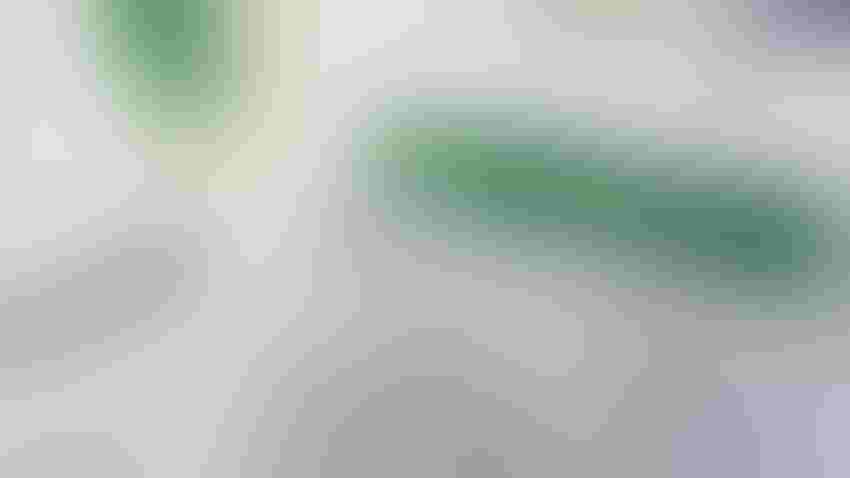 The Arizona Cotton Research and Protection Council's AF36, originally created to address toxic aflatoxin in Arizona cotton, has since become popular with pistachio growers combatting the same carcinogenic strains of aflatoxin in their orchards.
Todd Fitchette
What started 25 years ago to protect dairy cattle from tainted cotton seed is now protecting pistachios and almonds from carcinogenic fungi.
The Arizona Cotton Research and Protection Council was licensed in 1998 by the USDA to use its patented non-toxic Aspergillus flavus to combat toxic aflatoxin that occurs naturally in the soil. The discovery of this by USDA researchers and the commercial use by the council is having positive impacts far beyond the aflatoxin challenges that first appeared in milk.
This happened as cows were fed whole cotton seed tainted with the aflatoxin, according to Morgan Klenke, marketing and sales associate with the Arizona Cotton Research and Protection Council.
The non-toxic fungi strain became known in the industry as AF36. It became widely successful in Arizona to control the carcinogenic strains of aflatoxin in cotton. As this became known outside of the cotton industry, the pistachio industry began to look at this as a possible cure for its aflatoxin challenges.
Since then, natural questions were raised about just how many more crops AF36 could help along the way. Since first approved for cotton, AF36 is now registered for use in pistachios, almonds and figs in California, Arizona, New Mexico, and Texas; for cotton in Arizona, Texas and three California counties; and on corn in Arizona and Texas. Special local needs registrations have been granted across the U.S. in various crops. The EPA is evaluating a similar product for organic use.
"The strain itself is naturally found in the soil," Klenke said. "It's already there, so we're not introducing any type of foreign materials into the soil."
The council is optimistic that AF36 can have side benefits in other crops as the product works through competitive displacement of toxic aflatoxin strains. Over time, the non-toxic strains become dominant in the soil to the point that toxic strains are no longer an issue.
This can be useful in protecting rotational crops that are not be labeled for direct application of AF36, Klenke said.
The success in cotton and pistachios is now being looked at by the California almond industry, she said. It is also being used in Mexico and Australia.
Studies are under way to test AF36 in walnuts.
"We're seeing great results here as well," she said.
"Our goal is to get this product out to as many industries that need it, regardless of where they are, and to keep it at the most economical value possible," Klenke added.
How to use
AF36 Prevail can be applied by ground or air. Once applied and exposed to sufficient moisture, it produces green spores that are spread by wind and insects. As they spread, it competitively displaces aflatoxin-producing strains, according to Klenke.
Application timing is critical. Applications should be made when nighttime temperatures are above 70 degrees. Themis Michailides, plant pathologist with the University of California Cooperative Extension, said the best timing is "the second part of June to mid-July, or as the label dictates."
This year could be critical for treatment because of the elongated wet spring, particularly in California.
He continued: "if some wet weather continues, they should definitely treat for aflatoxin since the Aspergillus flavus would have a better chance to develop on debris and increase the toxigenic inoculum."
Applications should be made three days prior to an irrigation, or an anticipated rain event.
Production
The council produces four to five million pounds of AF36 annually from its facility in Phoenix, Ariz., according to Ruben Arvizu, production, and facility manager for the council. The goal at the end of the year is to have little-to-no product carryover to ensure high quality. Product is time coded to ensure a first-processed, first-used policy.
Sterilized sorghum seed it used as the vehicle to apply the non-toxic fungi strain. The seed is first roasted to about 220 degrees to kill germs. Once the seed is sterilized, a dye is added simply to make the seed visible in the field. A polymer is added to bond the fungus to the milo seed. State-of-the-art equipment is used to accurately coat the milo seeds with the appropriate level of AF36, Arvizu said.
The product is packaged in 2,000-pound super sacks, and 50-pound bags. The super sacks are preferred by aircraft applicators, with the smaller bags preferred for those using small, ground applications. AF36 is approved for aerial and ground applications.
Joahna Brengle manages the council's production lab. Her role includes ensuring the precise amount of the non-toxic fungus is added to the milo seed. Her lab rears the non-toxic bacteria through a process that takes several days in closely controlled temperatures. Additional quality control measures are employed to ensure growers receive a high quality product.
New facility
Amidst his role to create several million pounds of product annually, Arvizu also oversees the council's planned construction of a new processing facility on property near the University of Arizona's Maricopa Agricultural Center. Once complete in a few years, the facility will greatly increase product throughput and storage capacity.
The new facility should double production capacity to about 12,000 pounds per hour with a goal of producing 10 million pounds of AF36 annually. This will require year-round production, he said. Current production demand requires Arvizu to produce AF36 for about six months out of the year.
Storage is also a premium in the small facility near Phoenix Sky Harbor International Airport. Product storage is currently spread across several locations, including 6,000 square feet at the small processing facility. The new location will have 40,000 square feet of storage.
The larger facility will also allow him to store upwards of 500,000 pounds of raw milo, up from the 150,000 pounds he can currently store. The council gets its milo from Arizona Grain.
Subscribe to receive top agriculture news
Be informed daily with these free e-newsletters
You May Also Like
---