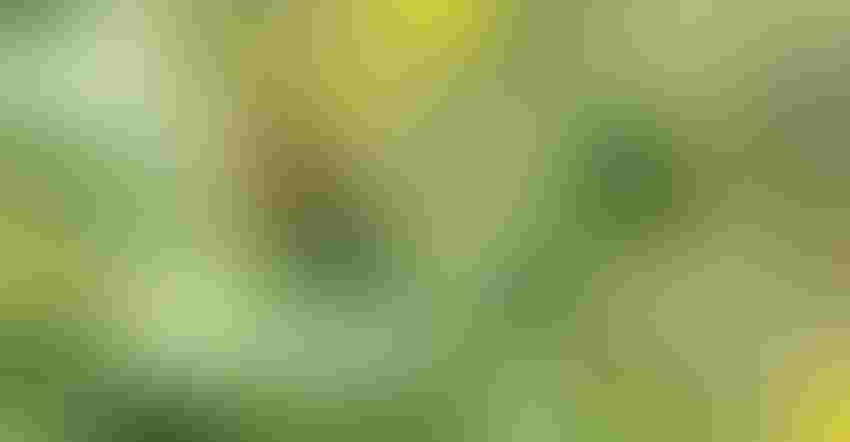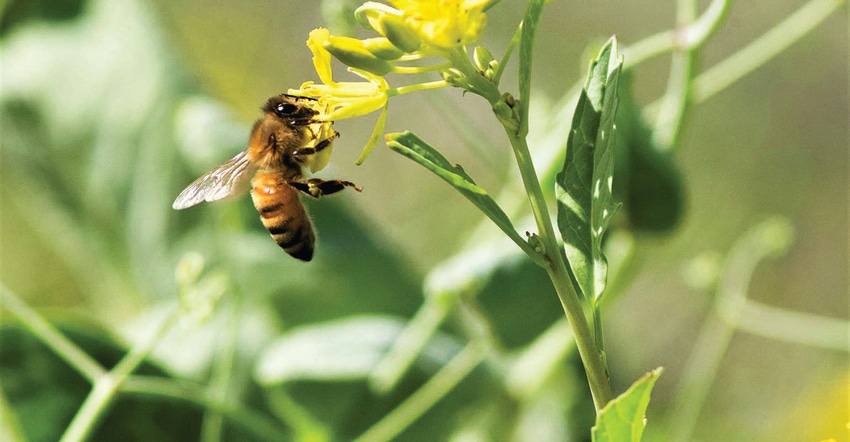 Project Apis m. is giving away seeds to plant cover crops to supply nutrition sources for bees.
Project Apis m.
The Seeds For Bees program is really humming — in fact, it's flying right along with an enrollment deadline that runs through the end of August.  And applications are quickly rolling in from growers, especially in the North and South San Joaquin Valley. 
"Response has been huge, and we honestly could not have come out of the gate better," say program coordinators.
Sponsored by Project Apis m., this year's goal is to plant lots of cover crop — 15,000 acres is the plan — despite both beekeepers and nut growers both being pressed to their limits.  "And that's why cover crop is so important," according to the project's habitat program leaders.
Quoting program director Rory Crowley: "We're doing everything we can to help.  We're giving away free seed to new participants in addition to deep discounts for both first- and second-year program members."
The group's website outlines why it's a win-win for both grower and beekeeper when better bee nutrition is available.  "By increasing the diversity, density, and duration of available bee forage in California orchards, we improve nutrition while adding organic matter to the soil, reducing erosion, increasing water infiltration, and providing natural weed control.
"Seed mixes available through our program are designed to bloom at critical times of the year when natural forage is scarce, but when managed as well as native bees are active.  Just like humans, honeybees can deal with stressors better if they are properly nourished."
Working closely with growers, scientists, and commercial beekeepers since 2006, Project Apis m. has contributed over $10 million to bee research and forage programs that has resulted in better pollination and increased crop yield for growers as well as lower losses for beekeepers.
Perhaps one of the most important questions for growers, especially in this tight-to-non-existent-water cycle, involves irrigation requirements for the seed mixes.  "The cover crops we offer will perform satisfactorily with the average amount of rainfall in most of California's almond-growing regions," Apis reported.
"If planted in early October, the Brassica Mix grows to full maturity using only rainwater while in wet years, even the Northern region gets enough rain to grow our Clover mix.  Enrollees in the program receive seed mixes designed for things like non-irrigated middles or orchards.  Even non-irrigated plots contribute some amount of biomass so even if you can't irrigate your cover crops, you can still reap some soil health benefits."
An economical mix
Another reason the brassica mix is called "the authority in cover cropping in California's Central Valley" is it's economical, multi-beneficial, and drought-tolerant with a high probability of success.
In another year of drought and lack of irrigation supply, cover crops make even more sense.  Said Crowley: "Almond growers who plant winter annual cover can have strong confidence they'll not have to change their irrigation practices or 'steal' from their irrigation water budget if they plant cover."
Another positive deals with yield.  "Preliminary research has shown that almonds with cover crop planted could increase yield between 80 and 120 pounds per acre.  So, growers can plant cover and not take water from their trees, and they will likely increase yield well beyond the cost of buying seed and planting cover."
Heeding his own advice, Crowley said: "I'm a grower and I'll be planting cover this year in our 500 acres of almonds and walnuts.  I know cover crop value and don't flinch, even in bad times, because I know the value.  It saves money in the short and long term for forward-thinking, progressive growers who plant cover."
Subscribe to receive top agriculture news
Be informed daily with these free e-newsletters
You May Also Like
---