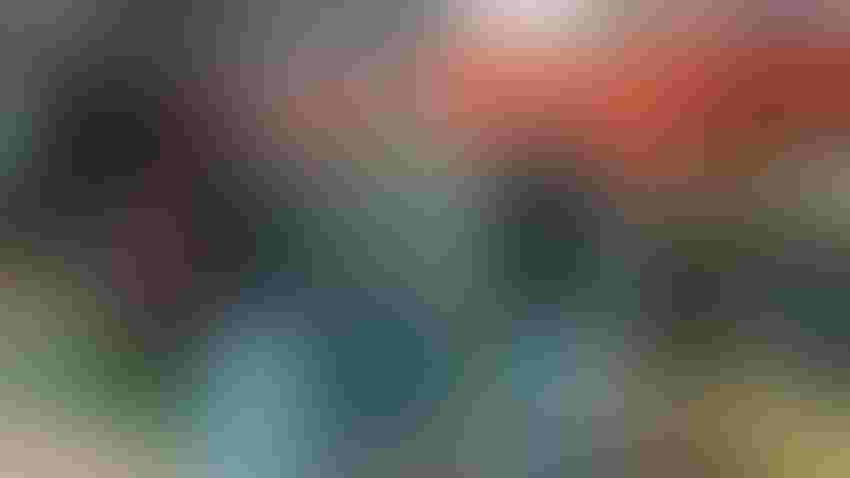 World ag expo 3169: From left, Mike Eger, president, Flory Industries, Matthew Coe, general manager, Coe Orchard Equipment, and Jason Flory, board chairman, Flory Industries, showcase their equipment at the World Ag Expo in Tulare, Calif.
Todd Fitchette
The combination of two well-known orchard equipment brands came together recently with the acquisition of Coe Orchard Equipment (COE) by Flory Industries.
Flory has long been considered a leader in nut harvesting equipment for almonds, walnuts, hazelnuts, pecans, macadamia, cashews, chestnuts, and figs. For years the company focused its efforts on harvesters and sweepers. COE likewise has been a leading manufacturer of tree nut, fruit, citrus, and olive harvesting equipment.
Flory President Mike Eger said they approached COE about two years ago with an idea to acquire the company because of the work COE did with pistachio harvester equipment. That was something Flory was not involved in at the time, he said.
"They were attractive to us because of the shaker and the pistachio business that we're not in," he said. "The similarities of the two companies were also attractive. They started out in the harvesting business, went into manufacturing, and they built quality equipment like we do. That just seemed like a good match."
Flory Board Chairman Jason Flory said the acquisition of COE will give them the opportunity to add a shaker to their product line.
Flory began repairing and building farm machinery for local farmers in Stanislaus and San Joaquin Counties in 1936. In 1961, the first Flory pick-up harvester for almonds was built. It was a small 3-point mounted, tractor-powered harvester.
As the almond industry grew over the years, so did Flory with the introduction of fast, efficient sweepers in addition to larger and self-propelled harvesters and bulk handling equipment. Its headquarters and manufacturing facilities are located on the original property purchased by the Flory family in 1909.
Started in 1970
COE started in 1970 in Gridley, Calif., a farming community about 120 miles north of Flory's Salida, headquarters. Lyman and Lois Coe purchased a catching frame to save money on the harvest of their 10-acre prune ranch and to make some supplemental income to help their neighbors harvest their prunes.
Within a few years the custom harvesting business had become successful enough that Lyman decided to focus on growing the harvesting business further. Soon, the growing business was shaking pecans in Texas and cherries in Oregon. The company would continue to grow over the years to manufacture harvesting equipment for tree nuts, fruit, and olive crops.
"Flory's primary focus from the beginning has been to provide the best products, parts and service to our customers, and COE has had a similar objective," said Flory Board Chairman Jason Flory. "This acquisition expands our product portfolio to include harvest equipment for the rapidly growing pistachio market."
Flory's equipment is known throughout agriculture for its distinctive red paint, while COE equipment is recognized for its bright yellow paint.For more information about Flory, visit: www.florycoe.com.
Subscribe to receive top agriculture news
Be informed daily with these free e-newsletters
You May Also Like
---