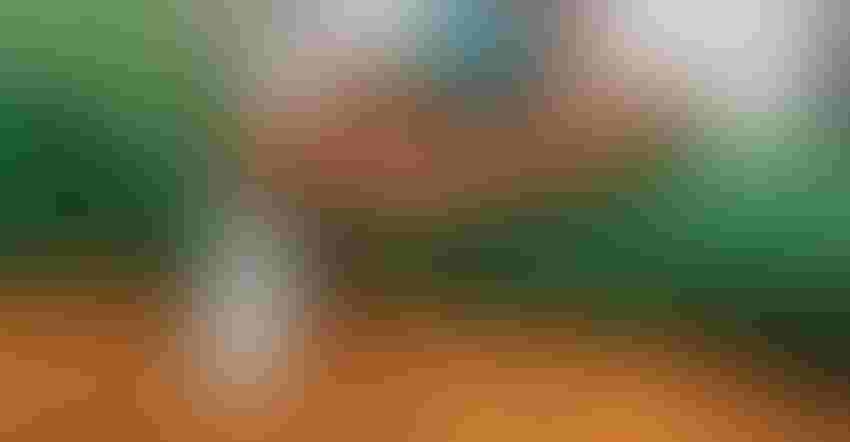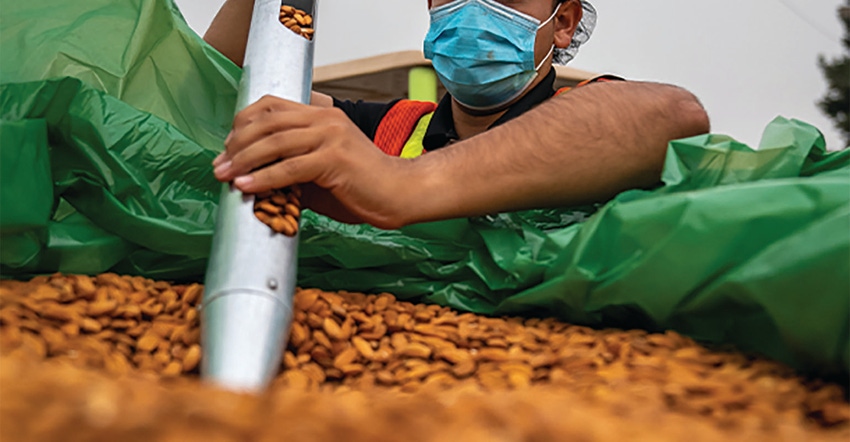 A Grizzly Nut employee pulls a sample for USDA.
Almond Board of California
In this ever-changing world we live in, it's hard to stay on track, say nothing of venturing ahead and when it comes to rules governing pesticide residues on tree nut crops — they're all over the place.
Which is unfortunate for the estimated 70 percent of California almond growers who export to foreign markets. "It's a problem for anyone who grows a crop for export," said Gabriele Ludwig, Almond Board of California's Director of Sustainability and Environmental Affairs.
She's talking about the legal limits of residues on food, so-called acceptable Maximum Residue Levels or MRLs. "They're tolerances that countries set and while people think of them as food safety issues, they're actually trading standards. As long as a crop doesn't exceed a certain amount, it's acceptable to have up to that amount of residue on the food when it's in commercial trade. Unfortunately, different countries or even different regions have different residue standards and that makes life more complicated for growers who have no idea where, what market, their nuts will end up.
"What they struggle with is making pest management decisions, figuring out what tools they can use to manage pests and at the same time making sure they're compliant with MRLs in their international export market countries."
So what's a grower to do? "There's a couple of ways to respond," she admitted. "One is to grow to the lowest level of tolerance you can. Another option that handlers may choose is to test product lots like they do in New Zealand, making sure every shipment that leaves that country meets whatever the export market standards are. That's not something we typically do in almonds though. Rather it's a just-close-your-eyes and hope no one does such a test."
And that doesn't always work because that laisse faire attitude of yesterday hasn't carried forth into the 21st century. "Certainly, in the Asian markets, there was very limited testing being done, but there's been a big shift over the past 15 years and there's a lot more testing to meet MRLs."
Growers' options
So, again, what's a grower to do? "Depends a lot on how growers grow," she responded. "There's a global database in Google where you can look up MRLs in different countries and learn current maximum residue limits. Then talk to your handlers to determine the key markets being sold to, Asian or European. Europe is starting to reduce its MRLs and asking handlers to not use certain products to minimize the chance there might be higher residues."
Regulatory statute changes may have contributed some to lowering residue counts. "California has moved ahead and ended use of some products even before federal restrictions were enacted although the U.S. is still focused on being a risk-based policy complier. There are divergent philosophies for how to assess risk and what to do about it and that leads to different MRLs."
Drilling down specifically to the tree nut industry, Ludwig said: "Although it's true in general of tree nuts in the U.S., almonds in particular are a highly exported crop so this is something that everybody is trying to figure out how to navigate. What I try to do is make our government aware of how growers are trying to solve that problem while trying to find a harmony in the various levels residue contamination."
About the Author(s)
Subscribe to receive top agriculture news
Be informed daily with these free e-newsletters
You May Also Like
---