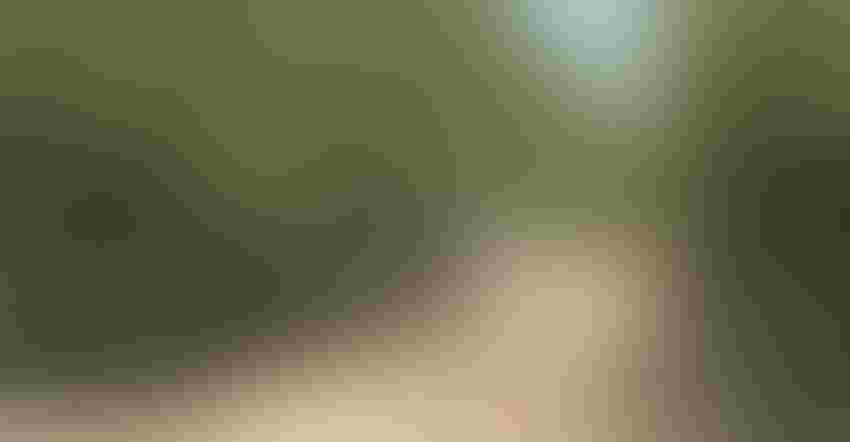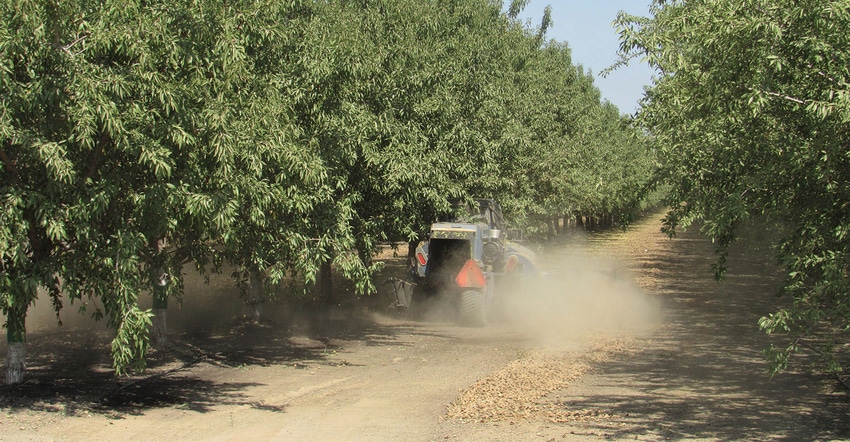 Almonds are harvested near Arbuckle, Calif., in 2018. Scientists say it's better to harvest almonds early to minimize navel orangeworm damage.
Tim Hearden
Metaphorically, tree nut growers should begin to start hearing almonds begin to crack as traditional hull split begins sometime in the July-August timeframe with almonds splitting slightly to allow the shell to start drying. 
Once the process has started, the hull will become tougher and more leathery while continuing to break open further, still wrapped around the nut meat itself.
This is also the time in the process when navel orangeworm demands some close attention.  "As always, NOW is a concern," says Kern County UCCE entomologist David Haviland. 
"Even though this should be a relatively normal year, we may see some changes in pattern because of lower pricing of product," he says. "Growers have been trying to cut back on costs wherever possible and many, in an effort to save some dollars, reduced their intensity of normal sanitation procedures. As a result, the potential for navel orangeworm numbers is higher this year than normal because of a combination of less sanitation and low rainfall levels resulting in a higher survival rate of NOW."
Even early in the season, a lot of growers are seeing higher numbers in their pheromone traps.  "This means that this is a year for growers to be watching for navel orangeworm even more closely, making sure they time their treatments appropriately and harvesting crops as early as possible to avoid heavier damage," he says.
"If you can harvest before the third flight starts, you'll be in good shape. Or in the case of Montereys and other late varieties, if you can pick nuts prior to the fourth flight, you'll typically be in good shape because this will be a year to be extra vigilant on NOW concerns. I realize growers want to save costs involved in spraying, but saving cost this way is counterproductive if you've got more than two percent damage to your crop."
Haviland says that philosophy relates to the TV ad that promises, You can pay me now --- or you can pay me later.
"The bonuses you get for damage below two percent, those bonuses are significant," he says. "Yes, sprays cost money, but early harvest is one way to minimize those expenses. If you're trying to find a way to reduce your navel orangeworm damage without spending extra money, focus on getting the crop off the tree and out of the field as fast as possible this year."
A growing consensus
Early harvest appears to be a growing consensus among farm advisors this go-around. Early, in this instance, is defined as when 100% of nuts are at hull split at the 6-8-foot level of tree canopy.
In a previous conversation with Western Farm Press, USDA research entomologist Dr. Joel Siegel, coordinator of the USDA NOW Research Program, noted that climate change, i.e., warmer summer nights, helps spur on new generations of NOW.
Citing statistical data, he warned that while overall population of NOW pressure in 2020 showed a decrease over previous years, it also involved an increased number of NOW emergencies indicating continual adaptation that aligns with key almond vulnerability periods. He cautioned that anything less than what he called "sterling field sanitation" just wouldn't do the job. Siegel believes an excellent winter sanitation program can eliminate the need for up to four sprays during a season.
"If we could consistently determine population, I'd sleep better at night," he adds.  "During drought years, there is the potential for much greater winter survival, consequently higher NOW populations emerging. Some growers may skimp on costly sanitation and will undoubtedly skimp on other measures including insecticide application or using the cheapest insecticides."
With a larger starting population, there is increased potential for Nonpareil damage, and if the population of NOW blows up in Nonpareil, the pollenizers will then be at increased risk. This could be disastrous if growers choose to wait and see regarding their pollenizer varieties, and then react --- too late.
"Growers who skimp on sanitation overestimate their ability to react to a potentially damaging population, and in turn these problematic orchards will give rise to even greater populations that move out into neighboring orchards/ranches in a domino effect," Siegel says.
About the Author(s)
Subscribe to receive top agriculture news
Be informed daily with these free e-newsletters
You May Also Like
---