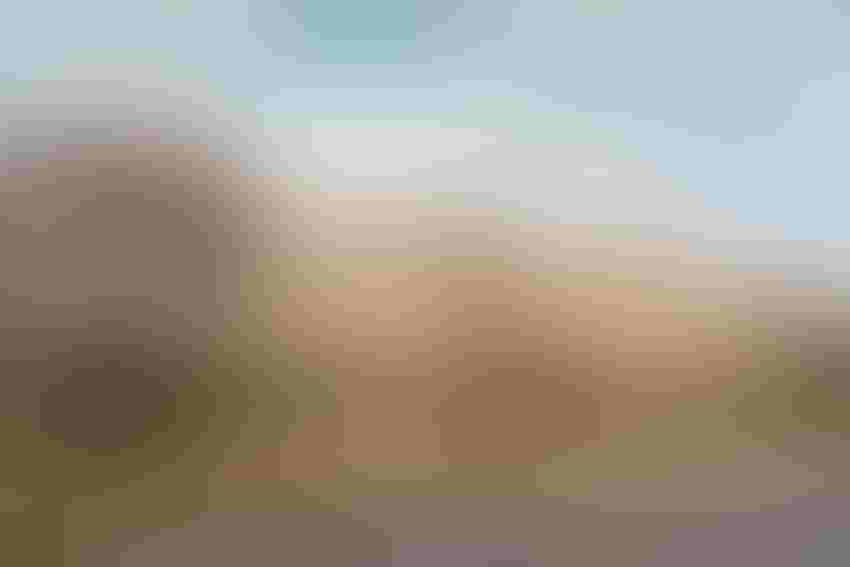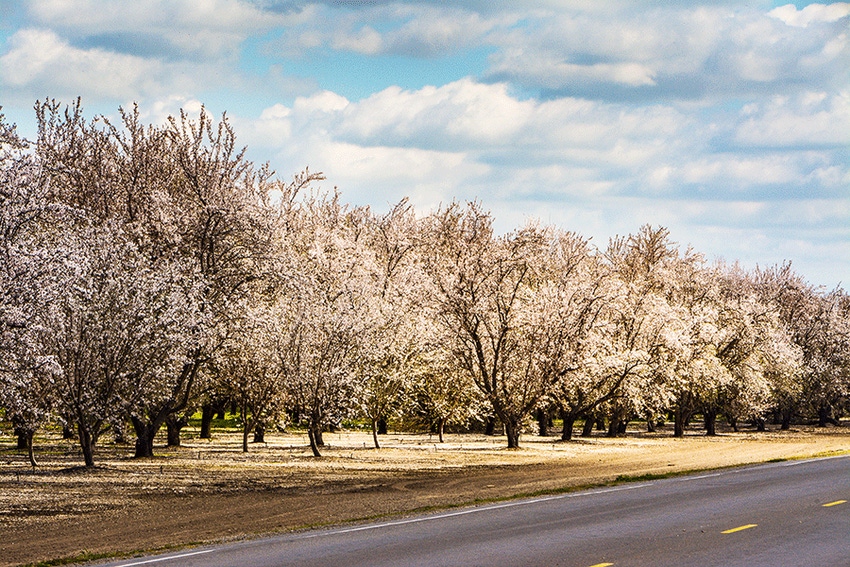 The historic drought from 2012 to 2016 forced almond growers to put into practice water-conservation strategies they'd been taught by University of California Cooperative Extension crop advisors — so say a farmer and an advisor in a newly released video on water management.
Raj Meena of the Gustine, Calif.-based Meena Farms, says tools such as the pressure chamber, which measures water stress in trees, and soil moisture monitoring helped the operation survive drastic cutbacks in water. "I would say our water management improved considerably because it had to," he says in the video, part of series on drought tips from the UC California Institute for Water Resources. "If we hadn't done that, we wouldn't still be farming. When you're so regulated in the water that you have, you have to allocate it very carefully."
Meena Farms grows almonds, walnuts, pistachios, and cherries in western Merced County. Meena has been working with David Doll, a UCCE pomology farm advisor based in Merced, to develop ways of getting the most out of every drop of water.
STRATEGIZING WATER USE
With almonds being a perennial crop, excessive water stress in a given year impacts not only that year's crop but the following year's, too, Doll says in the video. "There are many different ways to manage stress in an orchard. When you're looking at the amount of water that's available, strategizing how to apply that through the season is critical."
The video is the second of three drought awareness and planning videos that are planned to be posted on the Institute for Water Resources website. The first premiered Feb. 2 and covered drought strategies for alfalfa. The final video is set for April 6 release and will address irrigation of citrus with limited water.
Though several big storms drenched California in March, UC scientists say they want growers to keep thinking about drought, because periodic dry spells will always be a part of life in the state. Even after a wet and snowy March, most areas in the Central Valley are still well below their average rainfall totals for this point in the water year, which begins in October, according to the National Weather Service.
And the Sierra Nevada still has only a fraction of its average snowpack for the beginning of April, considered the season's peak, the state Department of Water Resources reports. Thus, California farmers have been told by their irrigation districts to expect reduced water allocations this year.
Almonds were California's third most lucrative crop in 2016, with a value of $5.16 billion, behind dairy products and grapes, , according to the state Department of Food and Agriculture. The most recent drought several years ago prompted some growers to push out older, less productive orchards, while getting by with strategic deficit irrigation — only watering at the most crucial times — for their other trees.
TRACK ORCHARD'S NEED
At the height of the drought in 2015, Doll and UC Davis Plant Sciences Professor Kenneth Shackel published an article with tips on drought management in almonds. They noted that research has shown that trees are able to survive on as little as 7.6 inches of water, but they produce maximally with 54 inches to 58 inches in many areas of the state. The key is to water just enough to avoid a significant reduction in yield.
To keep tree stress levels below that threshold, growers will need to decide when to apply water to reduce the impact of stress on trees, Doll and Shackel note. This can be done by determining how much water is normally applied and comparing it to what would be considered a "fully irrigated" orchard, since many commercial almond orchards are under-irrigated even in good years.
Cutting back too much on water in an already under-irrigated orchard can cause severe stress, so the scientists advise tracking the orchard's need with the use of a pressure chamber.
Using full irrigation until kernel fill, and then only watering when the trees reach a certain stress level, can cut seasonal water use by 15 percent while having minimal impact on the current and next season's crop, Doll and Shackel say. They scientists also provide tips for minimizing yield loss and maintaining kernel quality amid more severe seasonal water shortages. View their article at anrcatalog.ucanr.edu/pdf/8515.pdf and watch the drought tips videos at ciwr.ucanr.edu
Subscribe to receive top agriculture news
Be informed daily with these free e-newsletters
You May Also Like
---