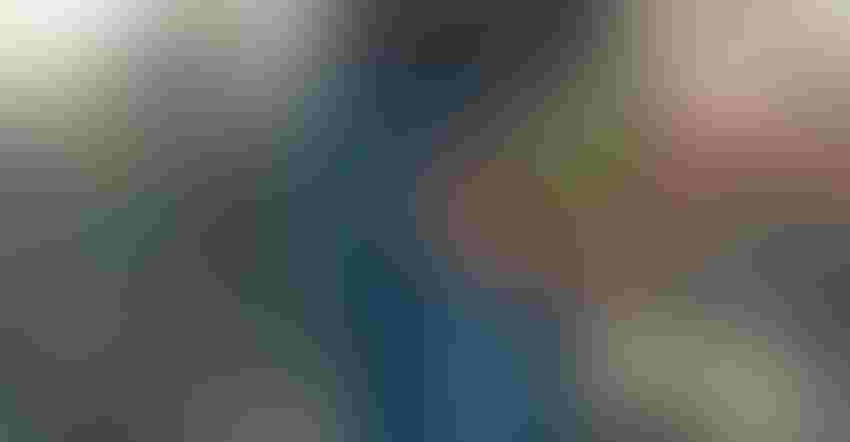 The jury is still out on how this year's Nonpareil almond crop did for sizing. Drought and limited irrigation supplies are said to have reduced almond sizing in general, which could lead to a premium price for those Nonpareils that did receive ample water this season.
Todd Fitchette
If there is a silver lining to epic drought and curtailed water deliveries in California, it can be seen in the likelihood that grower prices for almonds will rebound quicker than expected earlier this year.
Expectations that another record almond crop would exacerbate low grower prices by pushing the unsold almond stocks to over 700 million pounds failed to materialize. The start of the new marketing year, which began Aug. 1, saw just under 600 million pounds of unsold almonds moved forward. Coupled with a smaller-than-projected crop because of drought and limited irrigation supplies, financial experts point to a quicker turnaround for the beleaguered industry.
Roland Fumasi, head of Rabobank's RaboResearch, North America, said robust almond sales that exceeded expectations throughout much of the 2020/21 marketing year reduced an almond supply that threatened to stretch out unprofitable grower returns. Fumasi now projects the blend price for almonds this year to run between $2.25 and $2.30, a much better price than the reported $1.50 price growers received for their crop last year.
"The vast majority of producers should be able to make money at that price," Fumasi said regarding his price projection.
Sales figures
Almond exports hit record levels each month of the marketing year, except for January, according to the July position report published by the Almond Board of California. International shipments ended the year at over 2.09 billion pounds, up nearly 31% from the previous year. Domestic shipments set new records for most months, ending the year at a record 808 million pounds.
The big number in the room, and the one most concerning to Fumasi earlier in the marketing year, was the likelihood of a 700-plus million carry-out. Coupled with industry growth trends and thoughts that the crop could significantly exceed three billion pounds, Fumasi saw this as a huge weight to overcome.
Instead, a crop size projected to be about 2.8 billion pounds on top of a carryout of under 600 million pounds was said to strengthen almond markets and give "suppliers more confidence heading into the new season," according to California-based Meridian Growers.
New crop challenges
Drought-induced nut sizing could be a significant issue this year, according to an e-newsletter from Blue Diamond Almonds. As harvest is just beginning in the Nonpareil and Independence variety nuts, Blue Diamond says it is too early to predict how nut sizing will shake out. Anecdotal reports suggest the drought impacted the larger, snack-nut size almonds.
Meridian Growers expects the Nonpareil variety to command a larger premium throughout the new marketing season as last year's supply was short at just 42% of total production.
Subscribe to receive top agriculture news
Be informed daily with these free e-newsletters
You May Also Like
---