Cooperation can help protect honey bees in orchards
Cooperation can help protect honey bees in orchards
"It's important to notify the beekeeper in advance if a grower or pest control advisor is going to spray, so they can remove the bees, if that's possible, or cover them up, to protect them as much as possible."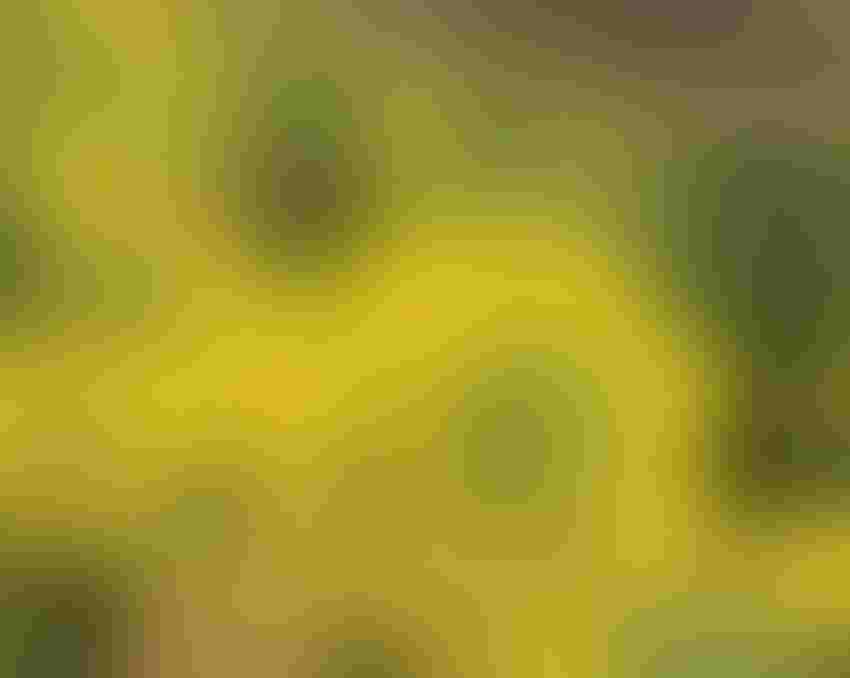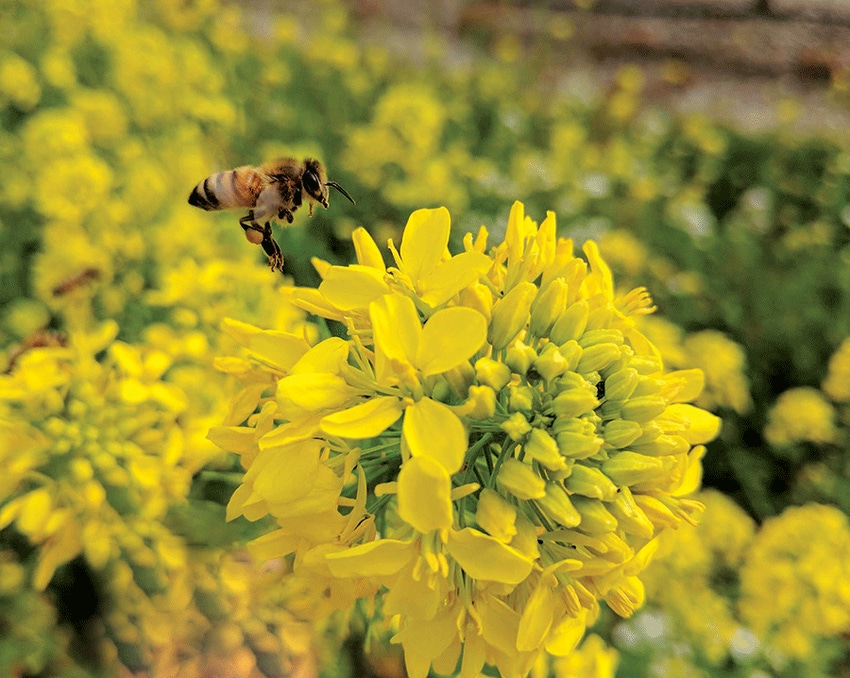 A honey bee forages nectar from a mustard plant.
Bernardo Niño
The University of California is creating awareness among tree nut growers about issues pertaining to the honey bee (Apis mellifera), an essential partner in the state's agricultural production.
Elina Lastro Niño, Extension apiculturist at the UC Davis Entomology and Nematology Department, says, "The major issues that beekeepers like to stress to growers include pesticide use during bloom period, when hives are in orchards. One of the things we're concerned with is not spraying when bees are foraging. If growers can spray in the evening or night when bees are not out there, that would be good.
"It's important to notify the beekeeper in advance if a grower or pest control advisor is going to spray, so they can remove the bees, if that's possible, or cover them up, to protect them as much as possible."
Beekeepers are required to register their colonies with the county agricultural commissioner. A beekeeper can request that the county notify them when anyone within a mile of their colonies is going to spray pesticides. Conversely, growers can contact the county to determine if any colonies are within a mile of where they plan to spray.
 "Contracts are becoming a little bit more common between growers and beekeepers," Niño says. "A beekeeper would say, 'If you're going to use pesticides, definitely let me know, or maybe you can use an alternative that is not toxic to bees.'"
Another issue pertains to organosilicons, which can affect bee immunity, making them more susceptible to viral infections. "These are surfactants or adjuvants that growers add to the pesticide," Niño explains. "They might make a pesticide stick better to the plant. We are starting to find that some of the organosilicons can be harmful to bees, so keep that in mind."
Beekeepers encourage growers to provide supplemental forage for honey bees. "Sometimes beekeepers will provide a little bit of a discount on the price per hive if the grower has supplemental forage around their orchard — for example, mustard plantings," Niño says. She notes that there are native plant seed mixes that support both honey bees and native bees. And when both bees are present, they fight for resources, "which improves pollination."
Also, growers are encouraged to provide clean water for bees. When farmers plan to spray pesticides, "it would be beneficial if they could cover the water source so the bees don't get into it, or if they could replace the water afterwards."
She says the Almond Board of California provides Bee Best Management Practices online at http://www.almonds.com/pollination
Almost 50 years ago, the UC Davis Entomology Department established a bee research facility. The Harry H. Laidlaw, Jr. Honey Bee Research Facility, founded in 1969, is the largest and most comprehensive state‐supported apiculture facility in North America, and the only one in California. It provides cutting edge research focused on honey bee and native bee biology and genetics, addressing international concerns about bee health, and assisting California's multi-billion dollar agricultural industry. Its staff investigates declining populations of honey bees, native bees, and other insect pollinators, and works to provide solutions.
The 8,200 square foot facility is located on Bee Biology Road, two miles west of the central UC Davis campus. It contains six laboratories, observations hives, a honey bee food processing room, and an apiary or bee yard with more than 80 colonies. It was named in honor of Harry Hyde Laidlaw, Jr. (1907-2003), who was considered the father of honey bee genetics.
The research center offers educational opportunities, including the California Master Beekeeper Program, and the Queen Rearing Techniques Short Course. More information is available at http://elninobeelab.ucdavis.edu 
In addition to educating farmers and beekeepers about bees, UC outreach efforts extend to the general public.
East of the Laidlaw facility is the Häagen-Dazs Honey Bee Haven, a unique outdoor museum designed to create awareness and educate people about the beneficial uses of honey bees and native bees in the ecosystem. The half-acre garden, established in 2009 thanks to a gift from Häagen-Dazs, an ice cream company based in Oakland, Calif., is open year-round during daylight hours and has free admission. It is preparing for the upcoming National Pollinator Week open house and plant sale June 23 from 11 a.m.–2 p.m. For more information, see http://hhbhgarden.ucdavis.edu
The field day comes on the heels of the California Honey Festival, recently held in downtown Woodland and attended by an estimated 35,000 people. The festival was sponsored by the UC Davis Honey and Pollination Center and the City of Woodland. It was created to spur interest in bees and honey, and to foster awareness oft the importance of bees to food production.
The second annual event featured more than 200 vendors set up on Main Street, including the UC Davis Honey Lab and other apiary organizations that handed out honey samples and information about honey and bees. The Honey Lab staff also provided demonstrations with live bees. Other vendors sold honey-based soaps and beauty products, beeswax candles, and more.
There was a pollinator garden that featured bee-friendly plants. People had the opportunity to taste honey-infused tea, honey pastries and desserts, and mead, a fermented-honey beverage. In addition, there was an appearance by 2018 American Honey Princess Jenny Gross of Sheboygan, Wisc., who donned her sash and tiara as she mingled with festival-goers.
Subscribe to receive top agriculture news
Be informed daily with these free e-newsletters
You May Also Like
---