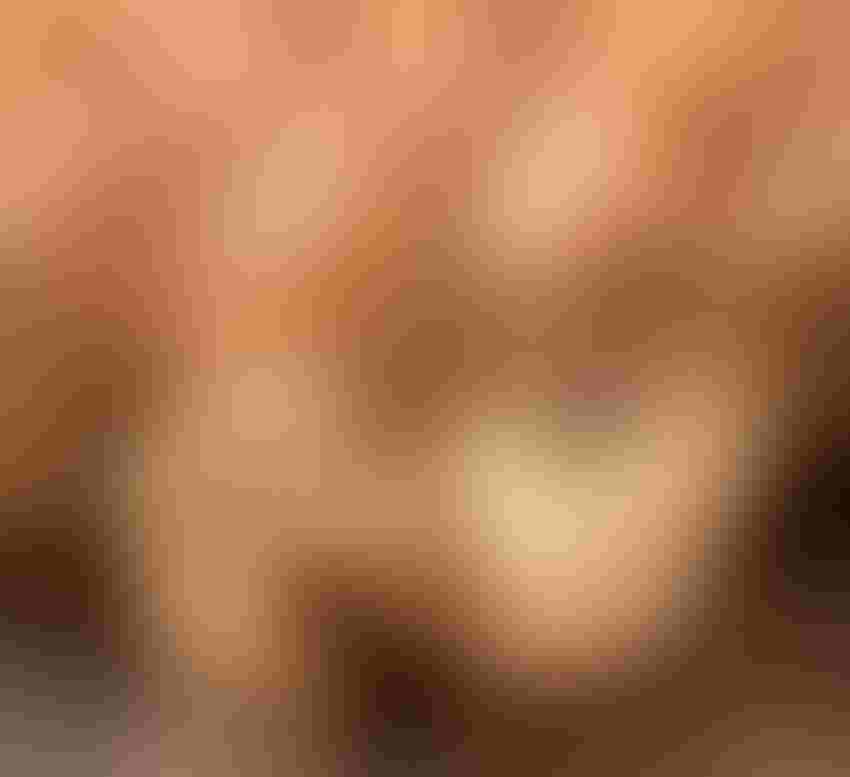 A new study suggests regular intake of walnuts can lower risk of adult-onset diabetes.
California Walnut Board
For the first time, snacking overtook baking in 2017 as the most common use of walnuts, according to a consumer preference survey conducted by the California Walnut Board.
The survey showed 74 percent of respondents eat walnuts as a snack, which is nearly double the percentage of people who did so 15 years ago. The study of more than 3,000 consumers, conducted in April 2017, was highlighted in the board's most recent newsletter.
The use of the nuts as a baking ingredient ranked second, with 63 percent of consumers saying they bake with walnuts. Officials say this statistic shows it's important for the board to continue efforts such as its holiday baking campaign, conducted in November and December with print and digital ads, recipe videos, and placement of walnuts in segments on the Hallmark Channel's Home and Family morning show and the Rachael Ray Show.
The latest in the board's periodic consumer surveys comes as the commodity group has been working feverishly in recent years to help demand keep pace with the rapidly growing production of walnuts.
MORE WALNUT ACRES
Bearing acreage of walnuts in the Golden State has increased from 218,000 in 2007 to 335,000 in 2017, according to the National Agricultural Statistics Service. The estimated 650,000 tons harvested last fall was down from the record 686,000 tons produced in 2016, but it was still nearly double the 328,000 tons produced in 2007.
The renewed focus on demand came after a precipitous drop in prices in late 2015 and early 2016. For example, the price of Chandler in-shell walnuts fell from a high of $2.12 per pound in 2014 to 88 cents in early 2016, according to a summary of price trends by the Oroville, Calif.-based Merlo Farming Group. Prices have since stabilized, climbing to $1.32 per pound for in-shell Chandlers as of October.
The overall 2016 crop was valued at $1.24 billion, up from the previous year's $1.01 billion, but down from a high of $1.9 billion for the 2014 crop, according to NASS. The board has been promoting walnuts' nutritional value and versatility domestically, as well as in places like the United Kingdom, where the California Walnut Commission "reintroduced" walnuts last year to trade shows, health care professionals, and consumers after a 20-year hiatus, according to the newsletter.
The grower-funded board and handler-funded commission work in tandem, with the board doing such tasks as varietal development and domestic promotion while the commission handles health research and international marketing.
MARKETING EFFORTS EFFECTIVE
Walnut board representatives say they found the results of their latest consumer attitudes and perceptions survey "very encouraging," because they suggest recent marketing efforts have had an impact. In the last decade, walnut consumers' perception of the nut as a healthy food has jumped from 67 percent to 95 percent.
The board has sought to educate the public about how walnuts affect health, explaining the difference between "good" and "bad" fats, while commission-funded research has linked a steady diet of walnuts with improved heart health, male fertility, and cognitive ability.
The percentage of consumers who snack on walnuts has risen from the 78 percent who did so in 2013. Board officials say they're even more encouraged by the finding that 78 percent of respondents believe walnuts to be versatile, up from 66 percent in the 2013 survey. The board has been focusing on versatility in its advertising and public relations campaigns, by posting recipes that can be prepared quickly for consumers that are pressed for time.
Subscribe to receive top agriculture news
Be informed daily with these free e-newsletters
You May Also Like
---