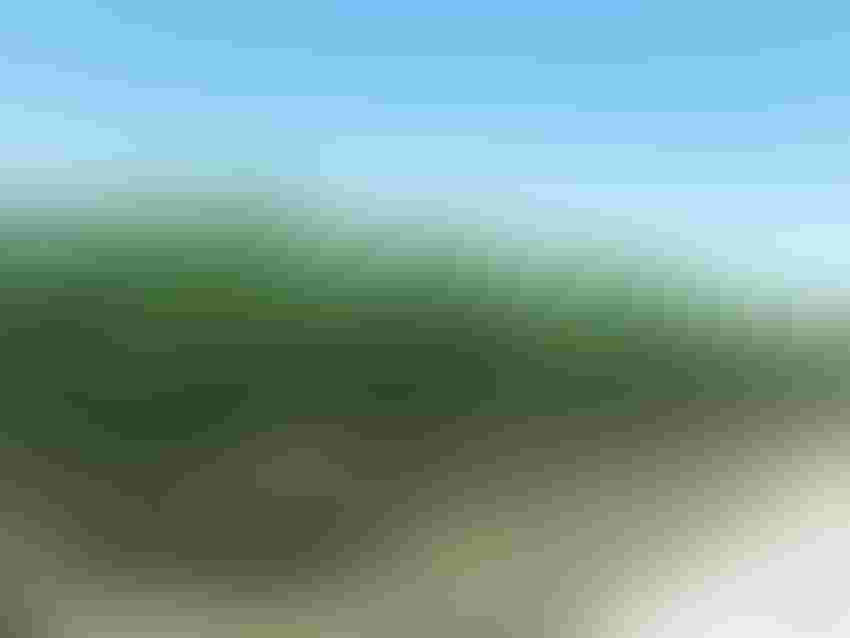 While many agricultural commodities could be impacted by retaliation against President Donald Trump's decision to slap tariffs on imported steel, aluminum, and other goods, one sector in particular would suffer from any disruption in trade with China: pistachios.
Pistachios have grown in popularity in China, where they're referred to as "the happy nut," because the slight opening in the shell often looks like a smile.
In the most recent shipping season, China and Hong Kong were the destination for 55 percent of pistachios exported from the U.S., representing a farm gate value of $339 million, says Richard Matoian, executive director of the Fresno, Calif.-based American Pistachio Growers. "We believe that consumers in China really recognize the value of pistachios," he says, notingg that they have become "a preferred gift" for the Chinese New Year and other special occasions.
Matoian says he doesn't want to speculate about how much harm it would do to American pistachio growers, most of whom are in California's San Joaquin Valley, if China were to target the commodity for higher duties.
MORE PISTACHIOS EXPORTED
Pistachios are still subject to a 6 percent tariff in China, but that has been lowered incrementally from 30 percent a decade ago. And as the trade barrier has decreased, pistachios' popularity in China has risen. California's shipments to China a dozen years ago topped out at about 10 million pounds, but in the past shipping year they totaled 140 million pounds, Matoian says.
Six months into the 2017/18 shipping year, overall pistachio exports are ahead of last season's record pace, he notes. A little more than 216.7 million pounds of open in-shell pistachios were exported as of the end of February, compared to 211.8 million pounds by the end of February 2016, according to the Administrative Committee for Pistachios. In all, nearly 352.5 million pounds of open in-shell pistachios were shipped in 2016-17, an all-time high.
The growth "also happened to coincide with a rise in China's middle class," he says. "How much was due to the lower tariff, and how much was due to the growing middle class, has been very difficult to get our hands on. But I think all of those things have benefitted the industry."
AGRICULTURE MAY BE TARGETED
The tree nut's potential vulnerability follows Trump's decision in early March to impose tariffs of up to 25 percent on imported steel and 10 percent on incoming aluminum, while exempting some countries. And on March 22, Trump levied tariffs on a range of imported Chinese products in a move that administration officials said was in retaliation to that country's alleged theft of intellectual property.
China has vowed to hit back, and agriculture — one of the few sectors in the U.S. that runs a trade surplus — could be a target. U.S. shipments of soybeans to China totaled $14.6 billion in the last marketing year, according to Bloomberg News. A USDA representative told CNBC that the "United States stands ready to defend our producers who may be harmed by foreign country retaliation, in particular farmers and ranchers who are often the first to be targeted by trade actions."
A report commissioned by American Pistachio Growers asserts that the pistachio industry contributes nearly $3.6 billion to California's economy, with another $31.2 million generated in Arizona and nearly $7.1 million in New Mexico. Among more than 400 commodities in California, pistachios were the state's seventh highest-valued crop in 2016, at $1.5 billion, according to the state Department of Food and Agriculture. Dairy products were No. 1, at $6.07 billion.
BEARING ACRES DOUBLE
Bearing acreage of pistachios in California has risen every year since 1985, but has more than doubled in the last decade — from 115,007 in 2007 to 250,385 in 2017, according to industry and government statistics. With exports a key driver, the total crop value of California pistachios has topped the $1 billion mark in five of the last seven years for which average returns are available.
The percentage of exports that go to China varies — it was as low as 15 percent in 2015 — but it is always a significant number, Matoian says. He thinks China might go after larger American commodities such as corn, soybeans, and wheat, but he isn't certain what to expect. "We're certainly not the largest-dollar commodity that goes into China," he says.
In the meantime, APG representatives are working with administration and congressional officials to try to keep the trade lanes open. "Our lobbyists are definitely doing that," Matoian says. "They always keep our legislators, regulatory officials, and the U.S. Trade Representative's office aware of the need for trade in agriculture."
Subscribe to receive top agriculture news
Be informed daily with these free e-newsletters
You May Also Like
---