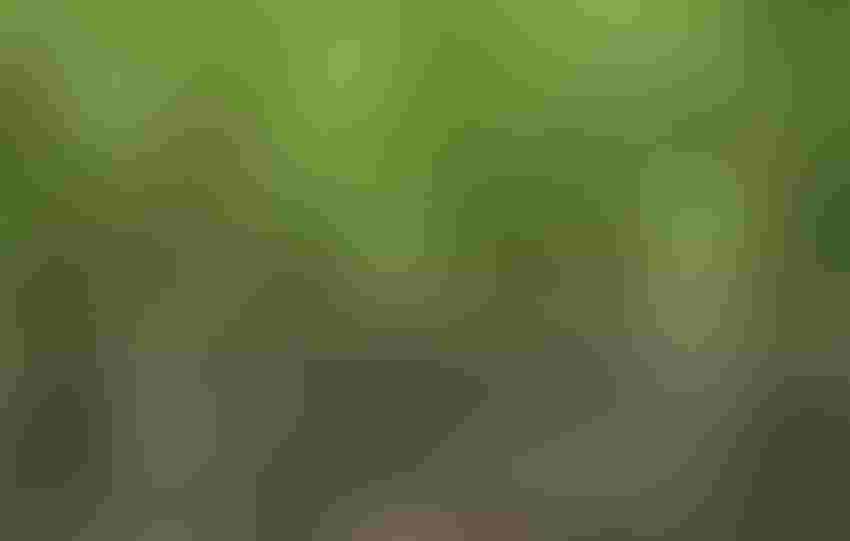 Fourth-generation grower Bill Carriere says he expects a record walnut crop this year statewide.
California Walnuts
Northern California is thought of as the epicenter of the walnut world and Carriere Family Farms is in the thick of it with orchards in the alluvial soils along the Sacramento River at five different locations in Glenn and Colusa counties.
Things got started there in 1963 and grew as the family group expanded.  "Including some neighborhood hobby farm production, we have about 3,500 total acres [walnuts, almonds, rice] with 1,600 acres dedicated to ten varieties of English walnuts," says President Bill Carriere, fourth generation farmer.
"Our son did a high school project where he got to ride the four-wheeler all over the property and count the trees-per-acre and it came out to about industry average, give or take 75 trees per acre in high-density planting. Each of our varieties is harvested at its peak, which allows us to spread out harvest over a two-month season.
"We grow most of the commercially popular varieties although the industry is really about 95% comprised of five types and the Chandler itself is almost two thirds of the entire crop because it's high-yielding with light-colored meat and it's easy to shell," he says. "It's become the industry standard for both in-shell and kernels."
Realizing that the more you do in-house, the less you have to subcontract, it was quickly decided that controlling the hulling and drying operation made sense to do on property. Over the years, more parts of the process became internal as Carriere Family Farms transitioned from grower to processor to marketer and in partnership with Borges of California, opened an in-shell plant for processing, packing, and shipping.
A shelling line was added in 2006 to round out the processing operation and new storage buildings and cold storage facilities have since come on-line making this a one-stop shop with shipping year-round.
Crop developing well
While the walnut season varies depending on location, by mid-April Carriere was seeing early varieties with leaves and the Chandlers pushing little shoots out with pollen-bearing catkins and little nutlets just starting to form. 
"Warm weather should push that process along and by end-of-month, everything will be green," he predicted.
First varieties will come to harvest in mid-September and all varieties will finish harvest by early November.
Accounting for the number of acres and past history, "We expect a record crop this coming year," he says. "Even though it was a mild winter, we had plenty of chilling hours that helped the trees rest.
"Right now, during bloom, is a critical time when we need decent weather to ensure good pollination. Assuming all goes well, I'm anticipating a record crop statewide, something over 700,000 tons compared to 650,000 tons statewide last year. We had about 26 million pounds we processed last year and expect at least 32 million coming through our processing facility this season."
Depending on weather, Carriere expects the usual in the way of pests and disease mitigation. "Copper spray for walnut blight and three or four flights of different insects like the coddling moth and navel orangeworm."
While water is always a concern, "Our bigger issue this year is the marketing side and what's going on with the coronavirus and all the ripple effects it's had on prices and markets. We're a bit nervous about selling the last 15% of the 2019 crop as prices have been falling because of market uncertainty. Buyers are skeptical about what effect the chaos will have longer term, how long the virus will last, and how much they want to stick their neck out to buy more product. Right now shipping is pretty much close to normal, but we're nervous about next year."
Even though the family farm is pretty much a do-it-all-from-start-to-finish facility, the "last piece of the puzzle — retail marketing — depends on the next generation," he says. "While we sell to re-baggers like Costco for their Kirkland brand or Safeway for their Select product, we don't have a brand, a retail presence and the longer range plan may include that.
"Although I'm not as bullish as I was three months ago, 2019 final payments will be profitable," he says. "But once we sell the final 2019 crop, I'm a bit nervous because I don't know how long this will last before we get back to some kind of normal."
For more news on tree nuts as reported by growers and farm advisors, subscribe to the Tree Nut Farm Press e-newsletter.
About the Author(s)
Subscribe to receive top agriculture news
Be informed daily with these free e-newsletters
You May Also Like
---