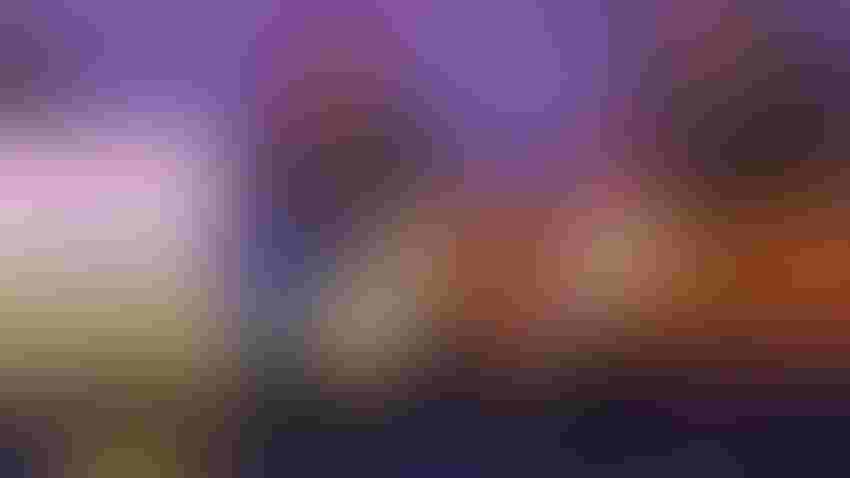 Almond Alliance CEO Aubrey Bettencourt, left, interviews California Lt. Gov. Eleni Kounalakis during the organization's annual meeting in LaQuinta shortly after Kounalakis announced her candidacy for California Governor.
Todd Fitchette
Three days after publicly announcing her run for governor, California Lt. Gov. Eleni Kounalakis pitched some thoughts to almond industry leaders in LaQuinta.
Kounalakis is the first candidate to publicly announce a run in the 2026 gubernatorial election as current Gov. Gavin Newsom will be termed out.
Kounalakis made a guest appearance at the annual Almond Alliance of California meeting in LaQuinta in late April, sitting for a discussion with Almond Alliance CEO Aubrey Bettencourt. During the half-hour discussion, Bettencourt questioned Kounalakis on her vision for California agriculture.
As a former U.S. ambassador during the Obama administration, Kounalakis said she became aware of how international trade and investment affects the U.S. economy. Her role as lieutenant governor includes promoting California efforts globally.
She highlighted an international conference slated for later this year in San Francisco with the heads of state from 22 Pacific Rim countries. The Asian Pacific Economic Council is being hosted by the White House. Kounalakis hopes to use the forum to promote California almonds "and remind the world of what California has to offer."
Kounalakis talked from a high level on California's need to streamline processes to improve water infrastructure that can take advantage of water availability in wet years like the state is currently experiencing. With that she announced her support for Sites Reservoir, saying it is a project she and Gov. Newsom support.
She also highlighted the need for more innovation through ag technology, which she praised the almond industry for leading.
"You responded and came up with innovative approaches to deal with using less water, and now the whole world uses it; that's innovation," Kounalakis said.
California's lieutenant governor sits on the University of California Board of Regents, is a trustee on the California State University Board, and is now on the board of the state's community college system. "I'm the only person to sit on all three boards of higher education," she said.
Education investment
She used this to highlight the opportunities available for California to shape investment in education to improve California's future. She recommended that the agriculture industry remain engaged with its local colleges and universities to help address research and technical needs.
"Keep this going; if there is a campus that you have a relationship with that is near you, sit down with them and come up with programs that you can support, because they are very open to it," she said. "Identify those needs and then identify which community college you can encourage to support a program. I will tell you that a little bit of foundational support, a little bit of grant support, and they will be receptive to it because they are doing that in a lot if different ways with industries in the state."
Subscribe to receive top agriculture news
Be informed daily with these free e-newsletters
You May Also Like
---