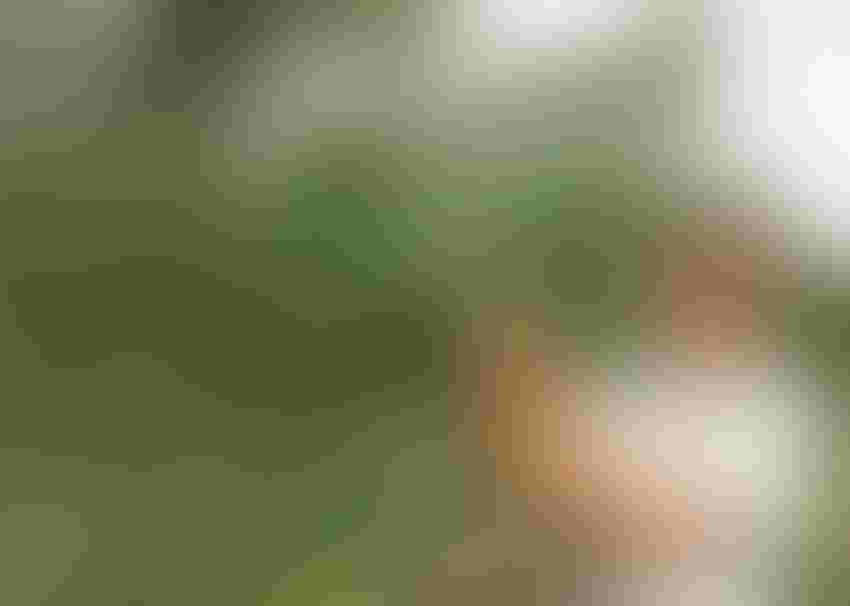 California Farm Academy apprentice Alex Hasbach checks on almond trees near Winters, Calif.
Robyn Rominger
A one-of-a-kind program that provides in-depth, hands-on training to beginning farmers was recently approved by the California State Division of Apprenticeship Standards.
The Center for Land-Based Learning's California Farm Academy Beginning Farm and Ranch Manager Apprenticeship Program was developed in response to a need for skilled farming professionals to fill critical management positions on farms, to take the reins from farmers looking at retirement, or to launch their own farming operations. 
"California is facing a shortage of qualified farm managers and operators, as an entire generation is on the cusp of retirement," says Mary Kimball, executive director of the Winters-based organization. "This is also incredibly helpful to beginning farmers in the state, who finally have a legal, formal apprenticeship program approved by the state that trains to one standard."
The Center for Land-Based Learning has developed the first registered apprenticeship program for beginning farm and ranch managers in the country, according to Marisa Alcorta, Land-Based Learning's apprenticeship program manager. 
The California Farm Academy apprenticeship program was developed through a partnership with the Center for Land-Based Learning and Soil Born Farms at Sacramento, along with guidance and input from several other area farmers. The program works closely with the California State Division of Apprenticeship Standards and the San Joaquin County Office of Education.
The goal of the program is to equip beginning farmers with sufficient training, work experience, and business management skills to obtain a secure management position with established farms, or to be successful at starting and sustaining their own small farm businesses. 
In addition to Soil Born Farms, other participating farms include Full Belly Farm at Guinda and Rominger Brothers Farms at Winters, both of which produce tree nuts including almonds and walnuts. 
Alex Hasbach is an apprentice at Rominger Brothers Farms, where she is involved with almond and walnut production, and other crops at the diversified operation. "The apprenticeship program has enabled me to participate in many different aspects of the farm operation, and has been a great practical education for someone who did not grow up on a farm," she says. "I am learning new things every week, and looking forward to a future career in farm management."
The program requires completion of 3,000 hours of on-the-job training and 250 hours of related supplemental instruction coursework. It's estimated that it will take apprentices about 24 months to complete the program. Farmers hire the apprentices as employees, starting at minimum wage ($10.50 in California) and increasing by $0.50 every six months if they meet program requirements.
Since apprentices in California are not allowed to pay for their own education, the farmers also cover the cost of tuition for all coursework, with the understanding that the program will reimburse them as the staff secures funding. So far, the Center for Land-Based Learning has been able to find funding to cover tuition for 2017 and 2018. 
The apprentice application process is thorough, and applicants are asked about farming interests to help staff match them with appropriate farms. There is a job interview process; ultimately, the farmer hires the apprentice(s) who best fits their operation and work needs.  
During the first year, while working a farm, apprentices enroll in the California Farm Academy's seven-month Beginning Farmer Training Program. Hours and type of work will depend on the farm owner and/or manager of the operation.  
During the second year, apprentices will have fewer class hours and more hours of on-the-job training at their host farm. This will be a time for them to continue learning on the job, alongside their farm mentors, and to fulfill the 3,000 hours of on-the-job training. During the second year, they will also attend classes, workshops, and meetings that relate to their personal interests in order to expand on the knowledge gained through the training program. 
Throughout the program, apprentices will learn a diverse set of skills from farmers and farm managers. During their on-the-job training, they will spend a minimum of 75 to 100 hours in the following areas: soil management, tractor skills, planting, pest and weed management, irrigation and water management, harvest, post-harvest and packing, sales and marketing, regulations, equipment repair, and fabrication. The other time will be allocated based on the apprentice's learning goals and the farmer's needs. 
The Division of Apprenticeship Standards is a division of the California Department of Industrial Relations, and works with agricultural businesses and other industries, such as construction, health care, hospitality management and information technology. By forming working partnerships with industry leaders and representatives, the department can ensure apprenticeship programs are in line with the recruitment needs of each industry. 
California Gov. Jerry Brown's budget expands statewide apprenticeship opportunities to non-traditional industries and state civil service, and increases access to approved apprenticeship programs for veterans, women, and other under-represented communities. The budget supports California's State Strategic Workforce Plan, which calls for creating 1 million middle-skilled, industry-valued and recognized post-secondary credentials between 2017 and 2027, and for doubling the number of people enrolled in apprenticeships in the same period. 
The Department of Industrial Relations continues to develop collaborative partnerships with education, government, and industries to meet the needs of a skilled workforce in the state, and to exceed the Division of Apprenticeship Standards' and the U.S. Department of Labor's shared goal of 100,000 active apprentices in California by 2020. 
"We are actively pursuing a national apprenticeship designation this year, which will help with our expansion efforts," Alcorta says. In the future, the Center for Land-Based Learning also hopes to develop a curriculum aimed specifically at tree nut orchard management.  
"We recognize that the tree nut industry is growing fast in California, and we want our apprentices to be prepared with basic orchard management skills to help them be relevant in the job market."
For more information, contact Alcorta at [email protected] or (530) 795-4146. 
Subscribe to receive top agriculture news
Be informed daily with these free e-newsletters
You May Also Like
---