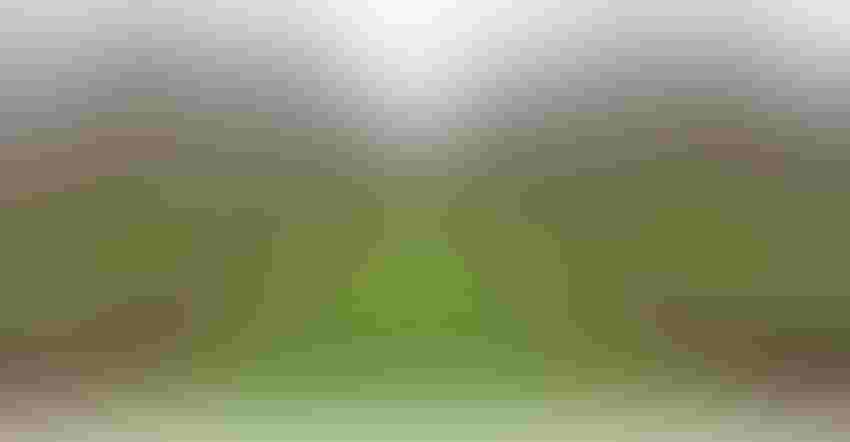 Cover cropping works well with large-scale almond production.
Alyssa DeVincentis/UC Davis
Good ideas often take time to germinate before blossoming and that may be the case for cover cropping in almond orchards.
The concept was used extensively in the first half of the 20th century until a lot of farmers transitioned away from cover crops in the 1950s with the development of selective pre- and post-emergent herbicides. However, renewed interest on reducing chemical inputs and improving soil quality has brought the subject full circle.
Writing as The Almond Doctor, David Doll, University of California Cooperative Extension nut crop farm advisor in Merced County, notes: "Although cover cropping is compatible with almond production — and potential benefits have been recognized by growers — this practice has not been widely implemented in California."
Although the practice works well with large-scale almond production, one Almond Board of California Sustainability Survey showed only 5.6% of growers keep a winter soil cover.
That said, cover crops offer numerous benefits such as the potential to increase soil organic matter and fertility, improve soil structure, reduce erosion, promote water infiltration, and limit pest and disease outbreaks.
According to a University of California Agriculture and Natural Resources write-up of such programs, "One of the most critical factors for implementing a cover crop management program is determining the objectives and functions of the chosen cover crop."
Two researchers — Alyssa DeVincentis at UC Davis and Ellen Bruno at UC Berkeley — have teamed up to develop a Cover Crop Calculator that will help almond growers decide on potential benefits of such a program.
"To better understand incentives for cover crop adoption, like determining how long it will take for that investment to break even, we created a benefit-cost calculator that estimates how baseline profits change as a farmer integrates winter cover cropping," wrote Bruno.
"In our baseline analysis, we considered cover crop seed mixes commonly used in the Central Valley during winter cover cropping.   While a small grain forage mix worked well for some edible plants, a clover mix was used for almonds."
Endless number of species
Added DeVincentis — "There are an endless number of cover crop species and seeding rate mixes possible in almond orchards where this this still not yet a common practice.  Our calculator allows growers to adjust the values to the specific mix and rate they are interested in."
Their research showed benefits like increased income from greater yields as a result of soil quality improvements, fertility, and soil-water relationships while expenses like erosion control, nutrient cycling, and tillage were reduced.  Another benefit for almond growers involved lower beehive prices.
"Winter cover cropping is an investment in the long-term viability of agricultural operations," noted Bruno.  "While benefits and costs accrued differently over time with year-to-year variations, overall the value of this soil management practice is greatest for those with a longer time horizon and willingness to manage their cover crop as carefully as their cash crop."
The interactive web-based calculator helps figure benefits and costs of winter cover cropping in almond operations by estimating how much growers can expect their profits to change after growing winter crops over a certain number of years.
"The calculator simply serves as a guide to when a farm can expect to experience economic returns, based on costs and monetized benefits."
In a report on their research, The Journal of Environmental Management noted: "Winter cover cropping is an investment in the long-term viability of operations in the changing agricultural landscape of California.  The model confirms the hypothesis that winter cover crop payoff benefits accrue slowly over time.  While climate change impacts may threaten the viability of winter cover cropping, benefits outweigh costs if growers receive sufficient subsidies and if they can reduce summer irrigation requirements."
About the Author(s)
Subscribe to receive top agriculture news
Be informed daily with these free e-newsletters
You May Also Like
---