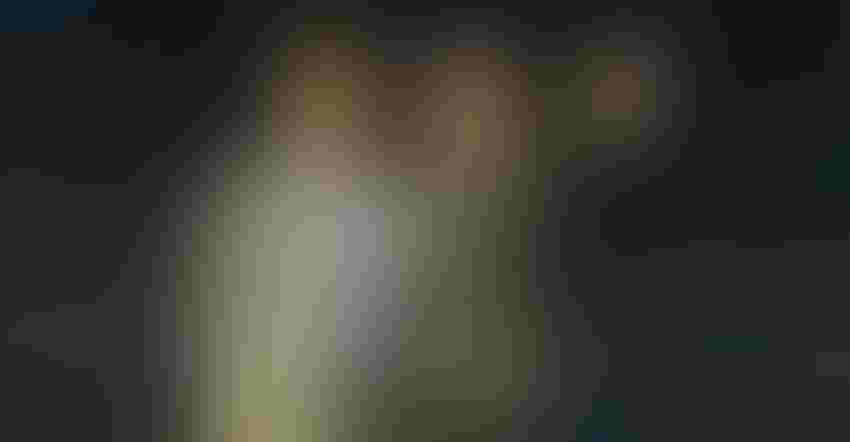 Mark Jansen, left, and Blue Diamond Board Chairman Dan Cummings at the close of what was likely Jansen's last address to members during the organization's 112th annual meeting. Jansen will step down from his role as Blue Diamond CEO once his successor is named. A national search is currently under way to fill that role.
Todd Fitchette
Mark Jansen finished what will likely be his last annual meeting address to Blue Diamond almond growers with the same message he's shared over the past dozen years as chief executive: "the best is yet to come."
The mid-November annual meeting of members in Modesto was the first since late 2019 that the cooperative's membership was allowed to meet in person because of pandemic restrictions. It was likely also Jansen's last as CEO. He intends to resign his position once the board names his successor. Jansen said he will remain while his successor is named and to assist with the transition.
Jansen publicly announced his decision to step down as Blue Diamond's chief executive ahead of the company's annual meeting in November. During his address to members at the Modesto meeting, Jansen said the company is well-positioned for the transition.
Related: Almond conference to focus on achievements
Western Farm Press spoke with Jansen at the close of Blue Diamond's annual meeting in Modesto to talk of the highlights and successes he spearheaded in his 12 years with the company.  Though the past couple years was marred by supply chain disruptions and sub-par producer prices, Jansen told the lunchtime audience of over 1,000 people that now is a good time for him to step back and allow new leadership to take the 112-year-old grower-owned company to new successes.
Perhaps one of Jansen's largest accomplishments as chief executive was moving Blue Diamond to a billion-dollar company.
"When I joined Blue Diamond, we were roughly at $650 million in sales," he said. Since then, sales have more than doubled.
$1 billion in sales
Jansen was named CEO in September 2010. Three years later he announced to his membership that the company had cracked $1 billion in sales for the first time in its history. Today the company boasts about $1.6 billion in sales, propelled largely by value-added products that include Almond Breeze, flavored nuts, and crackers.
When Jansen joined the cooperative, it was still open to new membership. New tonnage and growth within the existing membership helped grow the organization, which netted members greater returns.
"Blue Diamond was competitive in its returns when I got here, but I would say we were non-differentiated from the other almond handlers," he said. "Since then we've been able to create a unique business model where we're much more focused on value-added sales. That differentiates us from the other almond handlers of the world, and because of that we've seen a significant increase in the competitive advantage we pay our growers."
Shortly after joining Blue Diamond Growers, Jansen met with grower members on their farms. From them he heard the same message: "improve our returns." From there, he and the team went to work. Though Almond Breeze and the Nut Thins crackers were already in the marketplace, they needed better marketing. They could not expect to grow significantly as small, niche products solely found in health food stores. Today there is a higher almond milk penetration in the marketplace than skim or low-fat milk, he said. Now those products are readily available in large grocery chains including Kroger and Walmart.
Sustainability
Blue Diamond almond growers are now rewarded financially for their participation in sustainability programs that are largely tailored from what the Almond Board of California continues to promote. Since adding the financial incentive for growers to participate in the company's sustainability program, participation has grown to about 40% of the cooperative's total acreage.
Jansen said Blue Diamond's buyers are not only beginning to ask questions about these practices but have indicated a willingness to pay premium prices for demonstrated sustainability practices.
That, and the efforts to expand the sale of value-added products, are working well internationally. The organization's international retail group was honored at this year's annual meeting for its 17% revenue growth this year on top of a business that's been growing double digits since Jansen came on board.
Company growth
Under Jansen's leadership, Blue Diamond opened a new 200-million-pound manufacturing facility in Turlock, Calif., expanded into five new almond product categories, created a global network of licensee partners for Almond Breeze that allowed it to grow into the largest almond milk brand in the world, drove growth of the flavored snack nut category that earned the company 50% market share in the U.S. with distribution to more than 60 countries; and, achieved double-digit compounded annual growth of the company's branded business.
Blue Diamond Growers represents about 3,000 California almond growers and is the world's leading almond marketer and processor. The company was founded in 1910 and has since opened world markets for almonds, providing not only snack nuts, but ingredients and branded products.
About the Author(s)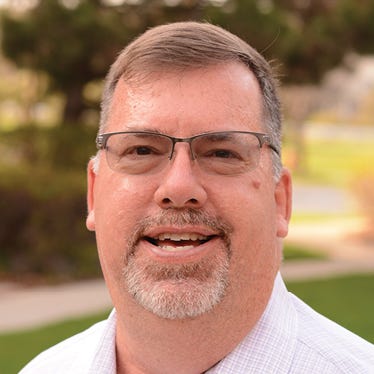 Associate Editor, Western Farm Press
Todd Fitchette, associate editor with Western Farm Press, spent much of his journalism career covering agriculture in California and the western United States. Aside from reporting about issues related to farm production, environmental regulations and legislative matters, he has extensive experience covering the dairy industry, western water issues and politics. His journalistic experience includes local daily and weekly newspapers, where he was recognized early in his career as an award-winning news photographer.
Fitchette is US Army veteran and a graduate of California State University, Chico. 
Subscribe to receive top agriculture news
Be informed daily with these free e-newsletters
You May Also Like
---