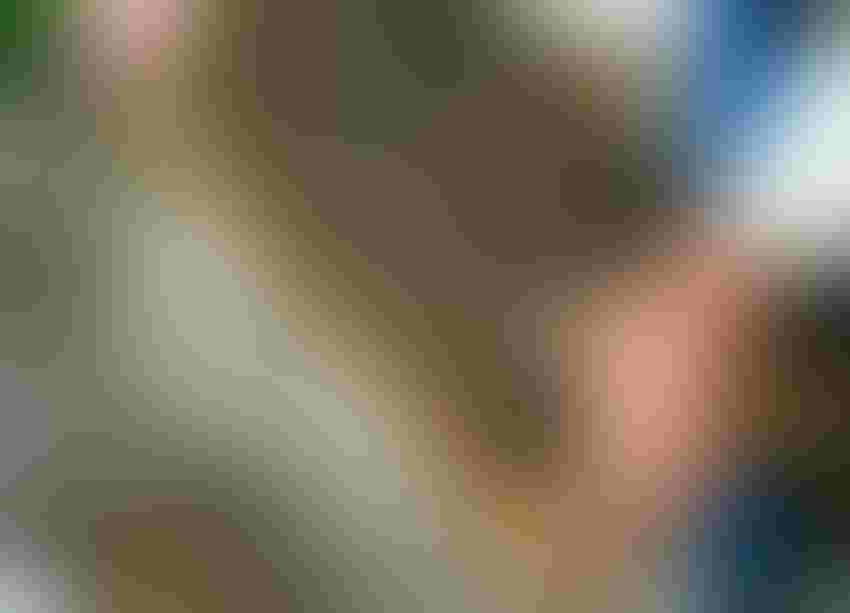 A fourth-generation beekeeper tells the Almond Board of California that it's important that beekeepers and farmers maintain a good relationship.
Joe Raedle/Getty Images
"What's "good for the bee is good for the almond farmer," a fourth-generation beekeeper says, and it's important that beekeepers and growers maintain a good relationship.
Keeping lines of communication open before, during, and after bloom ensures there is a proper balance between protecting the crop and protecting the bees, says Jamie Johnson, whose family owns Johnson Honey Farms at Rocky Ford, Colo.
Her comments were in a blog post by the Almond Board of California from an interview in conjunction with the inaugural World Bee Day May 20.
"You can't wait until after your bees are in the orchard to discuss things like pesticide spraying, weather forecasts, and providing blooming plants to support bees before or after bloom," Johnson said. "I have a direct line to each of the almond farmers I work with, and we talk regularly."
POLLEN STRENGTHENS BEES
She takes her bees to almond orchards every February and March because the pollen is very nutritious for the bees, she says, and the hives consistently leave the almond orchards stronger after they get their first natural food source of the year from almond blossoms. Renting out hives for the almond bloom is the biggest source of income for her company.
"The pollen and nectar from the blossoms are healthy for the hives. Pollen has a high protein complex that stimulates the queen to lay more eggs, producing stronger hives, and allowing us to make more splits and nucs (nucleus colonies or small honey bee colonies created from larger colonies) in the spring, and either grow our apiary or make up losses."
After the blossoming, Johnson takes the bees back to Colorado for honey production during the summer. They return to California in October or November, before snow starts falling back home.
World Bee Day is the result of a recent United Nations resolution to "spread awareness of the significance of bees," and is observed on the birthday or Anton Jansa, a Slovenian teacher of apiculture and pioneer of modern beekeeping.
The observance provides an opportunity for the beekeeping profession, policymakers, industry, and the public to address the challenges facing bee conservation, and to outline specific activities to ensure their survival, according to the World Bee Day website. Slovenian government and beekeeper organizations held several international conferences in conjunction with the day.
BEE LOSSES WORRISOME
The efforts come as honey bee losses in the U.S. continue to track higher than the comfort level of beekeepers, according to a recent report from the Honey Bee Health Coalition.
Total annual losses of 40 percent of managed honey bee colonies were reported when tracking colonies between April 1, 2017 and March 31 this year — nearly double what the industry considers "acceptable" losses.
High annual bee losses prompted the Almond Board and bee experts in 2014 to develop a best-practices checklist for growers and beekeepers during the harvest, including removing bees from orchards before petal fall to avoid having them wander off.
The board has been investing in honey bee health research since 1995, with more recent projects focusing on improving honey bee nutrition, efficient management of bee pests and diseases, improving honey bee breeding stock, and assessing impacts of pesticides used in almonds.
The board is continuing research into best practices in collaboration with Project Apis m., the USDA, the University of California, beekeeper organizations and other groups.
Subscribe to receive top agriculture news
Be informed daily with these free e-newsletters
You May Also Like
---