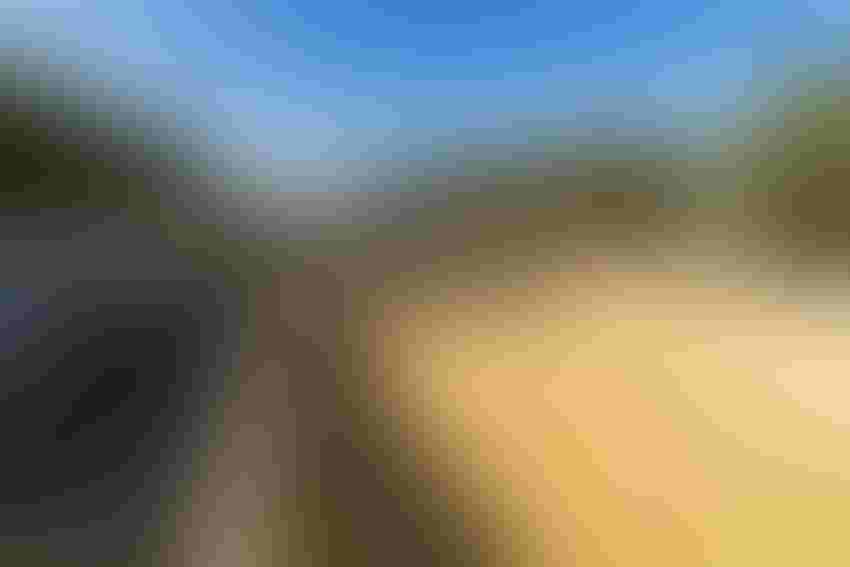 Pistachios are harvested in California's San Joaquin Valley in this file photo.
Todd Fitchette
A recent economic study to assess the success of the American Pistachio Growers' (APG) efforts to reduce or eliminate tariffs on U.S. pistachio shipments in select international markets over an eight-year period (2009-2017) indicates a significant $3 billion post-tariff shipping increase that benefited U.S. growers and resulted in a more stable market to protect nut prices by minimizing nut storage levels.
The study was conducted by the Tootelian Company under the direction of Dr. Dennis H. Tootelian, an emeritus Professor of Marketing and now an industry consultant, to assess and evaluate the efforts of the APG's work to improve government relations and reduce or eliminate tariffs that benefited the industry.
Between 2009 and 2017 several international markets were targeted by the APG including Israel, Mexico, China, Hong Kong, and the European Union (E.U.). The study used these years and the select markets to determine the level of success or failure of APG's efforts to promote the demand and shipment of U.S. pistachios in the global marketplace.
"We try to be consistent once a key target has been identified, as consumer education is based on a slow build over time," reported APG's Judy Hirigoyen, Vice President of Global Marketing, in a phone call and in an email response to questions presented by Western Farm Press. "While our growers and processors are focused on quality, American Pistachio Growers conducts the scientific research and promotes the resulting findings.  This joint effort is what brings value to the industry and helps to maintain a healthy return to U.S. growers."
Hirigoyen says the recent economic study illustrates that actual shipments of U.S. pistachios after the tariffs were reduced or eliminated for each export market were more than 2.3 billion pounds greater than what would have been expected had the tariffs remained in place. 
She said equated in economic terms, the boost in export volume after the trade barriers had been removed or reduced amounted to nearly $3 billion greater value than what would have been expected had the tariffs remained in effect.
The study further concluded the projected economic boon to U.S. growers is even more profound if the fluctuations in prices in China and Hong Kong were eliminated from the analysis.
In addition, by preventing the buildup of storage inventory during those years, growers benefited as did market prices in general.
Price not the sole determinant
The study did suggest that price is not the sole determinant of the volume of U.S. pistachio exports. When tariffs are lowered or eliminated, the study concluded traditional economics would dictate that increased shipments would lead to lower prices, but data shows demand for U.S. pistachios in some key markets remained high in the post-tariff era.  
APG's membership, which is voluntary, includes 865 growers spread across California, Arizona and New Mexico. Looking forward Hirigoyen says APG's efforts will remain robust to aid members in marketing by educating new markets to the benefits of U.S.-grown pistachios.
"Our Marketing Committee has nine of the industry's ten largest processors around the table alongside growers who have developed a three-pronged approach for the coming two to three years," she noted.
Although the current trade talks with China have been prolonged, she says the APG continues to market in China and the loyal consumers there who "appreciate the nutrition value and safety of U.S. grown pistachios."
"We are fortifying our most loyal market, Europe, with ATP funds that have been added to the budget. There's room for growth there and we've seen the benefits of consistent nutrition messaging that has an impact on consumer behavior."
In September this year APG will be using new ATP funds to launch a consumer campaign in India for the first time. 
"Our members believe in India and Indian importers are supporting our campaign there," Hirigoyen noted.
For more news on tree nuts as reported by growers and farm advisors, subscribe to the Tree Nut Farm Press e-newsletter.
Subscribe to receive top agriculture news
Be informed daily with these free e-newsletters
You May Also Like
---