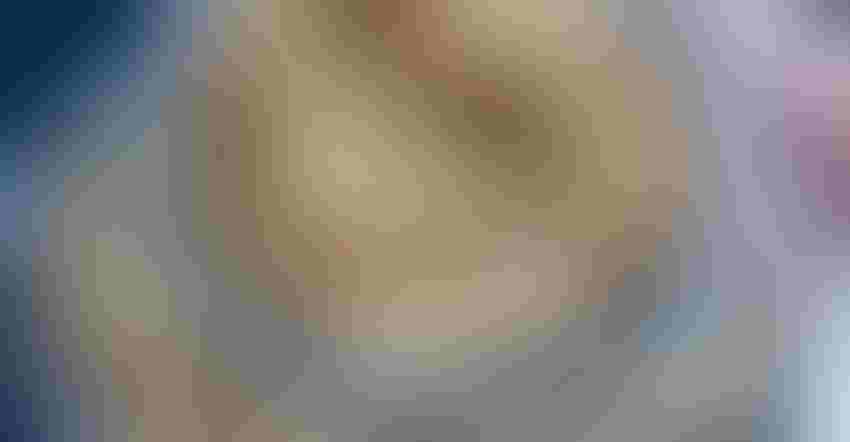 India continues to ask for inshell almonds, rewarding U.S. producers with a lower tariff on the product than shelled almonds. India last year continued to increase its purchase of U.S. almonds, making it the No. 1 export destination for California-grown almonds.
Todd Fitchette
Despite stiff economic headwinds buffeting the U.S. almond industry there appears to be a silver lining in the dark clouds of low producer prices and the buzz of oversupply.
As California almond growers reached another milestone with their first-ever three-billion-pound crop, dark clouds loom. Carry-in as a percentage of total production from last year could top 20 percent, or about 750 million pounds. Bankers say this will continue to pressure prices to remain under $2 to the grower. Rabobank says this could take time to work though as the world economy rebounds from a year of negative GDP growth.
Despite that, the Almond Board of California is "trying to keep its eye on the ball," according to Richard Waycott, president, and chief executive officer of the large federal marketing order.
"We are positioned well to get to the other side of this period," Waycott told Western Farm Press.
Waycott recognizes the downturn in grower returns. It's nothing new for the industry, or any agricultural industry for that matter. The low grower prices can be attributed to a "perfect storm" of things that culminated at once: a record crop size that eclipsed USDA projections came as retaliatory tariffs in the U.S./China trade war were being ramped up; then, a global pandemic affected world trade. And now, shipping containers used for agricultural exports are being withheld from U.S. companies trying to export commodities overseas to move consumer goods more quickly from Asia to the United States.
Silver linings
The monthly position report published by the Almond Board of California illustrate the vast volume of nut shipments as more nuts hit the marketplace. Record-setting exports and domestic shipments month-after-month are recorded in these reports.
Except for August last year and January of this year, domestic shipments were never higher. January was the only month in the marketing year – U.S. almonds are marketed on an Aug. 1 to July 31 season – that exports did not achieve record levels. In some cases those levels were up as much as 49%.
Waycott says total crop receipts for the 2020 harvest season are still being tallied, but once again the industry produced more than was projected. The three-billion-pound USDA forecast could be closer to 3.1 billion pounds – 100 million pounds higher than official estimates – when the numbers are finalized.
At current world prices for U.S. almonds, demand remains good, though supply is still high. Rabobank projected it could take multiple years for the industry to correct this oversupply and reach a sustainable balance that that moves grower prices back to profitable.
Still, Waycott believes the almond board has prepared the marketplace well for times like these and has built relationships abroad that continues to ask for U.S. almonds.
Julie Adams, vice president, global technical and regulatory affairs with the Almond Board of California, said the U.S. industry ships to about 100 countries worldwide and that "regardless of the market conditions, we've been able to stay relevant and current with global buyers."
Adams remains optimistic that as trade talks normalize between the U.S. and some of its trading partners, improvements in almond shipments will be seen. Moreover, she points to a new free trade agreement with Kenya that could bode well for U.S. almonds.
Success stories
Though quite small in scope of total crop, Bosnia recently increased its purchase volume by 400%, according to Emily Fleishmann, vice president, global market development for the almond board. The big news, however, was how India stepped up and bought more almonds as retaliatory tariffs from China significantly slowed shipments there. Because there are lower tariffs for inshell products going to India, U.S. processors were able to capitalize on that and boost shipments as Chinese sales dwindled.
China remains a more complex issue as shipments return to levels seen three years ago, Fleishmann continued.
"India's volume increase has been tremendous," Fleischmann said.
Consumers are not just eating almonds as a snack nut in India; the almond milk category and other uses are increasing there as well as the perception of almond's healthfulness increases with Indian consumers.
India is now the No. 1 export market for U.S. almonds as China has dropped to about No. 3 in export volume. The U.S. domestic market remains the most lucrative for almond production and the biggest buyer of California almonds.
The U.S. remains far-and-away the largest producer of almonds in the world, well ahead of Australia, which produces about 230 million pounds annually. By comparison, California's year-over-year increase of 450 million pounds coming into the 2020-21 marketing year shows just how influential the U.S. industry is. About 80 percent of all the almonds produced globally come from the Central Valley of California.
Fleischmann also pointed to recent research suggesting that a diet of almonds can result in skin health improvements in postmenopausal women.
Subscribe to receive top agriculture news
Be informed daily with these free e-newsletters
You May Also Like
---