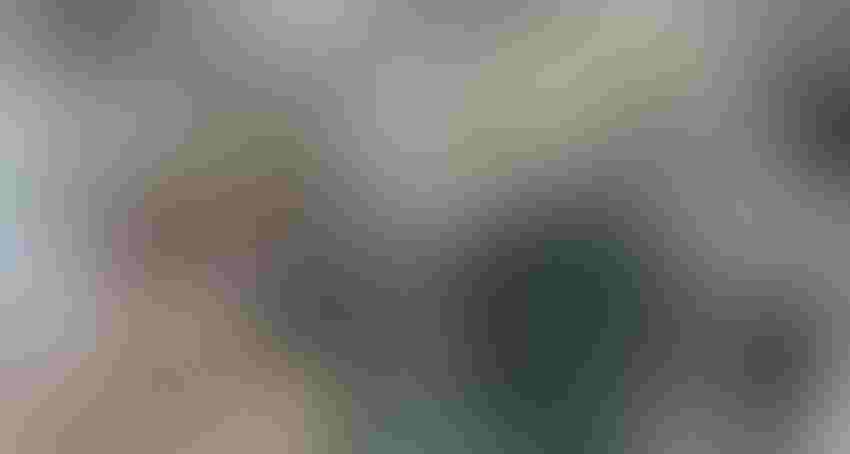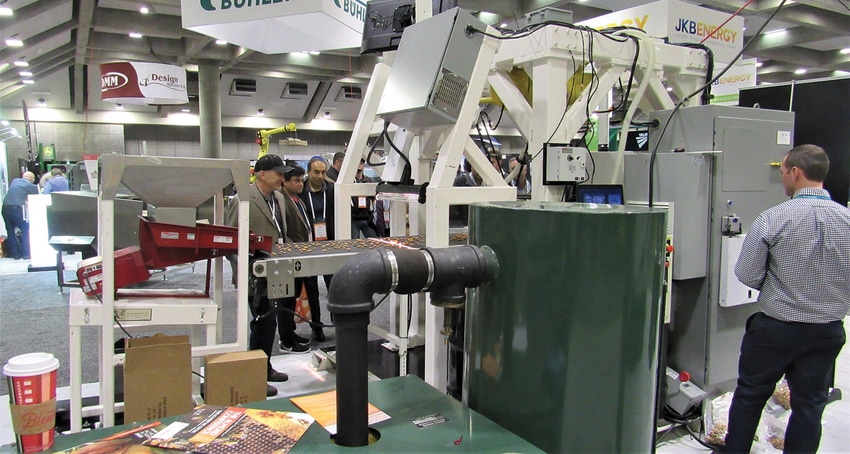 Attendees observe an almond processor at the 2018 Almond Conference in Sacramento.
Tim Hearden
There's a proverb that states, "Learning is a treasure that will follow its owner," a thought expounded on by none-other-than super-smart-guy Albert Einstein when he noted: "Wisdom is not a product of schooling, but of the lifelong attempt to acquire it."
That concept of getting-smarter-to-work-more-efficiently will be spotlighted at the 50th annual Almond Conference, Dec. 6-8, in Sacramento. As Richard Waycott, president and CEO of the Almond Board of California told industry members: "The almond sector has achieved incredible accomplishments over the last half century to the point where we now produce in excess of three billion pounds annually.
"We've weathered many ups and downs during that time and find ourselves once again passing through a tough patch in our history with hopes of a return to an orderly supply chain and declining operational costs in store for 2023."
Waycott and Almond Board Chair Alexi Rodriguez (Campos Brothers Farms) will co-present a State of the Industry compilation where they will note: "With the ongoing multi-year drought, global logistical challenges, and increasing production from other growing regions, the California almond industry faces unprecedented challenges."
To help ensure those goals, this year's conference seminars are focused on maximizing resources from grower investments, updates on topics that last year drew close to 300 exhibitors and 3,500 attendees.
"Our expectation is to grow those numbers even further," says Jenny Nicolau, ABC's Senior Manager of Industry Relations and Communications. "With 18 official seminars and nine special stage presentations, the information presented is very relevant to growers with an underlying theme of maximizing efficiencies and managing costs."
Along those lines and returning to the schedule this year is a special Grower's Breakfast that features a panel of growers describing things like how they manage labor or use pesticides. "Growers learn best from other growers," Nicolau says.
Educational offerings
A random sampling of educational offerings ranges from Deep AI — A Game Changer to The Autonomous Data-Driven Farm to The Science of Pollination and Robots to the Rescue.
"We know from grower research that the number one area growers find value from the Almond Board is our marketing efforts that drive global demand," said Nicolau. "We have one general session that really dives down on how we're working to build long-term global demand. That's a session growers can walk away from and feel good about their investment, knowing that the three cents of every single pound of almonds they produce is going to the effort of driving industry demand."
Additionally, sessions are planned around the topic of current drought and water availability and regulatory pressures, ways that growers can use current technology to get the most out of every single drop.
"Another thing we're excited about is a root stock session that can help mitigate drought stress and what that will mean for long-term challenges from pests and diseases."
Visitors to the Almond Board booth can also pick up copies of a new UC ANR root stock guide based on years of research to help make replanting decisions and what root stock works best for soil conditions. Also available at no cost is another book on almond-specific diseases and nutrient deficiencies. "It's basically an ID book growers can keep in their trucks to assist in making management decisions in the field."
About the Author(s)
Subscribe to receive top agriculture news
Be informed daily with these free e-newsletters
You May Also Like
---