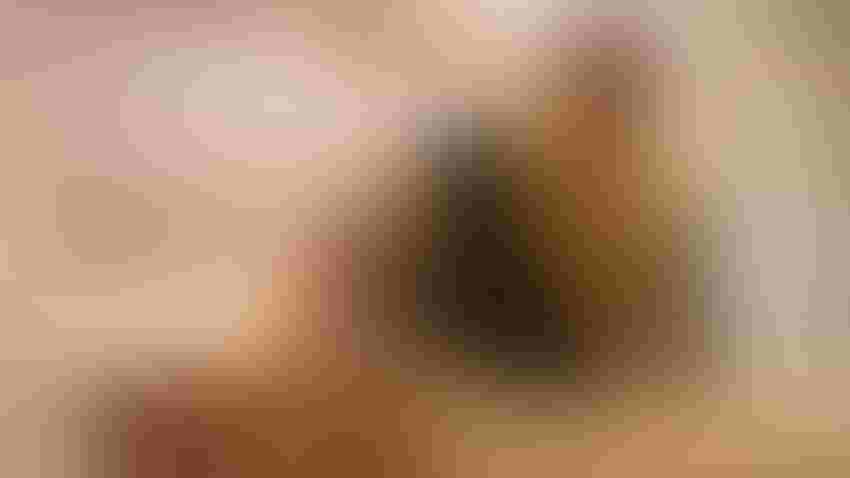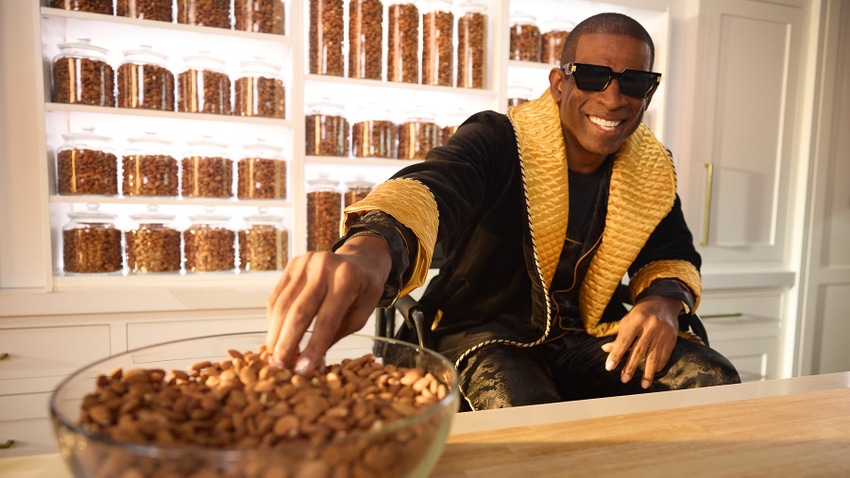 Hall of Fame football athlete and collegiate football coach Deion "Coach Prime" Sanders will team up with the Almond Board of California to promote California almonds during the NCAA football season. Television advertisements will run up through the Super Bowl as part of a larger campaign to promote U.S. almonds worldwide.
Almond Board of California
What do Deion Sanders and California almonds have in common?
The Almond Board of California is pinning Sanders' success and fame to help boost global almond sales in an agreement announced in August. The marketing program encourages consumers to "own their prime," which includes fitness and the consumption of California almonds.
Sanders' fame as a pro football and baseball player, and now the head football coach of the University of Colorado's Buffaloes, will be used to promote the health benefits of California almonds in television advertisements to air during NCAA football games, and on social media.
The national marketing program funded by the Almond Board, a federal marketing order tasked with promoting U.S. almonds worldwide, will culminate in the run up to the Super Bowl, according to Almond Board CEO Richard Waycott.
Among other things, Sanders will promote the healthful aspects of almonds to help improve recovery from physical fitness activities. Research studies point to the positive health impacts almonds play in a well-balanced diet.
A study funded by the Almond Board of healthy, non-smoking participants between 30 and 65 years of age who were not obese, and not taking supplemental protein or other vitamin supplements, tracked 64 adults engaged in different controlled exercises. The study found that participants experienced reduced post-exercise fatigue and higher levels of leg and lower back strength. Tests showed evidence of improved physical recovery post-exercise.
The Almond Board cites David Nieman, professor and principal investigator, Appalachian State University, as suggesting that almonds are a food for fitness. Because of their level of good unsaturated fats, vitamin E, and polyphenols.
"What we found tells us definitively that almonds should be added to sports nutrition strategies to help people recover better from exercise," Neiman says.
Mother of all campaigns
Aside from the football season marketing blitz, the Almond Board will focus increased attention on the German market, which is the largest market for California almonds in Europe, according to Waycott.
"We are launching a new ad campaign which is titled the 'Mother of All Snacks'," Waycott continued. "We've been working on the German market for several years to try and improve or increase almond snacking. Almonds are used extensively in a lot of German products and traditional products."
Additional marketing programs will target the upcoming Indian festival calendar.
Nicknamed "Prime Time," Sanders, 56, played for five National Football League and four Major League Baseball teams – including separate stints with San Francisco's 49ers and Giants, respectively – from 1989-2005. He went to eight Pro Bowls and won two Super Bowls, including one with the 49ers, in his Pro Football Hall of Fame career.
An outfielder in baseball, he was the only athlete to ever play in both a Super Bowl and a World Series.
Subscribe to receive top agriculture news
Be informed daily with these free e-newsletters
You May Also Like
---