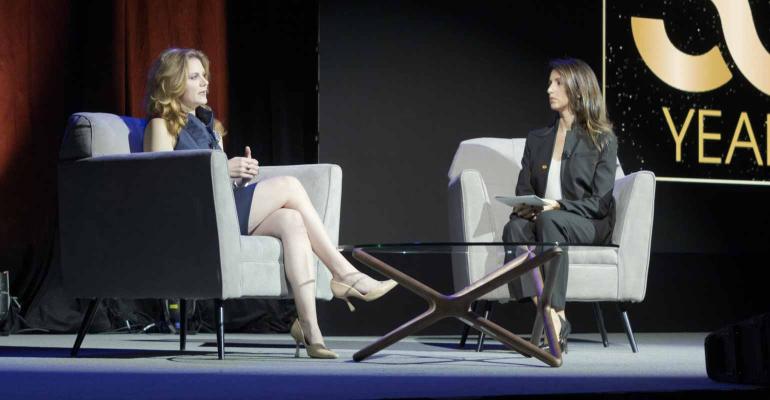 Aubrey Bettencourt, Almond Alliance President, left, and Alexi Rodriguez, Almond Board Chairwoman, talk industry challenges during the State of the Industry address at the Almond Conference
Todd Fitchette
Under its new executive leadership, the Almond Alliance of California is not just improving its position as the industry's bulldog but may bring along other commodities in a positive way.
Aubrey Bettencourt was hired as the new president of the Almond Alliance of California in late 2021 after her predecessor was picked to work on agricultural trade issues for President Joe Biden's administration.
Bettencourt is no stranger in California agricultural circles. Her resume includes time as the California Director of the Farm Service Agency, a deputy assistant secretary in the Department of Interior, executive director of the California Water Alliance, and a contract position with Western United Dairymen to assist dairy producers with their sustainability programs.
While her role and her organization are almond-centric, the association's work on supply chain issues helped the U.S. dairy industry and others along the way.
Advocacy
Under an agreement between the Almond Alliance and the California Almond Board, the alliance works to "weaponize" data collected by the Almond Board, according to Bettencourt. The Almond Board of California is prohibited from lobbying because it is a federal marketing order. Nevertheless, mountains of data collected by the Almond Alliance on exports and shipping, and the information collected through the Almond Board's work with growers on sustainability programs and water use efficiency, can also be useful tools to inform lawmakers and regulators and steer public policy in a better direction for farmers.
"It's probably one of the most powerful relationships in agriculture," Bettencourt said of the agreement between her organization and the Almond Board. "We have leveraged it so many times in ways that no other commodities have been able to do."
In her first year with the Almond Alliance, Bettencourt cut her teeth on the supply chain issue, working with large processors like Blue Diamond Growers and transportation companies to move more almonds through a unique effort. The process involved shipping almonds by rail from a facility in Fowler, Calif., directly to ports in Los Angeles, the Gulf Coast and East Coast. The rail agreements allowed almond shippers to skip the Port of Oakland, which Bettencourt said became troublesome for almond exporters.
One story she likes to tell includes how the Almond Alliance amassed over $1.1 million of earned media attention by "weaponizing the communications," as she puts it. This came as the alliance began working with others to "change the narrative" and explain what was happening to farmers because of the port disruptions and inability to ship U.S. grown almonds and other commodities overseas.
Related: Supply chain is one of almond industry's headwinds
"We were missing the opportunity to tell the story of what was happening because of the disruptions to our exporters and our farmers," she said. "We don't export a lot out of the United States, but we certainly do export food."
This message became part of a two-month media blitz last year that aimed to illustrate who was to blame for the supply chain woes and how it was hurting the American farmer.
"We hired an incredible team to weaponize our story," she continued. "Within 60 days we went from a blog post on a random California blog to the front page of the New York Times and the San Francisco Chronical, and NPR nationwide."
That escalated the political pressure as over 77 million people saw this targeted message.
Soon thereafter Bettencourt began receiving phone calls from the heads of the major ocean carriers. She says one CEO called her and demanded "get my name out of the newspaper and get Senator Feinstein to quit calling me," to which she responded: "get me a four-day receiving window and adequate trucking. We had a fun exchange, but that opened the discussions."
Specialty crop significance
Almonds are not an insignificant specialty crop, Bettencourt believes. They should be treated like the program crops because almonds are third largest agricultural export from the United States.
"Almonds should be treated as a base commodity globally," she said. "Everyone knows it's currently the big three of corn, wheat, and soybeans. It should really be corn, wheat, soy, rice, and almonds. That is what we're positioning for in every aspect of what we're doing when we're talking about the Farm Bill.
"It's not that we're just a specialty crop; we're THE specialty crop," she continued.
Related: 'Probably the toughest year we've had'
Bettencourt credits the Almond Board of California's rich wealth of data that has helped her as one who lobbies on behalf of almond growers and processors.
Because of the data collected by the Almond Board of California, "we know exactly how much product we have, where it is coming from and when (and) the breakdown of how much product is demanded around the world by port, volume, and month," she said. Through this knowledge the alliance was able to push back against the shipping companies when they accused the almond industry of overbooking and not delivering loads in a timely manner.
Not just about almonds
Bettencourt said her efforts, though focused on almonds on behalf of her membership, is not just about a single nut or commodity. She invited the U.S. dairy industry and other U.S. commodities to join in the efforts to move their products overseas. The struggle with many other commodities is they apparently do not readily have the wealth of data that the almond industry has, which she said gave the almond industry a primary seat at the political table.
Because of the information collected by the Almond Board of California, the alliance was able to have the industry's demands met.
"That's their job," she said of the almond board's collection of useful data. "It's their job to be the experts in developing markets and have that data for us; our job is to weaponize that information, have an opinion, and drive good policy."
About the Author(s)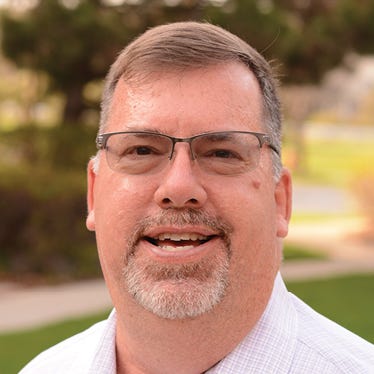 Associate Editor, Western Farm Press
Todd Fitchette, associate editor with Western Farm Press, spent much of his journalism career covering agriculture in California and the western United States. Aside from reporting about issues related to farm production, environmental regulations and legislative matters, he has extensive experience covering the dairy industry, western water issues and politics. His journalistic experience includes local daily and weekly newspapers, where he was recognized early in his career as an award-winning news photographer.
Fitchette is US Army veteran and a graduate of California State University, Chico. 
Subscribe to receive top agriculture news
Be informed daily with these free e-newsletters
You May Also Like
---