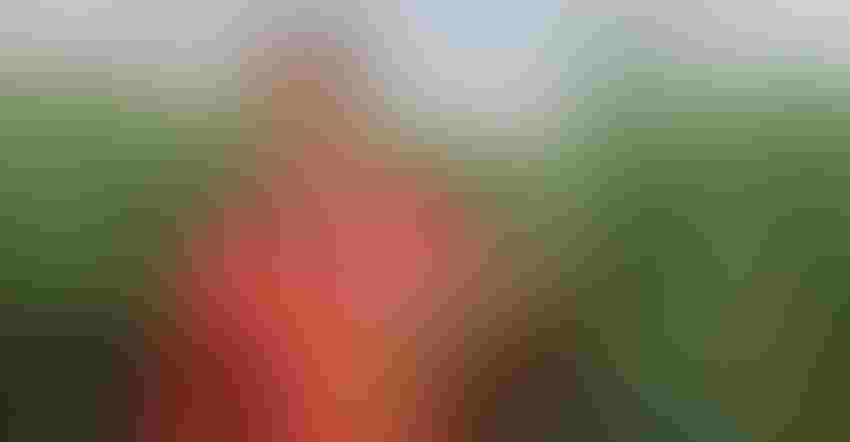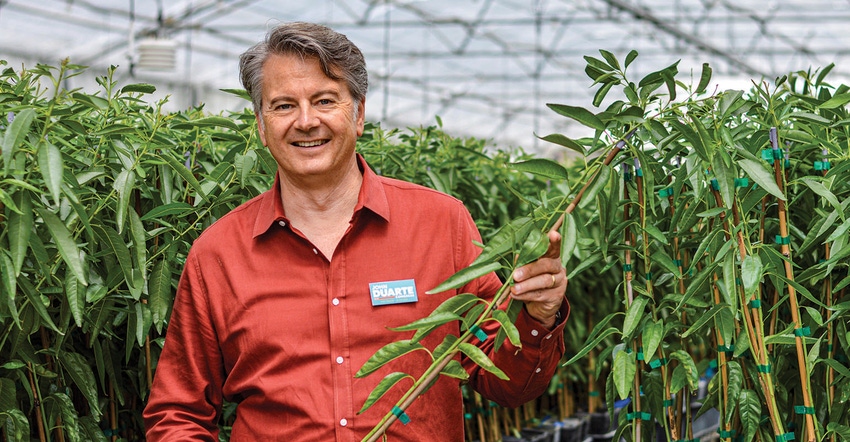 John Duarte of Duarte Nursery spoke about the future of almond genetics during this summer's Almond Alliance convention.
Duarte Nursery
The Almond Alliance met recently for its 40th convention held under the theme of 'Shakin' it up' and they did so in sessions designed to solve the supply chain crisis along with a deep dive into surviving the water dilemma and a look at labor laws costly to agriculture.
Also on the speaker's podium was John Duarte of Duarte Nursery, one of the world's largest permanent crop nurseries in Stanislaus County. The co-owner represented the three generations involved in day-to-day operations when he spoke to The Future of Almond Genetics.
"There's a lot of interest in new varieties of almonds, both conventional and self-fertile varieties," he told his audience. "We're actually at a kind of exciting time in the industry because while regional variety trials by the University of California have put forward several new releases, there are also two major programs from Spain and Australia that have released their varieties to Plant Foundation Services in Davis.
"We've got three new Spanish varieties and five new Australian varieties that have been tested and are available for adoption, so California growers will have those new varieties they can consider for planting options next year."
Emphasizing that even self-fertile varieties still require bees — "Bees will always be our friend in horticulture" — the new varieties will require less bee involvement and will take some of the peak demand off bees.
"If a million acres need 1 ½ hives per acre instead of two hives per acre on average, that's going to be a benefit as peak need won't be driving things quite as hard as it has."
One of the newer varieties Duarte is excited about is Yorizane, a self-fertile released by USDA a year ago and one of the stars of the current show. "It's one of the top performers in regional variety trials up and down the state, very productive with a very, very high-quality kernel. It also looks like it will be very adaptable to catch frame harvesting because it stays on the tree well until you shake it and it releases quite handily."
It also has a feature like several of the Australian varieties have, called a butterfly hole, that wraps around the shell of the nut as it gets close to harvest, then dries up and backs away, leaving the nut to dry faster on the tree and separate from the nut at harvesting.
"Even if you have to dry it on the tree, it dries faster. And if you have to dry it after harvesting, it's very easy to separate the hulls and dry the nuts. Either way, it's going to make nut drying a lesser complicated factor in catch frame harvesting."
Water a concern
With the water issue being of paramount concern to orchard managers, Duarte noted: "We've got several root stock we think might help almonds to use less water. Research by University of California farm advisors involving water stress shows at least one of the trials of the Spanish variety, where they dry farm quite a few of their nuts, has shown water efficiency as one of the key features.
"We think when we test those varieties further, they'll provide a respectable crop-per-drop."
All of the imported varieties are being screened for water use efficiency "because that will be a major feature that growers are going to look for during SGMA where surface water supplies are limited with a mixed amount of groundwater that can be extracted each year. The main feature growers are going to want to know is how do they get the most pounds of almonds for every amount of water they use. That's something that will require more research before we can definitively answer it, but we've got some promising candidates."
Duarte left conference attendees with a sobering message. "Even in tough times, we have to keep researching for the future because a lot of the varieties we're talking about now won't be ready for 10 years. There is no panacea and we have to keep the momentum going. It's OK if you have a long product pipeline, as long as you have the discipline to continually put something in it. With climate change, we won't be able to immediately adopt new varieties with a high level of content if some of our older varieties fall out on us."
About the Author(s)
Subscribe to receive top agriculture news
Be informed daily with these free e-newsletters
You May Also Like
---