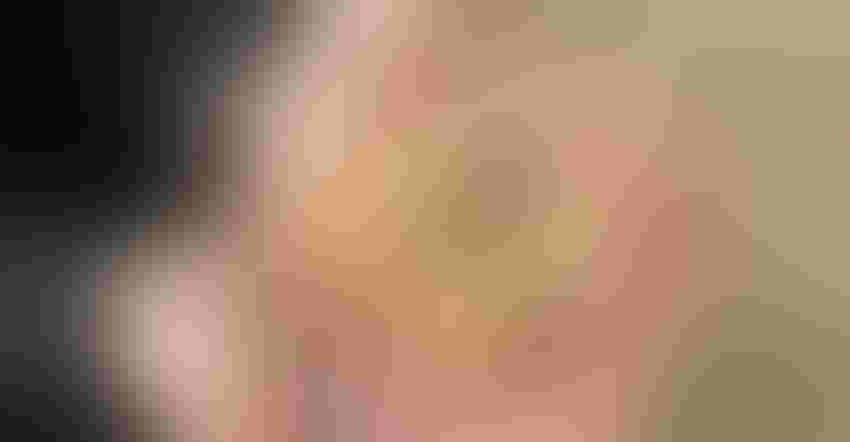 Wide temperature fluctuations in California walnut orchards last fall may affect this year's crop.
Tim Hearden
Bill Carriere has quite a variety of edibles on his 3,800-acre family farm in the Sacramento Valley.  Things have been grown on this expanding acreage since 1890 and now range from rice and olives to almonds and the number one crop, walnuts.
"We've narrowed down our original ten varieties, taking out some of the older ones that proved uneconomical," he said.  "Today we're more traditional with the five main varieties in the state lead by Chandler, Howard, and Hartley."
Carriere Family Farms traditionally begins its walnut harvest on Labor Day.  "We start with almonds, then move to walnuts with olives after that and rice harvest right in the middle of walnut season.  Literally, there is no rest for the weary."
With all the other standard California grower worries to attend to, this year's walnut harvest will be impacted by some fluctuating temperatures that occurred last fall, from 80-degree days to sub-freezing nights with Carriere's Glenn County acreage among the hard hit.
"It was spotty and I've seen damage all the way down to the Stockton area, around Chico and even further north of us," he says.  "As you drive by one orchard and see significant damage, the one right next door may have none.  I think a lot of it had to do with how much water you had in the tree's soil profile.
"We were lucky on our ranch and I'd rather be lucky than smart here," he says.  "We had just put in cover crops, a mix of nitrogen-fixing beans and vetch after harvest and were irrigating the planting to get it to germinate.  That irrigation for the cover crop also got the orchard, so we had plenty of moisture in our trees and didn't have any significant frost or freeze damage."
As to any negative effect on nut harvest, "It might have some, but it won't be a huge effect on the crop which I estimate will be down between eight and ten percent from last year due to a combination of factors," he says.
He cites the frost damage along with some orchard removals where older, non-producing, varieties are being taken out because they tend to produce smaller and darker nuts.
Chilling hour factor
"Then there's the chilling hour factor, which is ironic that while we had freeze damage, we didn't get enough chilling hours last winter, meaning the trees didn't bloom uniformly which reduces overall production.  It definitely won't be a limb-breaking year due to heavy crop load."
And don't forget the heat impact too with significant days of 100-plus degrees.  "We hit a couple of days of 113, 115, and that's not good for anything because you'll get sunburn damage and an increase in the insect load when the heat cycle increases.  Instead of having three generations of pests, you'll have four."
Despite the negatives, Carriere says he's still committed to being a farmer even though problems continue to expand and grow more difficult to solve.
Take water for example.  "Most folks here have trees and some rice ground and if they're allowing only X percent of water allocation, you forgo the rice because it's an annual crop and the trees need the water.  If we have another drought year like this year in the coming winter, there's going to be some major issues because irrigation districts are not going to be able to provide the water needed and that will affect tree nuts.  A lot of societies' general problems affect farmers as well."
Take the port issue for instance.  "At one point, we had 50 loads all packed and ready to go with customers screaming for product and we couldn't get a spot on a vessel to ship it," he says.  Or the labor issue: "With McDonald's paying $16 an hour plus benefits to flip burgers, we compete against that as well as the housing shortage that pulls construction labor away."
And don't forget California labor law regulations, one of Carriere's pet peeves.  "Employees are unhappy they've been forced to cut back to eight hours a day because they want to work 10 hours and make more money."
All that said, the optimism still comes through. "We'll make it another year," he says. "Farmers are the ultimate optimists and we'll stick it out until the bank comes knocking on the door and pounds hard enough.  Supply and demand will balance out and because of a lower harvest, prices should come back up.  All told, farming is still a good life."
Subscribe to receive top agriculture news
Be informed daily with these free e-newsletters
You May Also Like
---