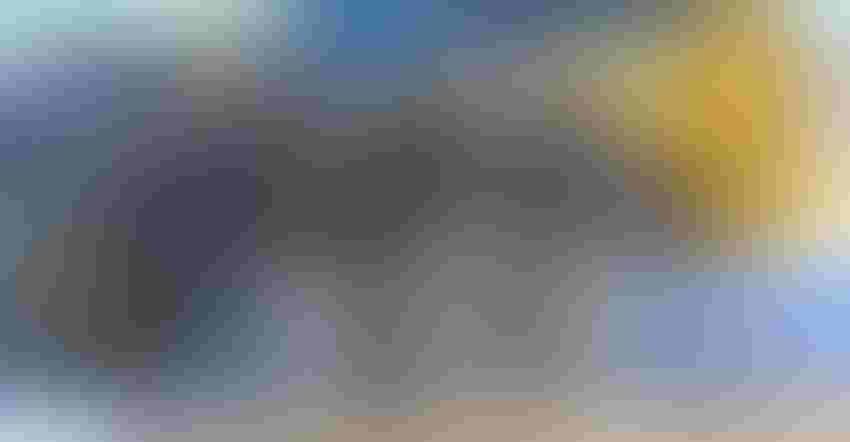 BREAKING GROUND: A new space for the Colorado Department of Agriculture is the final phase of a consolidation of services to Broomfield, Colo. CDA officials were on hand for the groundbreaking, including Jenifer Gurr (left), chief administrative officer; Steve Bornmann, Inspection and Consumer Services division director; Don Brown, commissioner of agriculture; Joe Reen, project planner, state of Colorado; and Joy Huse, chief financial officer, CDA.
There was a turn of soil, and a celebration recently in Broomfield, Colo. It was there that the Colorado Department of Agriculture ceremoniously started work on the final phase of its office consolidation program. The final chapter in this work is to move CDA's Division of Inspection and Consumer Services to Broomfield.
The new space will include three laboratories including metrology, animal health and biochemistry, and will replace a nearly 50-year-old facility in Denver.
Commissioner of Agriculture Don Brown explains that the consolidation will create a more efficient and effective work environment for staff, while creating a "one-stop shop" for agricultural customers. "It's exciting to know that, in just over a year, our new laboratories will be up and running to continue providing the consumer protection efforts that affect every person in Colorado," he says.
The lab is slated to be open in 2019, and will include construction and design approaches that will allow CDA to pursue certification as a LEED space. LEED — or Leadership in Energy and Environmental Design — is a designation that shows a space is saving energy and has a smaller environmental footprint.
The project involves a 6,000-square-foot renovation to the existing office building at 305 Interlocken Parkway in Broomfield, and construction of a new 27,000-square-foot facility next door. Unique components of the space include humidity and vibration controls, in addition to a variety of specialty equipment for the biochemistry labs.
The primary goals for the Division of Inspection and Consumer Services are consumer protection, promotion of equity in the marketplace, and animal and human health safety. Its programs offer economic protection to ag producers, and ensure that Colorado consumers receive products that are safe, properly labeled, and sold in an honest manner.
ICS also regulates pet care facilities, animal feed, fertilizer, anhydrous ammonia, compost, farm products dealers, commodity handlers and grain warehouses, scales and other measuring devices, pricing and package weight accuracy, eggs, home food service plan operators, custom meat plants and game processors.
ICS has two labs: the Metrology Laboratory and the Biochemistry Laboratory. Metrology is where scales and other systems are calibrated. The Rocky Mountain Regional Animal Health Laboratory will also be located in the new building.
Source: Colorado Department of Agriculture
Subscribe to receive top agriculture news
Be informed daily with these free e-newsletters
You May Also Like
---