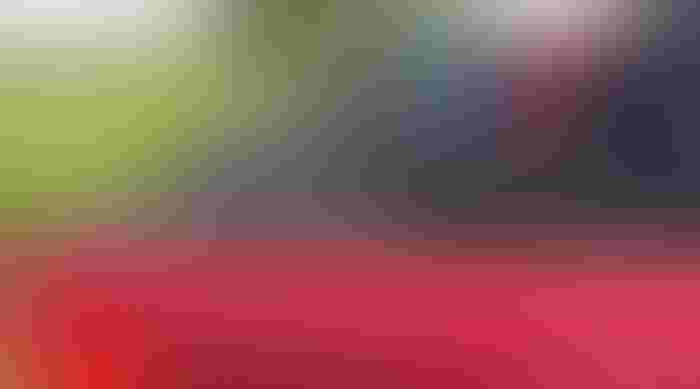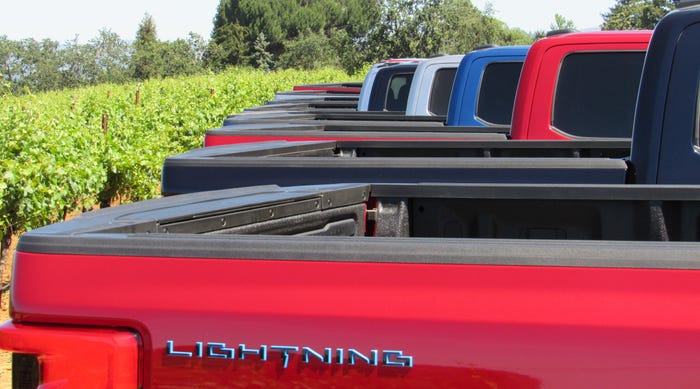 A row of Ford F-150 Lightning electric trucks is displayed during a media event at a California vineyard. Ford Pro is touting the vehicles for on-farm use, but adoption of electric trucks is slow in ag as the industry fights to overcome consumer skepticism.Tim Hearden
Karissa Kruse has long been all in on sustainability in agriculture. The Sonoma County (Calif.) Winegrowers' president brimmed with pride in 2019 when 99% of vineyards in her county were certified by third-party organizations as having environmentally sound practices.
New technology is almost ubiquitous now in farm fields, from sensors and drones to targeted irrigation and, more recently, some electric tractors. But for Kruse and others, the idea of using electric pickup trucks on the farm seemed like the final frontier.
"Our farmers love their trucks," Kruse said. "Sonoma County has about 1 million acres, so it's larger than Rhode Island … We have about 1,800 growers, and they were all skeptical. There wasn't a lot of enthusiasm about going electric. It was, 'Don't mess with our trucks.'"
Designers at Ford Pro, a Ford Motor Co. unit that caters to commercial fleets, initially shared the same doubts as they were soft-launching the F-150 Lightning fully electric pickup last year as part of the automaker's 14th generation F Series. There was much discussion about where and how the vehicles would be charged, said Ted Cannis, Ford Pro's chief executive officer.
"The human part is the hard part of electrification," Cannis said. "There were a lot of skeptics on our side, too … (But) now we're scrambling to get 150,000 batteries for our rollout next year."
With looming state and federal deadlines to transition away from gas-powered engines, Ford and other automakers are banking on zero-emissions vehicles as the future of the auto industry – and trying to bring reluctant farmers along for the ride.
Trucks promoted
Ford Pro hosted a daylong media event in May to tout use of its Lightning vehicles on the farm, announcing it is helping consumers manage the anxiety of switching by bundling vehicles with charging stations and telematics software to offer what the company calls a "one-stop shop" for businesses to accelerate productivity.
About 20 automotive and agricultural reporters were allowed to test-drive the vehicles in hopes of demonstrating that its ride and power are comparable to the iconic F-150s, and marketers touted features such as the increased carrying capacity of the vehicle's "frunk," or front trunk, as well as its standard truck bed in the rear.
Base-model trucks that sell for about $39,400 can run for 230 miles before charging, with extended-range pickups traveling as far as 300 miles selling for up to $90,000. The F-150 Lightning trucks began production in April.
Among growers trying out the earliest models is Steve Dutton, owner of Dutton Ranch in Sebastopol, Calif. The farm, which raises about 1,400 acres of wine grapes and organic apples in several locations, is one of three in Sonoma County using the trucks as part of a pilot project organized by the Sonoma County Winegrowers.
Related: Wilbur-Ellis launches green push with EV project
"We're excited to be part of this pilot project," Dutton said. "Our farm was practicing sustainability before it was called sustainability. I'm excited not to be paying for $6 gas. I foresee a lot of savings when we get our Lightning."
Another participant is Marissa Ledbetter, whose Healdsburg, Calif.-based Vino Farms grows about 16,000 acres of wine grapes throughout the state. She says she finds Ford's telematics service useful, as it enables the farm to improve efficiencies as it tracks vehicle use. The service can be used with EVs or gas-powered vehicles.
"Our employees go vineyard to vineyard, get out … and sometimes forget to turn off the vehicle," she said. "This is definitely an eye-opening tool that will allow us to mitigate some of these behaviors."
Other electric pickups hitting the market include the Chevrolet Silverado EV, the GMC Sierra EV, the Lordstown Endurance and the Toyota Tacoma EV, according to Car and Driver.
Not for everyone
But Ford executives acknowledge the vehicles may not be suited for everyone, at least initially. It currently costs much more to build an EV; the battery alone costs about $18,000, and the charger adds another $3,000, The Associated Press reported.
Ford Motor Co. CEO Jim Farley said at a recent conference that a price war among automakers may lower consumer costs, but he acknowledged that an internal combustion powertrain may be better suited for some applications.
"If you're a Super Duty customer towing 10,000 pounds in Montana or on the north slope of Alaska, an electric vehicle is an awful situation, the batteries are too heavy," Farley said, according to Fox Business.
Electricity costs are far less now than gasoline and diesel costs and maintenance of the vehicles is cheaper, but the purchase price is more, noted Daniel Sperling, founding director of University of California, Davis' Institute of Transportation Studies.
"On a total cost of ownership basis, e-trucks are competitive today only if fuel prices stay high and the vehicles accumulate lots of mileage – say, 25,000 a year," Sperling told Farm Progress. "But with battery and vehicle costs coming down, e-trucks such as the F-150 should be cost competitive in many applications and situations in five years or so."
This timeline depends on oil prices, he said in an email. "They do need charging as well, but for a farm that should be straightforward if they connect to a 240-volt outlet," he said.
Regulations loom
Sperling serves on the California Air Resources Board, which is set to adopt a regulation in August to require 100% of all new light-duty vehicles up to 8,500 pounds sold in the Golden State to be zero-emission by 2035. President Joe Biden signed an executive order last summer setting a national goal for zero-emissions cars to make up half of new cars and trucks sold by 2030. He was joined by Ford and General Motors leaders at his announcement.
Sarah Light, a University of California Cooperative Extension agronomy field advisor, says she has talked to growers about electric tractors but not trucks. She says she's "pro-EV," but understands it can be hard to charge the vehicles in rural areas. Charging can be fast – about 45 minutes – but you must find a charging station, and many are on main highways, she said in an email.
"Are growers and PCA's (pest control advisors) driving on the highway or doing long miles on rural roads from field to field? Are there EV stations in those rural communities or only ones on (Interstate) 5? In the busy season, is a grower going to drive 30 minutes out of their way to get to a station, charge for 45 minutes, and drive 30 minutes to get back to their day? That's a lot of time," she said.
Also, 200 miles on a rural road could sap more energy than 200 miles on a freeway, and "you can't risk being stuck out somewhere without a place to charge and need a tow," Light said. The problem could be solved in one of three ways, she said:
The range per charge increases to the point that there's no risk;

The infrastructure for rapid charging in rural areas improves; or

People could schedule their day so that they're at the office and can charge at lunch.
Electric trucks would be realistic for farmers who don't need to travel very far consistently – especially if their towing capacity is comparable to gas-powered trucks, she said. The towing capacity of high-end F-150 Lightnings is about 10,000 pounds, according to the company.
"Trucks are expensive, so I don't see people running out to trade in a perfectly good gas vehicle to change for an EV all right away, but in time I could see people changing out older vehicles for new ones or participating in buy-back programs if there are incentives," Light said.
Some are interested
Despite the early skepticism, the Sonoma County Winegrowers' Kruse says she's getting emails from growers interested in signing up for the pilot project.
"Will it stand up?" she said. "Clearly as they see farmers zipping around and excited about driving these trucks, I think we'll withstand that … We're all going to learn from each other."
Subscribe to receive top agriculture news
Be informed daily with these free e-newsletters
You May Also Like
---