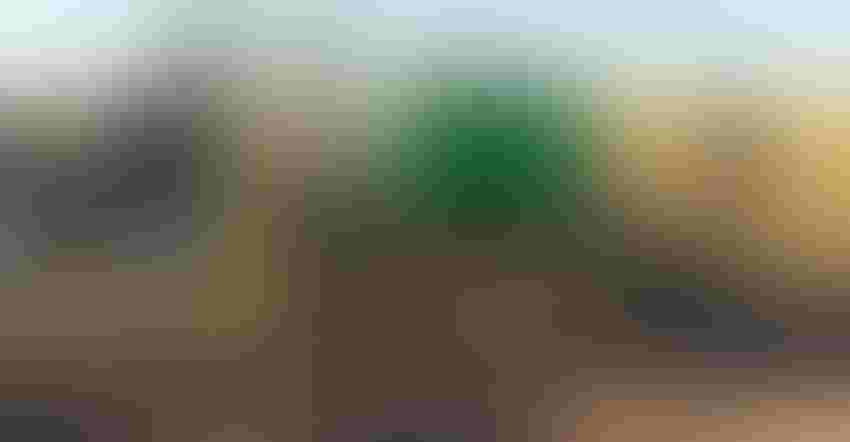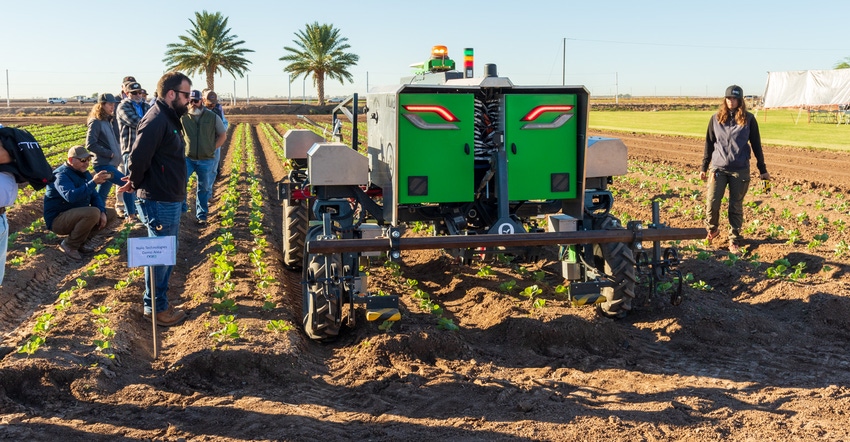 Farmers flock to ag robotics demonstrations each year at the University of Arizona's Extension research farm in Yuma to see the newest equipment available or forthcoming. Much of this equipment for desert farming systems seeks to automate weed control and improve efficiencies over the high cost of hand labor that is still used by growers to control weeds in produce fields.
Todd Fitchette
Next year's Ag Media Summit (AMS) will make a rare appearance in the West. Billed as the largest gathering of the agriculture industry's top writers, editors, photographers, publishers and strategic communicators in the U.S., the annual summertime event is schedule for Palm Springs, Calif.
Those of us who live, breathe, and write about western agriculture are happy to see this come to California, and not just because attendance won't require TSA lines and being herded like cattle onto airplanes.
Several years ago the idea of starting a regional association of ag professionals to cater to those of us in the West was briefly discussed. The concept had merit but failed for lack of execution.
Farming is not entrenched in the culture of California, nor are the bulk of ag-centric PR agencies located in the West. Regardless of the differences in the various U.S. farming regions, it was interesting to learn recently that the world's largest gathering for a targeted ag robotics event happened this fall in Fresno, Calif. While Fresno is not high on the list of tourist travel destinations, it was chosen for its proximity to specialty crops and high value agriculture.
The FIRA USA conference is one of two global ag robotics forums. The Fresno event was in mid-October. The other happens early next February in Toulouse, France. The Fresno event I attended with a colleague from Farm Futures boasted an international audience of nearly 1,000 people. Its access to a 1,000-acre teaching and research farm at Fresno State University likely solidified the choice.
Related: Here come the crop robots
Companies attending FIRA USA indicated they are targeting the West's specialty crop markets before determining how to transition to the corn and soybean world.
Why do I mention two incongruous events and organizations here?
If an international organization promoting ag robotics finds marketing value in central California, so can professional agricultural communicators find value in visiting California and learning its agricultural systems and challenges. I still chuckle about the PR professional who once pitched me a soybean story without first understanding my audience.
It was comforting to see and hear focused attention by ag tech companies and investors at FIRA USA to better understand western agriculture's challenges. Start-ups are starting to learn that they cannot simply show up on a farm with a pitch to solve a farmer's problems without first understanding what those challenges are.
In a similar fashion, helping the nation's agricultural communicators understand specialty crops, and the systems and challenges involved, can bode well for their professional development. It can't hurt to have more skilled ag communicators sharing stories about the importance of farming in the United States beyond the Corn Belt.
This is largely why I volunteered to help plan next summer's AMS ag tour. I live less than three hours from Palm Springs, have a solid understanding of agriculture in the region; and know what might resonate with ag communicators from other parts of the country.
Subscribe to receive top agriculture news
Be informed daily with these free e-newsletters
You May Also Like
---