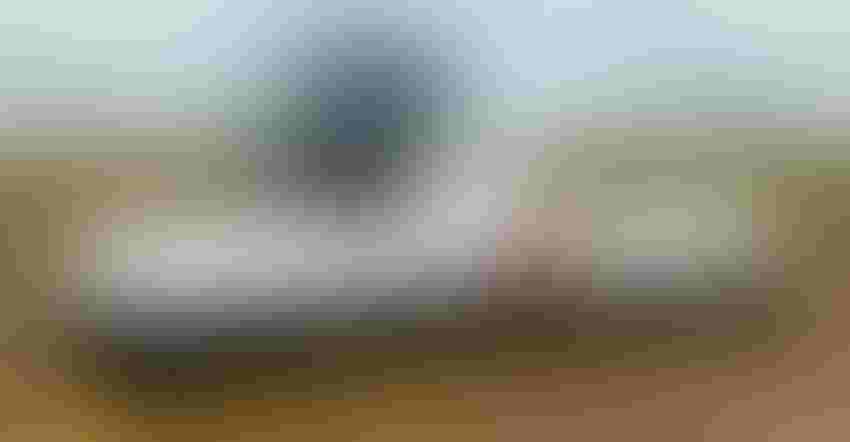 TECHNOLOGY IN ACTION: Lights below the canopy are from multiple cameras creating a digital profile of every leaf in the field.
Verdant Robotics
Variable rate weed and feed has been around for decades, but has it lowered your input costs or given you higher yields? Has it made your cropping system more sustainable? 
New computer visioning tools about to hit the farm that do all those things and more if farmers adopt them. The technology promises to greatly reduce herbicide use just as food company supply chains shift to more regenerative methods that promote soil health and protect groundwater. 
"What we do is three things: digitize, or index the crop; track it over time; and act on the crop with millimeter precise inputs," says Verdant Robotics CEO and co-founder Gabe Sibley. "Through applying robotics, machine learning on the farm, we can unlock value that wasn't available before, not to mention reduce labor problems and slow input costs that keep going through the roof." 
Farm Futures got a glimpse of Verdant's machine at the company's Hayward, CA headquarters, an industrial warehouse stuffed full of hardware and software engineers, each poring over computer screens with the attentive detail of a surgeon in an operating room.  
Nearby is the object of their attention – a robotic multi-platform pull-type field tool that digitizes farm fields down to the millimeter.  Verdant's implement can apply eco-friendly chemicals for crop protection and fertility or deploy lasers for weed suppression, slashing herbicide usage by up to 95%.  
It has machines working in specialty crops now with another multi-action commercial machine scheduled for orchards next year. On the horizon is broadacre organic crops, followed by conventional corn and soybean acres. The plan is to take all that micro-precision computer modeling tech hidden under Verdant's 20-foot wide machine and crush it down to the size of a soda can with several units spread across a 120-foot boom, each module with its own brain.  
"The key aspect of the tech to focus on is computer vision – it's going to fundamentally change how we farm today," explains co-founder Curtis Garner. "Computer vision will show every plant and its exact needs, from early disease or weed detection to a shot of fertilizer. Machine-learning cameras inside this tool can differentiate crops from weeds and can take them out either with micro-jets of herbicide or by laser. It can apply fungicides and micronutrients in just the right place at the right time."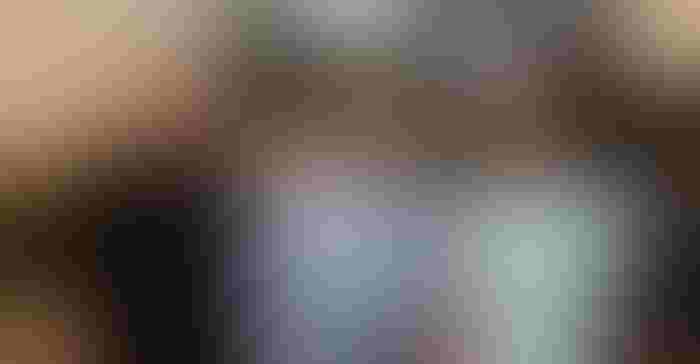 Verdant cofounders (l to r) Curtis Garner, Gabe Sibley, and Lawrence Ibarria.
Verdant is thinking big. Its goal is to become an "iconic robotics tech company that is farming sustainably for the largest bulk of humanity possible," says Sibley, a software engineer and roboticist. "Farming sustainably is the mission statement; tech is the tool to get us there, to do something that we couldn't do before, by providing variable rate at the millimeter level.  
"50 or 100 years from now, the story as we look back is not, 'Hey we automated ag;' it's, 'we automated physical work,'" says Sibley. "There will be an autonomous revolution and it may take a long time, but we can get value now as part of a much larger arc." 
Digital twin 
As the machine moves over a field the tool's lights and cameras create images to develop an AI twin record of each field, modeling every plant on every square foot of soil. It generates a new image in every field pass so images can be laid over each other to develop a season-long snapshot of fert or weed control performance. If you watch Verdant's machine at dusk you'll see cameras or lasers flash beneath the canopy, which the founders jokingly call the 'Eye of Sauron' (That's a Lord of the Rings reference for you non Tolkien fans). Cameras are taking snapshots at lightning speed.  
"We can digitize the crop at a scale never done before so that allows us to uncover value that simply didn't exist before," says Sibley. "We index the crop, track every leaf, and act on that with millimeter precision to guide how that plant grows.  
"Google indexes the web, but we index physical space by building a digital twin of the farm. You have to leverage computers to do that work. This then unlocks the power of computation, the power that farmers have in their hand: search, compare, correlate, affect something, and measure results." 
Company leaders say the machine will relieve growing labor shortages; at least, in specialty crops.  
"Farmers are facing an existential crisis now between labor availability and labor costs," says Garner. "Labor costs are rising 14% year over year, and it's not slowing down. We're here to help farmers arrest that cost, provide them savings, and help them with labor availability.  
"The robot does a perfect job every time," he says. "It never gets tired and it never sleeps." 
As the company moves to broadacre crops, the focus will be more on pushing yield rather than solving labor issues.  
"For broadacre crops in the Midwest you usually have a family or 3 to 8 people who can handle a large amount of acreage," he notes. "This machine would be able to provide a high level of data they have never seen before." 
Build it better 
Verdant's machine is substantially different from traditional ways farmers manage and monitor crop development. For one, the company believes its technology removes guesswork from applications and the corresponding results.  
"There's a wide range of things you can do when you are delivering atoms, from lasers to chemicals, micronutrients or fungicides," says Sibley. "You track what you do over time, map the actions, and then compare the plan to what was achieved."  
Early prototypes focused on shooting micro-precise jets of chemical at apple tree blossoms in orchards, but that only gave them two chances per growing season to iron out the tech. Verdant's technical team needed to switch to a crop that gave them more chances to grow 'scar tissue' so they built a machine for weed-and-feed carrot production. 
"Had we not switched from apples to carrots we might have died because we weren't getting repetitions," says Sibley. "The specialty crop guys came knocking and we couldn't say no. The tech is complicated; we have to invent and do puzzle-solving all day long. The first few times you go out and it doesn't work you have to figure out why, and eventually you have it working reliably." 
Farmers who partnered with Verdant for testing liked what they saw – which may be why the company has locked up service agreements to run their machines on thousands of veg acres for five years.  
"Our farm partners are pulling us along – we thought it would be the other way around," says Sibley. "Now we have multiple machines out there and have people wanting more. That's a good problem to have." 
Even so, don't expect to see one for sale on a dealer lot. Verdant's machine is so software-laden it only makes sense to offer as a service with routine digital updates. "Otherwise it would become a paperweight in a year," says Sibley.  
That's not to say this new machine will be difficult to use. Far from it.  
"We've built a system that farmers can use to teach the machine to do new jobs it has never done before," says Sibley, "so you don't have to have a computer scientist there to do it in the field. That decouples operations from an engineering staff and allows our business to scale. We have a machine that can be used by a farmer or agronomist to do new jobs without phoning home to headquarters."  
The technology fits well in California's specialty crop arena. Time will tell if the same technology can be adopted to corn and soybean fields in the Midwest.  
A rocket scientist and a tomato farmer walk into a bar… 
Stop me if you've heard this one before.  
Gabe Sibley is what they call a roboticist. In an earlier life he worked on self-driving cars and lent a hand building the Mars Rover at NASA's Jet Propulsion Lab. Yeah, he is literally a rocket scientist. 
Meanwhile in an earlier life Curtis Garner was managing tomato processing and worked at a California farm operation where he saw firsthand the devastating impacts of farm labor shortages. He began thinking about how automation could solve the problem. Garner met with folks in the aerospace and robotic industries, and began looking for investors.  
Which led him to Sibley. 
"We met at a bar to see what we had in common. At first we just wanted to make sure we weren't psychopaths, and that it was a good fit," he quips. "The idea of working with someone like Gabe was too wild, too crazy, too fun to pass up. I would have kicked myself if I said no." 
Sibley had little firsthand knowledge of ag, but he quickly saw parallels between farming and the Mars Rover project. His first impression? "We knew what we were working on needed to have rigor, to be able to work in dirty, dangerous places, and ag is like that," he says.  
Garner and Sibley talked about labor shortages and how AI and automation might help. Eventually the two entrepreneurs, along with co-founder Lawrence Ibarria (who had also spent time developing self-driving cars), decided their differences would become their strength.  
"A diverse work experience that is not traditionally in ag is a big part of our success," says Garner.  
They went on a six-month listening tour to hear farmers share pain points, "trying to pique their imagination but also learning to understand their problems," says Sibley.  
What farmers told them was shocking to say the least. 
"Farmers were saying, 'We've had these (yield) maps forever, what do we do with them?'" recalls Garner. 
Sibley agrees. 
"Universally farmers said we already have too much data -- help us make sense of the data and help us know what to do with it," he recalls. "So we focused on actions that can deliver value immediately. We take all of the perception, machine learning, all the brains, and clipped it onto the back of the tractor, because the tractor driver is the last job the farmer wants to get rid of. Once you automate tasks at 2 to 3 mph, the real value is how do you impact the crop with better yields, how do you get more for less. "Farmers asked for it, so that's our focus." 
That early research became a lighthouse for Verdant's development. "I said, 'Imagine if you see a need for fertilizer or weed control and you could put the exact right chemical at the right place at the right time,'" Sibley recalls. "We got talking about what that's worth. It was an aha moment because Curtis helped us understand the agronomy and we helped him with the technology." 
Which just goes to show, you never know what might happen when two people meet at a bar.   
"Curtis is the better half of this business – he's the customer," concludes Sibley. "I've built businesses before, and we have to build what the customer wants." 
Learn more about Verdant Robotics: 

Learn more about new ag technology in our New Tech Now series.
Subscribe to receive top agriculture news
Be informed daily with these free e-newsletters
You May Also Like
---