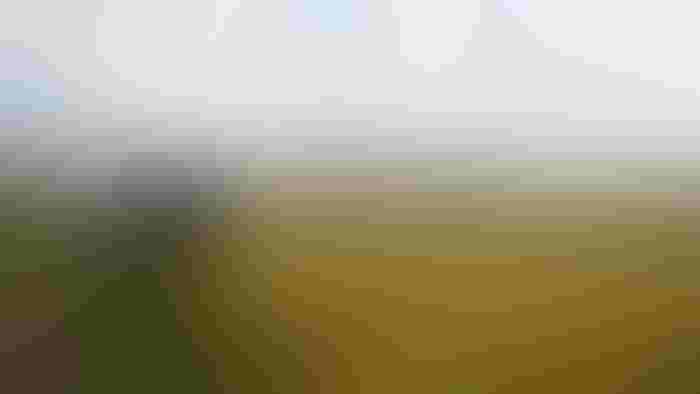 Ceres Solutions turned a 40-acre field adjoining its Perrysville, Ind., location into a test plot for comparing crop production practices, corn hybrids and soybean varieties. But last year, something special happened in the plot field. In addition to comparing crop practices, hybrids and varieties, Ceres agronomists tried out a number of high-tech, futuristic technologies. Some are ready for prime time, while others, described here, are still in the testing phase.
John Staley, of Watch Communications, Lima, Ohio, helped make testing these tools possible through cooperation with Ceres Solutions and Land O' Lakes Cooperative. He oversaw installation of both high-speed internet and LoRaWAN cellular service on the 80-foot tower at the Perrysville facility in October 2021. This not only provides high-speed internet for customers who want it within a 6-mile radius, but also, through a special gateway, makes LoRaWAN internet-connected service available for sensors in the adjoining crop field.
Betsy Bower, an agronomist with Ceres Solutions, explains that several high-tech devices agronomists wanted to test contain sensors that collect lots of information. They require the LoRaWAN cellular system to transmit data collected during the season.
Emerging technologies
With the LoRaWAN system in place, here's a peek at some emerging technologies tried and displayed at a field day. Other high-tech tools that were on display will be highlighted in an article about futuristic tech you can more readily access today.
Digital soil probe. ChrysaLabs displayed its hand-held, digital soil probe at the 2022 Farm Progress Show. Hannah Lynch and other Ceres Solutions agronomists tested the probe at the Perrysville location and other nearby fields last summer.
Lynch said the probe measures soil pH, phosphorus and potassium in real time. Spokespersons for ChrysaLabs note that it uses optical technology to assess conditions 360 degrees around the probe. According to chrysalabs.com, the probe also measures nitrogen, organic matter, micronutrients and cation exchange capacity.
Lynch shared comparisons in the field between conventional soil lab results and ChysaLabs probe measurements. They were in agreement part of the time, but far apart at other times. To learn more, see chrysalabs.com.
In-ground soil probe. Jessica Thurman, with Ceres Solutions, displayed the Teralytic probe at the field day. This 36-inch probe is placed in the ground for the duration of the season. In fact, multiple probes can be installed in a single field. Teralytic, maker of the probe, bills it as the world's first wireless sensor of N, P and K. According to Thurman, sensors on the probe were 6, 18 and 36 inches deep.
Why would you want this probe? "If you're looking at intensive crop management, it should supply information that would be useful," Thurman said, adding that it provides real-time data on what's happening at various depths within the soil. Visit teralytic.com for information, or to inquire about purchasing a probe.
Pessl insect trap. Conventional insect scouting and trapping involves wading through waist-high, narrow-row soybeans or whacking your way through pollinating cornfields to place, check and refurbish insect traps. This camera-based technology from Pessl Instruments, a European maker of a wide variety of weather and crop protection measuring and recording equipment, captures insects on a special board. Then, it snaps pictures of the board and relays information to your computer, so you don't have to visit the site yourself. Not only that, but through smart technology, it can count insects on the board.
"It may need perfecting, but it certainly has potential," says Jeff Nagel, who tested the concept this summer. Nagel, based at Lafayette, Ind., is with Ceres Solutions. So far, the trap is most effective with Lepidoptera insects, and has been used primarily in apple orchards.
"If they can perfect it to count specific types of insects, it might have more application in row crop agriculture," Nagel says. Visit metos.at for information about various Pessl products for agriculture.
About the Author(s)
Subscribe to receive top agriculture news
Be informed daily with these free e-newsletters
You May Also Like
---