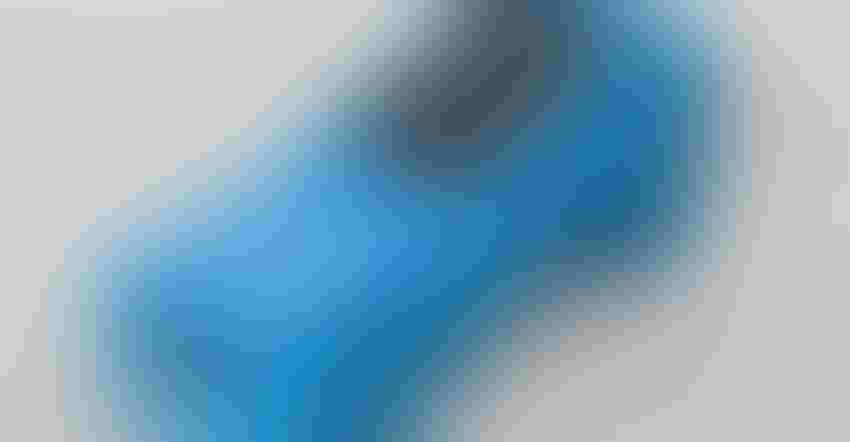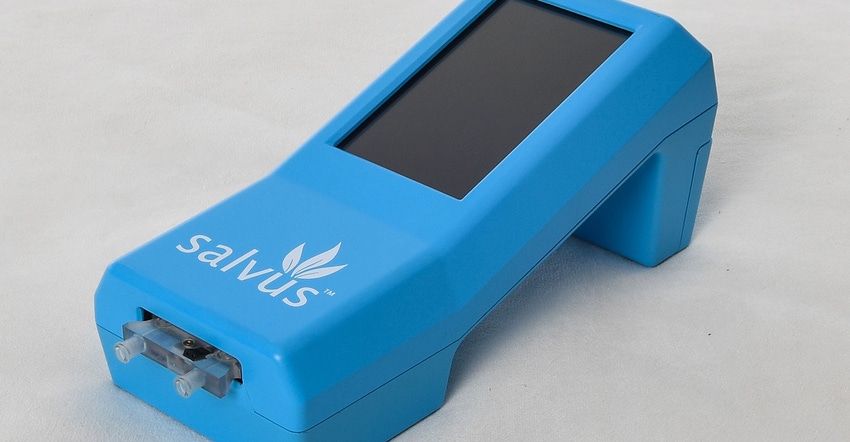 SUPER DETECTOR: This 2.2-pound hand-held tool, when paired with the appropriate smart cartridge, can be used for real-time detection of animal or plant diseases, spray tank contaminants, and more. It's a high-tech tool that could be used by farmers in the near future.
Courtesy of Salvus LLC
Detecting unwanted products or diseases in the environment has not been easy. The process usually involves collecting a sample and shipping it to a lab somewhere. But a new tool from startup Salvus LLC could change those rules. The company has developed a hand-held chemical and biological interferometric detector that can rapidly identify specific substances — good and bad — in liquid, air or surface environments.
Jim Loar, chief commercial officer at Salvus, says the first machines will hit the market early this year but not initially in agriculture. "We're not launching in commercial agriculture to start, but in a field that already heavily uses detection technologies," he explains. "We'll commercialize other segments in 2023 and beyond."
The driver for next-step commercial development will be market demand, and Salvus is working with commercial partners. Loar says the technology came out of agriculture to mitigate the risk of dicamba, 2,4-D or glyphosate contamination in spray tanks. CJB Industries was looking for a way to easily detect those issues. The company is involved in chemical formulation and toll manufacturing. Salvus was created out of that need.
CJB management connected with Georgia Tech researchers, who had been developing new interferometry tools. Interferometry uses waveguides with bioreceptors, or chemically sensitive materials coated onto them. A laser illuminates the waveguide to create an evanescent field. A test sample is introduced, and the binding of the bioreceptor to the chemical or biological target creates an interference pattern that can be measured, analyzed and reported.
After licensing the work, the next step was to develop a commercial product — the culmination of four years of work, Loar says.
How it might work in ag
While detection technology isn't new, the compact high-end interferometric solution that Salvus is offering is. It could allow a swine producer, for example, to test a fecal sample and know in minutes if porcine reproductive and respiratory syndrome is present. Or a farmer could test a water sample from a spray tank to detect if it's dicamba-free after cleanout.
"Production agriculture in the last century has used detection technology in food safety applications," Loar says, adding that making detection technology more compact and easier to use would broaden that use and many others in ag.
"You could sample for diseases in the field, and not just rely on a visual conclusion," he says. "And you wouldn't have to send samples to a lab; you could have a real-time sample and analysis right away."
The current Salvus analyzer is a 2.2-pound unit, with cartridges designed for detecting certain targets. Some cartridges are designed for a discreet sample, single-use application, and others are for monitoring applications.
You could stock cartridges to test water samples from cleaned tanks for 2,4-D, or cartridges for testing animal health issues.
Loar says up to four assays can be in a single waveguide for the detection of specific targets. "Someday, we would look at more than that, but for now, we're limited to four targets," he says. "Our business model is the razor and razor-blade model," as in the analyzer tool value is separated from the cartridge value.
The process for running a test involves prepping the sample. "In some cases, it will take longer to prep the test sample than it will take to get the result," Loar says. "This unit can provide results in minutes."
Farmers may soon have access to this tool for specific tests. As more smart cartridges become available, the technology could have multiple uses on the farm. Learn more at salvusdetect.com.
About the Author(s)
Subscribe to receive top agriculture news
Be informed daily with these free e-newsletters
You May Also Like
---