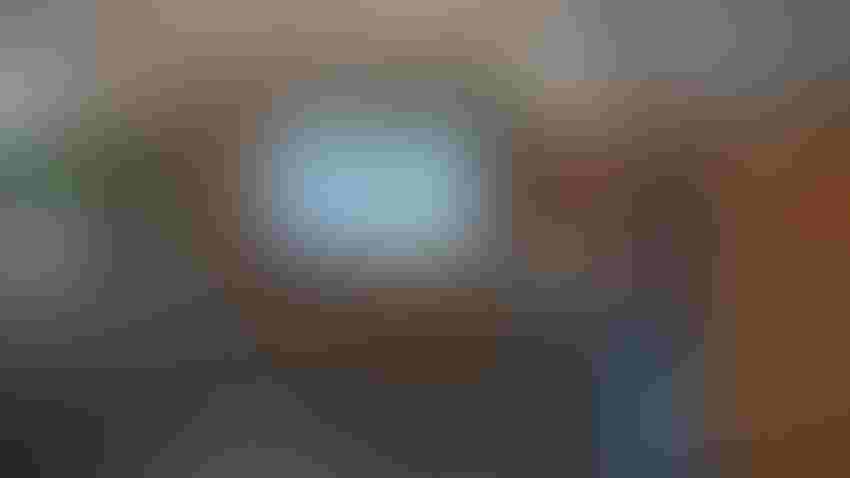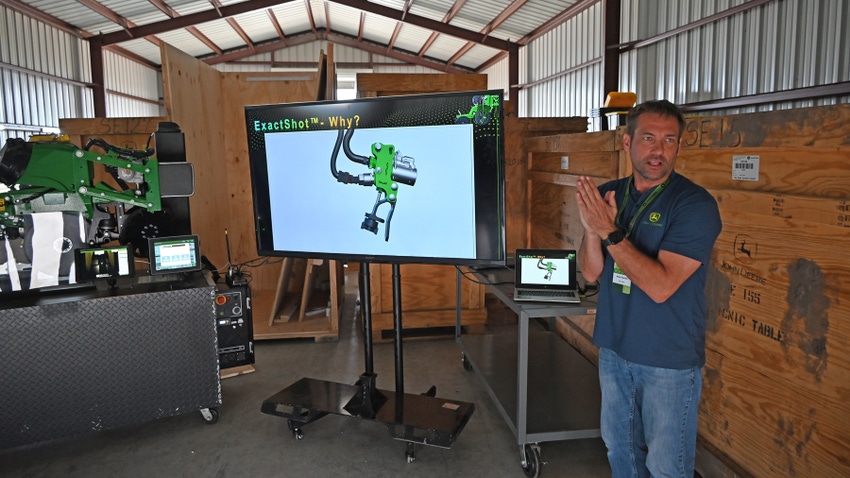 DECISION AID: As he explains John Deere's ExactShot technology, Jesse Haecker, business manager of global spraying, planting and nutrient application, says the company's long-term plan is to "augment the senses" by letting technology make in-cab decisions at planting, instead of humans.
Chris Torres
Your body has five senses — sometimes six, depending on who you talk to.
The brain and its natural ability to process data quickly lets us make decisions on anything set in front of us.
For example, when you drive down a road and see a tanker spreading manure, your body uses its sense of smell to take in the "data," send it to your brain and let you almost instantly decide whether the smell is good or bad.
The ability to use your senses and act on information also applies to the cab of your tractor. For example, you use historical data from your field displayed in the monitors of your cab to decide the amount and variety of seeds to plant, and how much starter fertilizer or other starter chemical, for that matter, should be applied in the field.
Data is the backbone for this decision-making, and your ability to interpret it will determine your success in the field.
With advances in technology, especially artificial intelligence, it's likely machines at some point will make those in-field decisions with little, if any, human input. We're not there yet, but at a John Deere media event, the building blocks of this eventual autonomy are already being laid.
The event took place near the company's Innovation Hub in Austin, Texas. At a test farm 40 minutes outside the city, we saw several projects the company is working on that, while marketed separately, are laying the building blocks for full planter autonomy.
Jesse Haecker, John Deere's business manager of global spraying, planting and nutrient application, alluded to the company's long-term plans of "augmenting the senses" by replacing in-cab decisions made by humans with technology. "We believe that technology can do the job better," he said.
One project, ExactShot — which was announced earlier this year at CES — enables precise application of starter fertilizer on seeds at speeds up to 10 mph. Haecker said the technology could save up to 60% on fertilizer, as it will eliminate the need for widespread application in a field.
Grant Wonderlich, John Deere's corn and soybean solutions architect, said the foundation for ExactShot was laid nearly 10 years ago when the company released its ExactEmerge row units, which guide seed right down to the furrow through a belt delivery unit.
ExactShot uses actuators in the furrow, input from the cab operator and other technologies to spray a precise amount of starter fertilizer on each seed. Wonderlich said the technology will let growers use field data to make better decisions. Say, farmers are planting a field that responds well to starter fertilizer. They can tell the machine to apply a 5-gallon-per-acre equivalent for efficiency and savings.
ExactShot isn't available yet. Look for a limited number of ExactShot kits in 2024 and factory-installed planters will start rolling out in 2025.
Down the road
Next up is Furrow Vision, which uses cameras and lasers to provide an in-cab view of what's going on in the trench. Wonderlich said the first version will focus on seed depth, based on customer feedback. But he said the tech's potential is limitless.
For example, it could let growers adjust row cleaners in real time based on how much residue is in the ground.
It's safe to say machines will one day take the data from your fields, interpret it and make on-the-spot decisions on what seed will get planted, at what amount and what other enhancements, like starter fertilizer, could increase yield.
How you as a farmer apply the technology to your own farm is your decision. But if full autonomy is something you are looking forward to, the foundations for it are already in place.
Subscribe to receive top agriculture news
Be informed daily with these free e-newsletters
You May Also Like
---