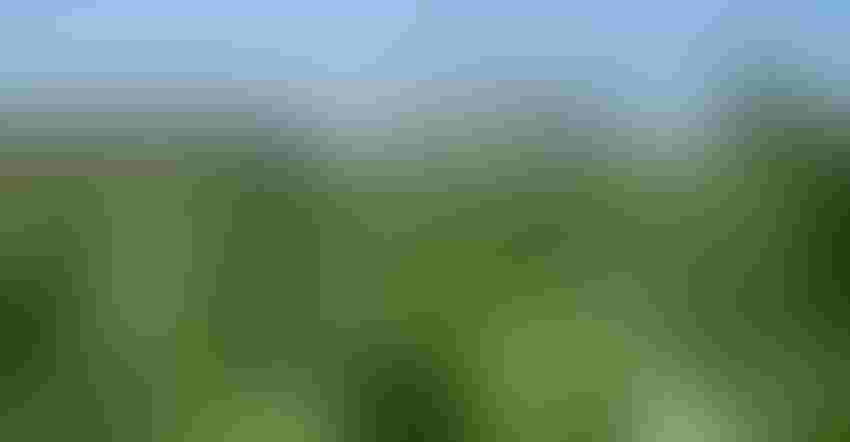 ON THE JOB: This autonomous machine, Solix, has one job: to gather field information and report back to the farmer and retailer. As the machine prowls the field regularly, it reports in-season crop conditions to aid in timing of fungicides, fertilizer and other crop inputs.
Courtesy of Solinftec
In the early days of precision agriculture, the yield map was more of a postmortem tool to help farmers diagnose what went wrong or right. That work was always focused on using past information for the next crop. But a new ag startup has something a little different in mind.
Solinftec, a Brazilian startup with U.S. headquarters in West Lafayette, Ind., recently secured a $60 million investment to help the company expand its digital farming operations in Brazil and the United States.
"The investment will speed up our work in the United States and help us keep growing in Brazil," says Daniel Padrão, chief operating officer at Solinftec.
Padrão says the aim is to grow the robotic arm of Solinftec. "We now have a platform in Brazil and the U.S., and we want to add the robotic piece to it," he says.
Solinftec has developed a software platform dealers can use to execute in-season actions as the crop requires it. Pairing it with an in-field robot that's constantly gathering weather, soil and plant health information offers a new approach to in-season crop care. No more waiting to see a yield map to make a decision.
This is not about automating a machine to reduce labor, instead the Solinftec robot is a solar-powered data-gathering machine. Essentially, it's a ground drone, roaming a field all day to gather crop details.
Related: Robot crop scout could drive faster, better input applications
"I was talking with a farmer at Commodity Classic, and he told us we were spot on with the robot," Padrão says. "You have to understand your field and spend time in your fields, not in the office, to make decisions. This robot is doing what we understand is important, gathering information and augmenting our capacity to understand what's happening in that field."
The company already has an agreement with Growmark to test the autonomous machine in the field. Called Solix, this data-gathering tool can help retailers decide the best time to take in-season action.
The new investment, according to Padrão, will help expand and bring Solix to market in 2023. But the vision goes beyond that. "We want to put a robot in every field," he says. "Our focus is to build something scalable. It would be in the field to take care of that field 24 hours a day."
This network of robots would note weather conditions and changing crop conditions, and report the information to a cloud network that Solinftec has already developed. An ag retailer would have access to that field information, with reports of condition changes that could help time fungicide applications.
Better on  ground
There are tools to sense crop changes and provide alerts. Most of those depend on aerial imagery from satellites or aerial drones. In the case of Solix, there's an advantage Padrão says that doesn't exist with traditional drones. "When the crop canopies, the drone cannot see what's happening on the ground," he says.
In addition, the robot needs no operator. A drone must have a visible operator, though there is a rising use of automated drone systems that can be run without an operator. The traditional use of a drone requires someone to go to the field and gather the information and then bring it back for interpretation, Padrão says.
"It can take one or two days to interpret that drone information. It doesn't allow decision-making in real time," he says. "With the robot gathering information in real time, it can trigger decision making and give that information to the farmer, or their dealer."
Farmers interested in the Solinftec system will get a chance to see it in action at the 2022 Farm Progress Show in Boone, Iowa. For more information about Solinftec and its software, visit solinftec.com.
About the Author(s)
Subscribe to receive top agriculture news
Be informed daily with these free e-newsletters
You May Also Like
---