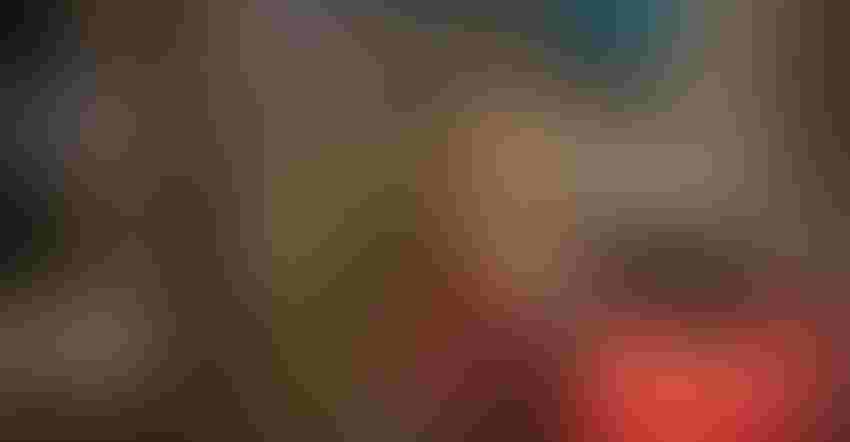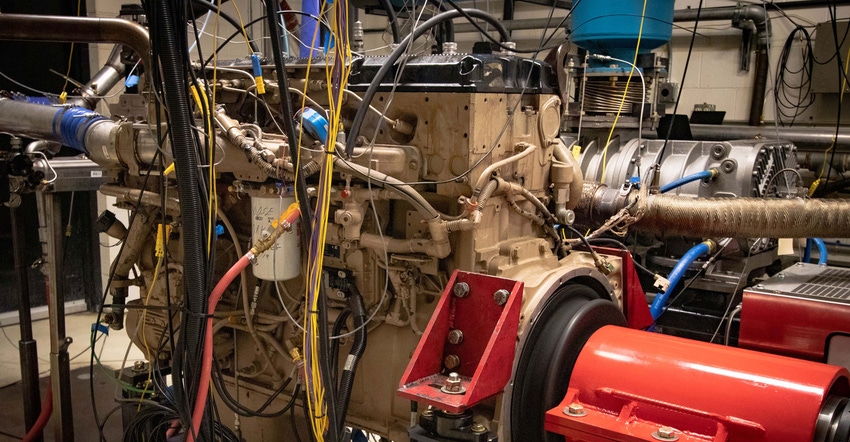 ON THE STAND: This Cummins X15 engine is a 15-liter workhorse that has been modified by ClearFlame Technologies to run on ethanol. The system generates the same horsepower as it would running on diesel fuel.
Photos courtesy of ClearFlame Technologies
When covering new technology and the work being done among the dozens of startups out there, you uncover some fascinating technology. For example, ClearFlame Engine Technologies has come up with a system that can turn a diesel engine into an ethanol engine, without loss of power.
The system uses engine heat and some proprietary tech to make ethanol compatible with the traditional diesel combustion process. The result, proven in early tests, is the same horsepower but no need for an after-treatment like a diesel particulate filter or diesel exhaust fluid.
"To a farmer this engine would look just like a diesel engine," says BJ Johnson. "It even sounds like a diesel engine." Johnson is co-founder of ClearFlame, using technology he and co-founder Julie Blumreiter, first developed working as grad students at Stanford University.
Johnson adds that the key to this innovation "is to keep everything that is good about the diesel engine that farmers love about it, but replace the diesel and the aftertreatment with ethanol."
The two innovators talk about the process almost as if it was simple to develop. Says Blumreiter: "What we've been able to do is add some insulation just to the combustion chamber part of the engine that creates a higher-temperature environment, and we can make fuels that wouldn't traditionally ignite the way diesel doe. … We can make those ignite as if they were diesel."
Early success
ClearFlame announced earlier in 2020 that it had been able to deliver more than 500 horsepower, and over 1,850 pounds-feet of torque in a Cummins X15 engine. That engine, a 15-liter heavy-duty model used both on-highway and off is rated at 500 hp.
Blumreiter and Johnson continue working with the engine and learning more about how their approach can be commercialized in the future.
This higher temperature system relies on the combustion process to create that heat and does use some exhaust gas recirculation as well. The higher-temperature environment is where the magic happens in the system.
The new engine does run hotter than a traditional diesel engine, but Johnson says, "It's hot for a diesel, but it is not hot for a gasoline engine." Managing the higher-temperature process won't require adding more cooling system tech beyond what is already in place today.
Today's final Tier 4 engine, using a common rail fuel system, delivers fuel at a constant pressure across the engine. The modern electronic injector can pulse fuel into the cylinder chamber multiple times to manage fuel burn and final emissions.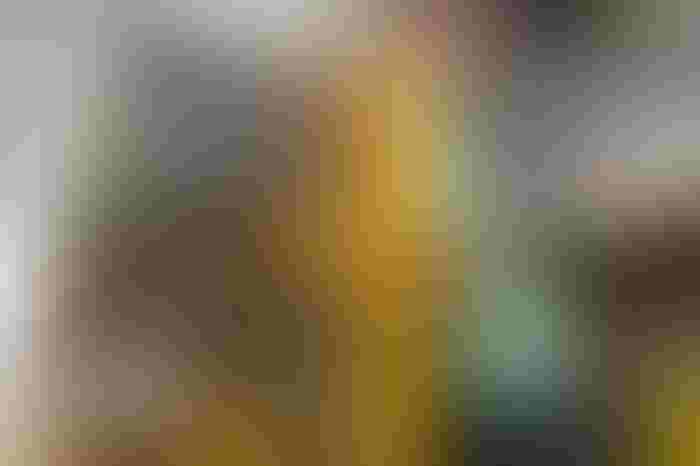 That Cummins engine uses a common rail system. Blumreiter explains that in those early tests, they used a single bulk injection. "More recently we did use the pilot injection, but there's a lot more complexity there in a modern diesel engine that we haven't yet brought into play," she says. "Those are all sorts of additional cards on the table for refinement in the future."
An academic start
Blumreiter explains that she and Johnson were working on their graduate degrees at Stanford University studying energy systems. "Our adviser parsed out different ways to make engines more efficient," she says. "He would say, 'Julie, you think about this.' 'BJ, you think about heat transfer. … He just, like, doled out different areas. And then we were all supposed to dig deep in the fundamentals."
She adds that the idea for ClearFlame came out of Johnson's look at heat transfer at a super-fundamental level and the way thermal management is done in engines.
Adds Johnson: "My thesis started out very academic in nature working to improve efficiency by reducing transfer losses. And one of the requirements to make that a reality in hardware was to find some sort of way too get a combustion engine to run at higher temperatures."
He says that the work wasn't focused on some way to burn ethanol in a diesel engine. But they found that at higher temperatures, the engine could work with different, nonpetroleum fuel. Ethanol is a low-carbon fuel they turned to and found it worked just fine.
This new engine process is still under development. ClearFlame's approach is not an aftermarket upgrade. This new approach would have to be incorporated into the engine design with an original equipment manufacturer. The early work will most likely be on-road, and later come to off-road engines. The startup is using a Cummins power plant, but has been in talks with other engine makers, and the system works with both a common rail approach and a more traditional injection system.
This is startup technology that bears watching for agriculture since adoption could boost ethanol demand, and for farmers seeking ways in the future to reduce their carbon footprint. You can learn more at clearflameengines.com.
About the Author(s)
Subscribe to receive top agriculture news
Be informed daily with these free e-newsletters
You May Also Like
---