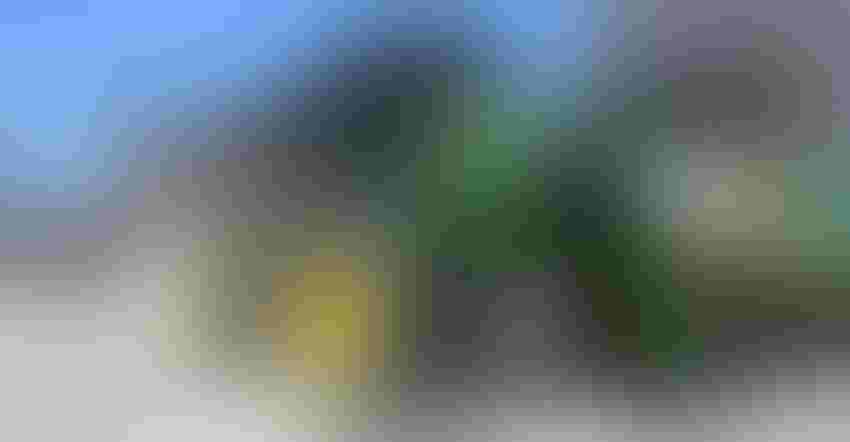 GOOD DAY TO SPRAY? One thing to do before going to the field to make a herbicide application is determine if there is a temperature inversion developing — especially if you're spraying dicamba. That's easier to know, thanks to a new invention.
Decades ago, John Groves and his brothers built farm wagons in Shady Grove, Pa. Maybe you've never heard of Grove wagon gears or farm elevators, sold in the mid-1900s. But you've likely used a tool this man invented many times.
Groves needed a way for workers to move steel. He devised a rudimentary crane, the forerunner of the hydraulic crane. There was a need. He met it. And the tool he invented to solve his problem far outlasted the product he built it for. That is American agricultural innovation in action.
Fast-forward some 60 years. Sharp people in labs develop a new use for a herbicide, dicamba, which originally came on the scene about the time Groves developed his crude crane. These bioresearchers figured out how to make soybeans tolerant to dicamba so the herbicide could be used in the crop to take down tough, resistant weeds threatening to get out of control.
The unintended consequence was that when not used exactly according to label directions, or if the weather didn't cooperate, there could be off-target movement and injury to sensitive crops, including nontolerant soybeans.
One weather condition that can make off-target drift more likely is a temperature inversion. Fast becoming a household term in farm country, two years ago, few people likely could explain what a temperature inversion was or even recognize one if it occurred.
Meet the need
Temperature inversions were the primary cause of the freak mid-June frost and freeze that impacted many cornfields from central Indiana into northern Indiana and Illinois one summer in the early 1990s. But because it was a freak event, the term was soon forgotten. Now every time a temperature inversion occurs and someone unknowingly sprays dicamba herbicide, off-target drift could occur, with possible injury to sensitive crops. Suddenly it's a big deal.
In fact, U.S. EPA revised labels for the new dicamba herbicides late last year, adding more descriptive language about temperature inversions, and requiring farmers and custom applicators to take detailed weather measurements at boom height before and after applying these products.
One way to help people realize when temperature inversions occur is to note that a fog or haze over low-lying areas early in the morning is usually caused by a temperature inversion. It's simply warmer air lying above cooler air below it. However, it doesn't require fog to have a temperature inversion. So how can you know one is developing so you don't spray dicamba and increase the odds of off-target drift?
Groves, inventor of the hydraulic crane who went on to hold some 60 patents, is no longer with us. But Bill Hughes is. This Illinois entrepreneur saw the need and, already working in the field of sensors and such, developed an easy-to-use instrument that can measure temperature at varying heights as you're standing by the sprayer in the field, ready to spray. If the temperature is higher a few feet above boom height, the device indicates that a temperature inversion is present, and you know it's not a good time to spray.
Build it, and they will come. Or is it: Have a need, and they will build it? Learn more about Hughes' invention, the SpotOn Inversion Tester, in the Hi-Tech Farming column, or visit innoquestinc.com.
Comments? Email [email protected].
Subscribe to receive top agriculture news
Be informed daily with these free e-newsletters
You May Also Like
---