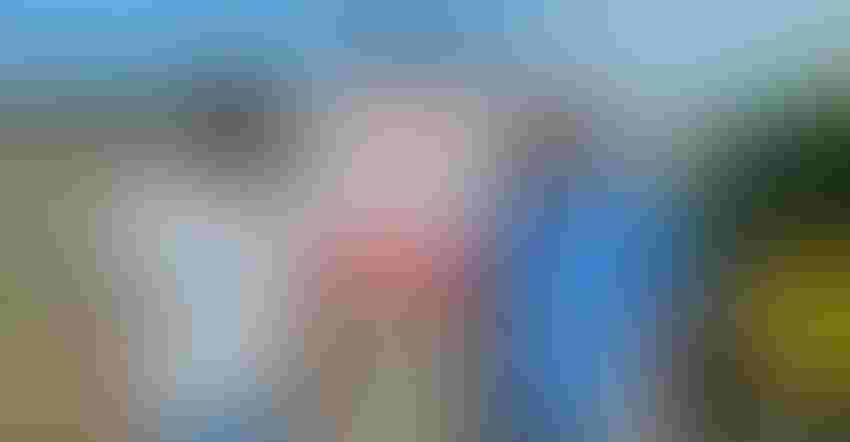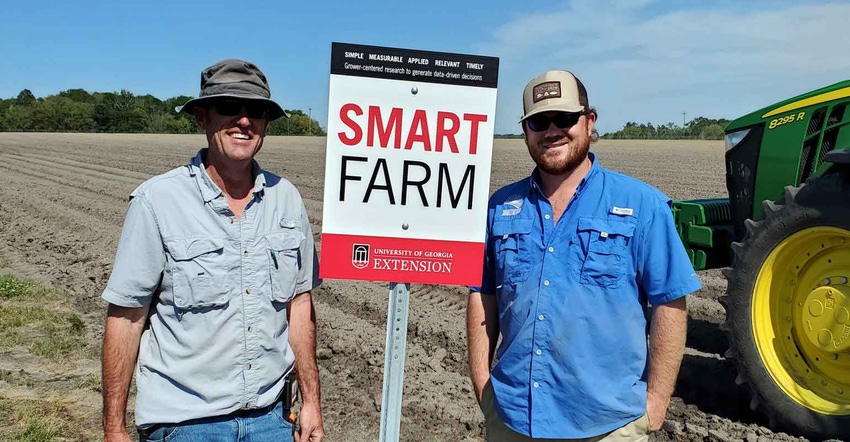 On hand at a SMART Farm research site at last year's Sunbelt Ag Expo are Jeremy Kichler, UGA Extension coordinator in Colquitt County, Ga., left, and Cody Mitchell, Sunbelt Ag Expo farm manager.
UGA Extension
Last year, folks in Georgia started noticing new signs in farmers' fields. The signs spotlighted the University of Georgia Extension SMART Farm initiative, which targets collaboration between researchers, Extension and farmers.
"Extension agents and farmers really like the signs. It's a great way to promote grower-centered research to generate data-driven decisions," said Simer Virk, UGA Extension precision ag specialist and the Initiative's coordinator.
SMART stands for Simple, Measurable, Applied, Relevant and Timely.
Last year, the signs were used in 40 different research trials on farmers' fields in 20 Georgia counties. The signs were posted in front of on-farm trials in various crops, ranging from cotton, peanuts, sorghum, cover crops, wine grapes, apples, bermudagrass, pollinators  and so on. Virk says the program will be further expanded this year with some changes.
Virk notes that numerous county Extension agents and specialists are involved in the SMART Farm initiative and are using the SMART Farm signs to promote their work. He says it has proven to be a successful and popular collaborative program.
"If you're working with any UGA specialists doing on-farm trials, we hope you will use the signs to promote your trials and encourage growers to learn more about the research," Virk says.
The Sunbelt Expo is key to the SMART Farm initiative. The SMART Farms signs were used for the first time at Sunbelt last year and are once again being used in research plots at Sunbelt this year. Virk says Sunbelt is one of the main locations for the initiative.
Find out more about the SMART Farm initiative at the 2022 Sunbelt Ag Expo Field Day July 21.
Virk credits Chip Blalock, executive director of the Sunbelt Ag Expo, and Cody Mitchell, the Expo farm manager, for their strong support of the SMART Farm initiative at the Expo. He says both Blalock and Mitchell fully understand the value of the research being conducted and this initiative to Georgia farmers.
In one SMART Farm project at Sunbelt this year, Virk and his team are working with a company called Vantage Southeast  evaluating the Precision Planting's SmartFirmer and SmartDepth planting technologies. They want to determine how these technologies can help farmers be more precise and efficient in managing inputs.
"We're also evaluating few other planting and spray technologies at the expo this year in different scenarios.  We're looking at different technology solutions for producers to use while trying to answer if some of these technologies are worth the investment and how can they can help growers make better planting and pesticide applications " Virk says.
It's all part of helping farmers make smarter decisions, a key aim of the SMART Farm initiative.
Virk says Laura Perry Johnson, associate dean for Extension at UGA, supports the initiative and helped start it last year.
"Our SMART Farm goal is to encourage and engage more Extension agents in on-farm research with growers. We want to conduct more on farm research focused on grower-asked questions and issues. SMART Farm provides growers access to resources  (specialists, agents, and tools to conduct research). The results from these trials are shared with growers and agents across the state to help make data-driven decisions," Virk says.
Subscribe to receive top agriculture news
Be informed daily with these free e-newsletters
You May Also Like
---