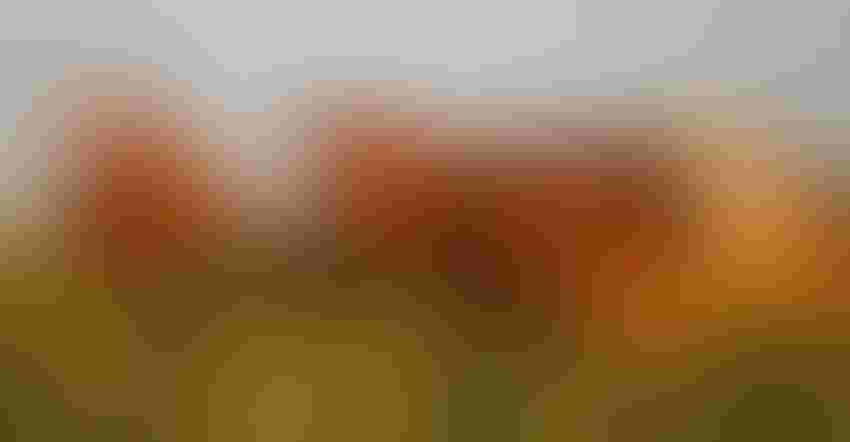 MEETING THEIR NEEDS: The new Smart Feeder developed by researchers at UNL will help ranchers make sure the nutritional needs of the herd are being met while cattle are out to pasture.
Curt Arens
How can you be sure that your individual cattle are getting their nutritional needs once you release them onto the range or pasture?
Travis Mulliniks and a team of researchers at the University of Nebraska West Central Research and Extension Center and the Gudmundsen Sandhills Laboratory have spent two years working with a possible solution to ensure that no cow is left behind. The result is the solar-powered Smart Feeder.
"A lot of people have multi-thousand-acre pasture situations, several miles away, so it makes it tough for producers to get out and feed the cows during different times of the year depending where the cows are," says Mulliniks, a beef cattle nutritionist and range production systems specialist at WCREC in North Platte. "And that's a big fuel cost of getting feed out there, especially if you have to feed three, four or five times a week."
A greater cost may come in the potential high variation in feed intake across the cow herd, he says. "If I was feeding a group of 100 cows 1 pound a day, you know I'll have cows eating 6 pounds of feed, and I'll have some cows not getting any of that," Mulliniks says.
That variation in intake by feeding a group in a pasture setting is "extremely high," resulting in highly variable performance between individual animals, he says.
Possible solution
A possible solution studied by Mulliniks and the team in Nebraska for the past two years is a solar-powered portable precision feeder.
"It's been a pretty powerful tool for us from a standpoint of delivery mechanisms and getting supplements to cattle from a production standpoint and a scientific standpoint," Mulliniks says. "It's really helped us quite a bit, how we manage cows from a research standpoint and make things a lot simpler."
To make it work, cattle are equipped with electronic identification tags, and the portable feeder — in this case the Smart Feeder created by C-Lock Inc. of Rapid City, S.D. — has a tag reader in each stanchion. As the cow nears the tag reader and enters the feed stanchion, a prescribed amount of feed is dispensed into a trough. Each cow's daily feed allotment is entered in the feeder's computer system, and each cow can only receive its allotted amount.
"Let's say cow 4012 comes in, and she's supposed to get 2 pounds per day, but she backs out after eating only half a pound," Mulliniks says. "A conveyor will only drop feed while the cow is in the stall," so there's not potential for another cow benefiting from leftover feed. The next time 4012 enters the stall, more feed is dropped, until she gets her full 2 pounds.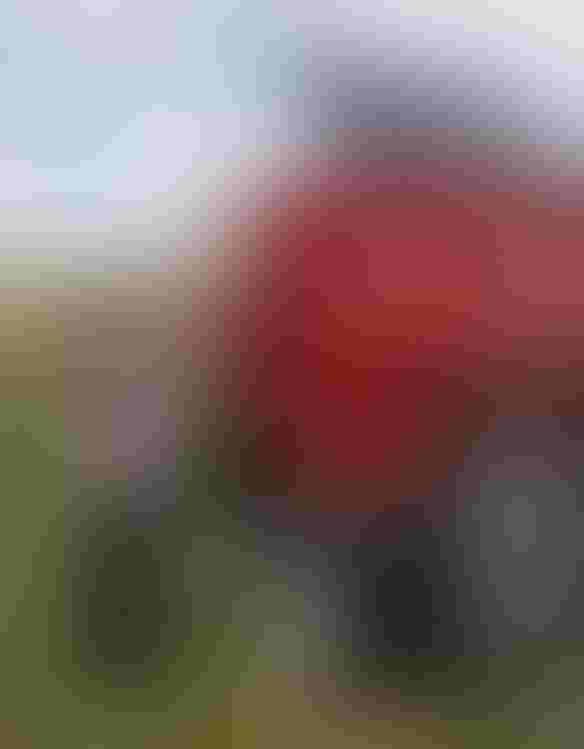 Since each cow's allotted feed amount is programmed into the system and tied to the EID tag, cows attempting to cheat the system to get more feed will come away empty-handed once they meet their daily allotment. "We can track that we have cows coming in 20, 30, 40 times a day trying to get feed," Mulliniks says.
The feeder used by the UNL team features four individual bins allowing cattle specific rations, so cattle will need to learn which stanchion will provide them with their ration. Time to learn their place at the feeder is often dependent on the age and personality of the individual animal, but Mulliniks says the training is usually picked up anywhere from one day or up to a week.
He adds that training usually takes place in smaller pen areas or smaller paddocks to ensure all animals have a feel for it before being turned out into the large pasture or rangeland.
Remote monitoring
With the vast area that some pastures and rangeland cover, it may be difficult for ranchers to see every cow, even if they are making regular feed deliveries. The technology behind the Smart Feeder allows ranchers to monitor the system from their smartphone or tablet as long as there is internet connectivity.
In the cases of no connectivity, all the data are stored on the feeder's computer — data which can be downloaded and sent to the "cloud" to be analyzed by the rancher.
"Ranchers will be able to see if a cow is not eating, and then go out and check to see if there is a health issue or something else is going on," Mulliniks says. There also is the capability for the system to send alerts if there is a malfunction in the feeding equipment itself, such as if a conveyor quits working.
The power of the sun allows such technology to be taken to the extreme locations that are found in the western U.S., where running electricity would be cost-prohibitive.
"From a production standpoint, technology like this can really help minimize those losses in production due to variation and temperament and eating behavior that we have in some of these environments," Mulliniks says.
"That's big when you figure feed costs are 60% to 65% of annual cow costs. That's really one of the benefits of being able to control those feed costs and maintain performance or actually increase animal performance, because of decreasing animal-to-animal variation of intake so I can hit my target."
Mulliniks stresses that the precision feeding and data production capabilities do not replace the importance of proper cow management.
Learn more by emailing Mulliniks at [email protected].
Subscribe to receive top agriculture news
Be informed daily with these free e-newsletters
You May Also Like
---