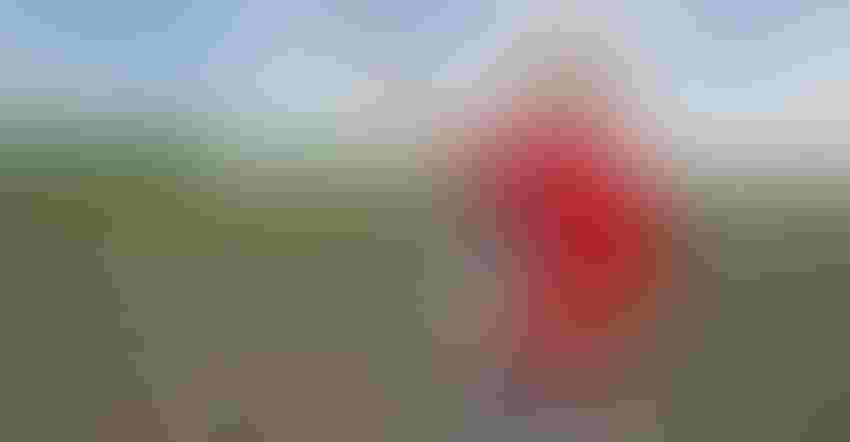 DRONE SCOUTING: Scott Walker, manager of Adams Seed in Wendell, uses a Phantom quadcopter drone to do stand counts. Walker also uses the drone to measure drown-outs for replanting, to troubleshoot in-season problems, and to monitor crop damage, weeds and pests.
Liz Morrison
By Liz Morrison
Drones are one of the newest parts of the craze for big data farming.
Multi-spectral sensors mounted on unmanned aerial vehicles can collect troves of in-season information about crops — whenever a farmer wants it. No waiting for a satellite or a manned aircraft.
Yet, once farmers get all this data, what do they do with it?
That's the question farmers are asking, says Greg Brandt, account manager for Aglytix, a Mankato software firm that does agricultural data analysis.
Agriculture is still struggling to discover where the true value is in the information collected by drones, says Jon Beck, director of the Unmanned Aerial Systems Program at Northland College in Thief River Falls.
"It's all about providing information to enable growers to make time-sensitive decisions," Beck says.

PUT DRONE IMAGERY TO WORK: Drone imagery can help a grower make replanting decisions. Much of this newly seeded alfalfa field drowned out after receiving several inches of rain. Using drone imagery, Anez Consulting of Little Falls broke the field down into eight geo-referenced plant population zones. Ground scouting helped decide which zones needed to be replanted. The grower then replanted the field based on the population map. (Source: Anez Consulting)
Minnesota ag companies are working on ways to deliver farm-gate profits from this newly accessible, top-down view.
Aglytix, for example, analyzes drone images for stand establishment, weed density, plant health and other production variables. Each analysis costs about $1per acre (flying not included).
"Our goal is to increase yields 40% by 2020, and decrease production costs by 20%," Brandt says. "Analyzing aerial data and combining it with other data is the future."
Delineating management zones
Anez Consulting in Little Falls uses drones to delineate management zones and troubleshoot in-season problems. The company provides crop scouting, soil sampling and precision ag services on about 70,000 acres in central Minnesota.
Drones can gather more detailed information than manned aircraft or satellites, says Michael Dunn, Anez precision agronomist. He uses drone images collected in early spring to build highly accurate management zones. He says data collected by drones flying at 400 feet are more reliable than soil surveys or yield maps for guiding zone soil sampling.

Michael Dunn, precision agronomist, Anez Consulting
In-season, Anez Consulting uses drones to monitor crops, contracting with Mosher-Thomas Industries in Pierz for flyovers.
"If we know a farmer has planted a hybrid that is weaker on emergence, for example, we will fly a drone and assess the stand more accurately than 'boots on the ground' [does]," Dunn says. He also uses drone images to measure drown-outs and plan for replanting of forages such as alfalfa.
Drones also allow new diagnostics, Dunn says.
"After the canopy closes, for instance, we can map the height of the crop," he says.
When that measurement is compared with a near-infrared image of plant biomass, it's possible to identify early-season problems that have permanently stunted plant height: Normally, plant height and biomass are highly correlated.
"Where they disagree, that indicates an earlier problem," Dunn adds.
In Morrison County — where many Anez clients don't have yield monitors — this analysis was an inexpensive way to see the effects of uneven residue distribution, showing farmers where changes were needed, Dunn says.
Using aerial imagery to improve farm management is not new, he points out. Farmers have been consulting aerial views from manned aircraft and satellites for decades. However, drones can gather more detailed and timely information.
"You just set the flight path, fly the mission and process the image," Dunn says.

MAP WORK: Drone imagery of a soybean field revealed more than 1,000 clumps of volunteer corn per acre — well over the economic damage threshold for treatment. Unfortunately, the field went untreated for this weed, says Michael Dunn of Anez Consulting in Little Falls. A yield map layered over the earlier weed map showed a 4- to 6-bushel yield loss where volunteer corn was present. (Source: Anez Consulting)
Guiding nitrogen sidedress, fungicide decisions
Central Farm Service Co-op, based in Owatonna, is using drone imagery to guide nitrogen sidedress decisions. The co-op, which has 28 locations, provides precision ag services on more than 250,000 acres in Minnesota and Iowa.
CFS contracted with Aker, a Winnebago-based aerial crop monitoring company, to fly 3,000 acres of highly productive corn ground this season. Aker delivers imagery and agronomic review — usually overnight — at a cost of $2 to $3 per acre.
"We're looking to really push up yields on those top acres, aiming for 250 to 300 bushels per acre of corn in the 'A' zones," says Irwin Arndt, CFS agronomy sales manager.
He hopes on-demand aerial images will help his growers react faster to the crop's nitrogen needs during critical growth periods.
Nitrogen management is one area where drones can definitely earn a profit, says David Mulla, director of the University of Minnesota Precision Agriculture Center.
"We have a lot of crop each year with nitrogen deficiency," Mulla says. Drone-mounted, near-infrared or red-edge light sensors can show farmers precisely where they need to sidedress more N, he says.
"We're learning this year," adds Arndt, who is trying drone scouting for the first time this season. "I'm super-excited about this. I definitely see a lot of potential."
Crystal Valley in Lake Crystal is experimenting with drone scouting for fungicide management. High-resolution drone images can pinpoint in-season issues quickly," says Jason Leary, a precision ag specialist. "It helps the scout get to areas of concern," he adds.
"There's a big learning curve," Leary says. "However, once our team gets more experience with the technology, we expect to offer drone scouting to clients. As with all precision technology, the question to ask about drone scouting is: How do you get your investment back, either saving money or making more money?"
Attacking weeds from above
In Roseau County, farmers are learning how to use drones to combat herbicide-resistant weeds in their spring wheat and perennial ryegrass fields.
Northwestern Minnesota growers are working with researchers at Northland College in Thief River Falls on ways to translate drone images into something useful that you can put on a thumb drive and take out to the field, says Jon Beck, director of Northland's Unmanned Aerial Systems Program.
Overuse of postemergence herbicides in wheat has led to the development of resistant wild oats, says agronomist Dave Grafstrom, a member of the Northland College research team. Unfortunately, there are few herbicide options to combat wild oats in the following ryegrass crop, which is underseeded during the wheat year, Grafstrom says — and they are very expensive.
Fixed-wing drones equipped with special sensors can differentiate the light signatures of wild oats, wheat and ryegrass. Drones fly the fields after the resistant wild oats have overtopped the wheat. Those pictures are stitched into a geo-referenced map, which pinpoints the exact location of the wild oats.
A prescription spray map is then generated for the following spring's ryegrass. That allows spot application of expensive herbicide.
"You only spray where you need it," Beck says.
The technique has worked well in large research plots, and it will be deployed in farmers' commercial ryegrass fields next year. Annual drone scouting will let farmers make a year-by-year weed inventory, so "We will know if we are being successful," Grafstrom says.
"We've had very positive feedback from farmers," Beck adds.
This work lays the groundwork for drone-assisted weed mapping in other Minnesota crops, too, Beck says.
"A lot of people are interested in using drones for scouting," he says. "I think we will see that expand a lot in coming years."
Morrison writes from Morris.
Editor's note: For more about using drones in the field, see Morrison's drone stories that were featured July 5, "Flyover Land," and July 6, "Field scouting takes to the air," by clicking on the "Related" links above.
Subscribe to receive top agriculture news
Be informed daily with these free e-newsletters
You May Also Like
---