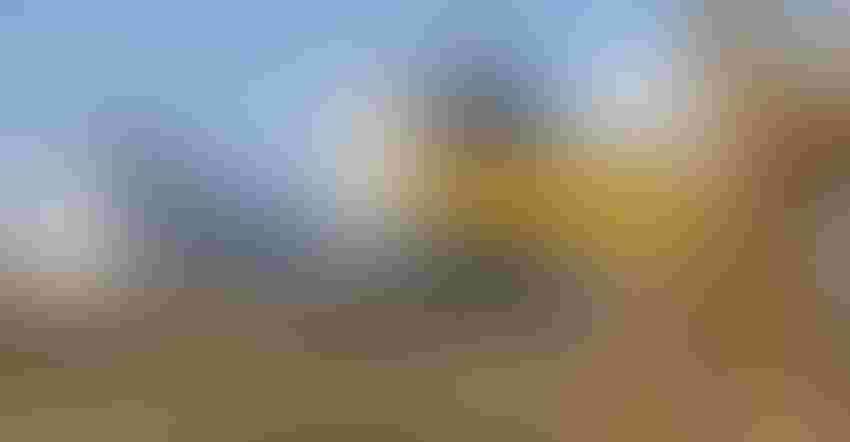 INDUSTRIAL MARKETS: Corn grows next to an ethanol plant near Brookings, S.D. South Dakota State University is developing a new type of industrial resin made from chemicals extracted from corn.
Lon Tonneson
A new type of industrial resin made from chemicals extracted from corn is being developed at South Dakota State University.
It's called a thermoset resin. Unlike other resins, it doesn't expand or contract when heated. It could be used to produce durable heat-resistant plastic materials used in automobile panels; agriculture machinery components, including gaskets; and other parts.
Kasiviswanathan Muthukumarappan, a distinguished professor at SDSU, formulated the star-shaped resins using chemicals extracted during corn ethanol fermentation. A doctoral student and a master's student also worked on the project.
The research was funded partly through a nearly $100,000 grant from the North Central Regional Sun Grant Center. Muthukumarappan also received $25,000 in 2018 from the first National Corn Growers Association's Consider Corn Challenge. The SDSU project was one of six finalists among 38 entries in the worldwide competition.
RESEARCH MONEY: Jim Bauman, vice president of market development for the National Corn Growers Association (left) and Bruce Peterson, then-chairman of the NCGA's feed, food and industrial action team, present Kasiviswanathan Muthukumarappan, South Dakota State University distinguished professor, with $25,000 to support his corn-based resin research.
"This is an indication of the potential value of this research," Muthukumarappan says.
Potential market
The automotive industry alone uses an estimated 90,000 tons of unsaturated polyester annually, a specific type of thermoset resin made from petroleum products. Based on raw material costs, corn-based resins may be half the price of petroleum-based resins.
If corn-based bioresins captured even 1% of this market, the revenue share could be about $1.6 million annually, Muthukumarappan says.
It also may be possible to produce resins using chemicals from soybean oil.
Delfanian writes for SDSU.
Subscribe to receive top agriculture news
Be informed daily with these free e-newsletters
You May Also Like
---