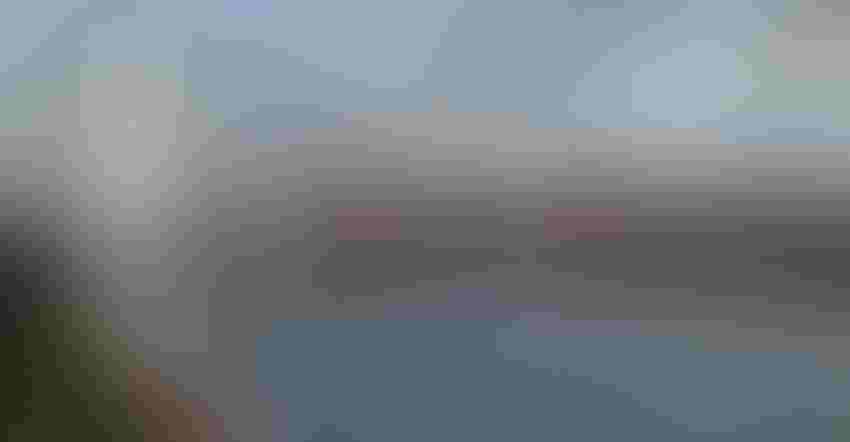 NEW EQUIPMENT: Reinke Manufacturing, always a mainstay exhibitor at Husker Harvest Days, as pictured here, recently cut the ribbon on a new laser production unit that will allow the company flexibility in manufacturing irrigation systems and parts.
Curt Arens
Not 10 feet from the spot where Richard Reinke first built his #1 Electrogator center pivot in 1960, Reinke Manufacturing, based in Deshler, Neb., cut the ribbon on a $2.5 million fiber-optic laser production unit Jan. 12.
The irony of this "coming full circle" in technologies in irrigation is not lost on those who understand and recognize the legacy of Reinke in the irrigation business.
When Richard Reinke built his first Electrogator at his shop in Deshler, it was the first reversible, electric drive center pivot with a collector ring, allowing continuous rotation and a span more than 100 feet in length with a patented V-jack truss design.
It was also the first to incorporate interchangeable pipe and truss components, an O-ring gasket between pipes, and a first-gear-driven towable system with rubber tires. And that #1 Electrogator unit is still in operation.
Richard Reinke was always working to make things easier for the farmer, because he knew farmers had enough to worry about. This mindset is one of the reasons for the new laser production unit at Deshler, said Chris Roth, Reinke president.
"With today's supply chain challenges, we wanted to come up with a way to make sure we could get parts to our customers in a timely manner," Roth said. "This gives us the flexibility to get parts out to the field more efficiently."
The ribbon-cutting ceremony celebrated the advancement, showing firsthand how the cutting-edge technology enables Reinke to speed up the delivery of precision irrigation systems and parts to growers around the world.
Cut delivery time
"These new lasers will allow our company to not only shorten delivery timelines to growers, but it also enables our manufacturing team to improve the precision production of our parts," Roth said. "Those two factors will help us meet our goal of providing the world's finest irrigation systems to growers working to improve yield potential while conserving valuable resources."
With fully stocked distribution centers located not only at the headquarters in Deshler, but also in Idaho, Texas and Georgia, Roth said that parts inventories are in places around the country closest to farmer-customers, helping to cut delivery times to the field.

RIBBON-CUTTING: Chris Roth, president of Reinke, and Anthony Goins, director of the Nebraska Department of Economic Development, cut the ribbon on a new $2.5 million laser production unit Jan. 12 at Reinke Manufacturing in Deshler, Neb.. Pictured (from left) are Joe Dunlap, Steve Latham, Dave Staroscik, Robert Reinke, Roth, Goins, Russ Reinke, John Henry, Derek Ehlers, Steve Wendell and Doug Wilkinson.
The lasers will cut production time on a large number of parts used to assemble Reinke's precision irrigation systems. After weeks of advanced training for its employees, Reinke is now ready to ship out those parts to growers in more than 40 countries across the globe.
"This new technology in Deshler sets Reinke up to continue to be a leader in the irrigation industry, helping growers here in Nebraska and around the world," said Anthony Goins, director of the Nebraska Department of Economic Development, at the ribbon-cutting.
"With this $2.5 million investment, Reinke has also strengthened a family-owned business supporting the economy in much of this area of our state and Kansas as well. As Reinke works to attract and keep a good workforce in Nebraska, I think this is a key investment for our region."
Roth echoed those sentiments. "This new unit reinforces the fact that we're here to stay, and we're not going anywhere," he said. "This is where we live, and that's why we are investing in our plant here."
More efficient production
The GX-F Advanced is a 10,000-watt laser from Machinery System with the latest in artificial intelligence and gas reduction technology. The two-dimensional fiber lasers have superior beam-quality consistency for high levels of precision production.
The operating system will give Reinke on-site and remote monitoring of the cutting process, allowing the system to continue producing parts around the clock.
"What this will allow us to do is to get the most parts cut from one piece of steel. If we need a certain part or a certain piece, but we only need 10 of them for instance, we can make 10 out of one piece of steel," Roth said. "Then, within minutes, we can go to another thickness of steel to make a different part. This allows us to get parts out to the field a little faster and gives us flexibility. That's what I'm really excited about."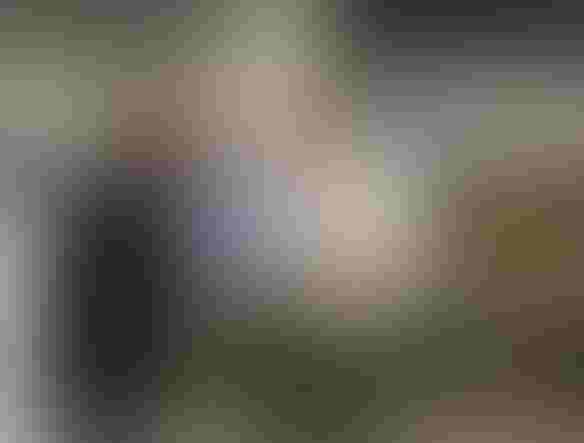 LOOKING BACK: Russ Reinke (right) shows Anthony Goins, director of the Nebraska Department of Economic Development, old photos of the first Reinke pivot as it was being built by Richard Reinke in a room adjacent to the new laser production unit. Reinke president Chris Roth looks on.
Reinke has taken an additional step toward sustainability by installing its own nitrogen regeneration system to gather naturally occurring nitrogen out of the air. Instead of potentially dealing with supply chain and distribution issues — having nitrogen shipped in to assist the laser-cutting process — the system will capture the gas that is naturally in the air over and over.  
"We are one of the top ag producers in the nation, not only because of our farmers, but because companies like Reinke are leveraging technological innovation to loft the industry to new heights," Goins said. "It's that spirit of innovation that, across history, has made Nebraska the agricultural leader that it is today, and Reinke is a major factor behind Nebraska's status as a world leader in ag and irrigation technology."
As technologies continue to advance and GPS and cellular networks improve, Roth sees more autonomy being built into irrigation equipment and all of ag equipment moving forward. These advances in production and in the actual equipment would be right up Richard Reinke's alley.
Roth thinks Richard Reinke, who passed away in 2003, would be excited about the new technology being used just a few feet from his old shop. "But he was always looking forward," Roth said. "He would be looking for new ways to make things better."
To learn more about Reinke's irrigation equipment production innovations, visit reinke.com.
Subscribe to receive top agriculture news
Be informed daily with these free e-newsletters
You May Also Like
---